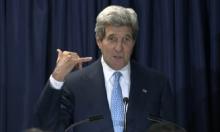 Iran's defense minister on Saturday blasted Secretary of State John Kerry's for what he called his "foolish" accusations that Tehran is "destabilizing" the Middle East, AFP reports.
If the United States seeks "stability" it should "leave the region and stop supporting terrorists," Defense Minister Hossein Dehghan said, quoted by the website of state television.
"If John Kerry thought about these subjects, he would no longer utter nonsense and foolish words," added the Iranian minister.
The comments came after Kerry, speaking on a visit to Bahrain on Thursday, condemned "the destabilizing actions of Iran," noting that the United States was taking Tehran's actions "very seriously".
But Dehghan denounced Kerry's remarks as a sign of "frustration" at "Iran's defense capabilities", charging that it is the U.S. that is intervening in the Middle East on account of massive arms sales.
"Americans have made countries in the region dependent on them through sale of weapons and suggesting that implementing U.S. policies are a must for their survival", he said.
The comments come amid tensions over Iran's ongoing ballistic missile tests, in violation of UN resolutions.
The Iranian regime recently fired a number of ballistic missiles in tests across the country. The words "annihilate Israel" were reportedly written on the missiles, and Iranian officials claimed the missile systems being developed were needed "to confront the Zionist entity" and to ensure "its collapse".
Those tests followed several similar tests in October, following which the United States imposed sanctions on Iranian companies and individuals.
Despite the sanctions, however, Iran has insisted it will continue to develop its ballistic missile arsenal. A top Iranian military official reiterated Saturday there would be no change to the missile program.
"The U.S. is not qualified to make comments about our defense power," said Revolutionary Guards deputy chief General Hossein Salami, according to AFP.
"Our missile capabilities will never be negotiated or compromised," he stressed.
Source material can be found at this site.