By John Lillpop
Have we conservatives been too harsh on Hillary? Especially those of us who have been relentless in insisting that Hillary Clinton has, and will, lie about anything and everything needed to advance her selfish interests?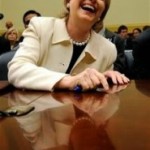 Perhaps we misjudged her character and female softness? Perhaps she deserves to be given the benefit of doubt until the facts are fully known.
This softening of my position on the Hillary Clinton problem facing western civilization is based on a recent revelation made by FBI Director James Comey who said flatly, "Hillary Clinton did not lie under oath to us."
Whoa! There goes one man's theory about what is wrong with America and what needs be done to fix everything. It was my opinion that putting Hillary behind bars for 2 or 3 decades would give America a chance to recover from the assault on our values and traditions waged by Barack Obama.
It would have been so easy to make America "Great America Great Again" by simply vanquishing the evil Hillary, once and for all.
Alas, James Comey's disclosure of the fact that Hillary did not lie to the FBI under oath puts a damper on everything.
At least it seemed that way until one reads the rest of Comey's blathering statement: She did not lie under oath because she was not put under oath by FBI interrogators!
As reported:
During testimony before Congress on Thursday, FBI Director James Comey stated that the FBI's interview with presumptive Democratic presidential nominee former Secretary of State Hillary Clinton was not under oath or recorded, but it still would be a crime to lie to the FBI.
Comey stated that he did not personally interview Clinton, and did not talk to all of the "five or six" who did interview Clinton.
Can you imagine? If there is one person in all of America that, because of her known addiction to lying, should always be under oath, that individual would be Hillary Rodham Clinton!
Yet our FBI soldiers did not bother to administer the oath to this female renegade seeking to steal the US presidency!
What to do?
How about impeaching James Comey for flagrant and willful stupidity and negligence when dealing with an avowed enemy of America?