Today marks the seventh anniversary of the first published post of The Conservative Papers appearing on the web.
Seven years ago on the seventh day of the seventh month of 2009 (July 7th), The Conservative Papers came to fruition. With almost 12,500 posts along with a growing library of content, we are increasingly expanding our presence on the Internet and social networks.
We originally created this website and community because Obama had just taken office and the freedoms we enjoy were slowly eroding.  We had hoped that by today, our seventh anniversary, Obama would have either been voted out of office or impeached for his many transgressions and crimes. However, that is not the case, and we find that we have to fight harder than ever to make the public aware of Obama's socialist agenda.
Today we face a growing threat of dwindling freedoms and expanding government control.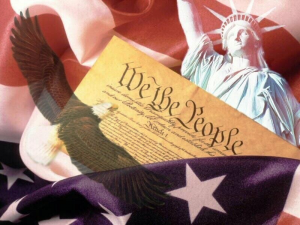 The scandals of Benghazi, Fast and Furious, AP, IRS and EPA targeting conservatives, Americans being spied on, and the harmful legislation of ObamaCare, amnesty for illegal aliens, and other socialist policies have put pressure on Obama, but not enough to begin impeachment.  We have also seen the results of Obama's failed foreign policy with the rampant spread of Islamic terrorism and the Islamic State throughout the Middle East as well as the deliberate neglect of Israel's security which can especially be seen with Obama's negotiation of a bad deal with Iran over their nuclear weapons program.
However, together we can spread the ideas and values of conservatism of the US Constitution in order to preserve this great republic that we all hold dear.
So far, 350 articles of impeachment and counting have been documented against Obama on our website and have been used as a reference for many news sites including the Washington Post.  In addition, the topic has been debated in many political forums and can be found with a simple search on Google.  We are making progress.  We recommend that all Americans work harder to encourage Congress to begin impeachment so that we can restore freedom to our great nation.
Please encourage your fellow Americans to write to their Representatives and Senators so we can take our country back and restore it to its once glorious and proud position as a beacon of hope and freedom for all.
While the upcoming Presidential election once looked promising with 16 Republicans (and unfortunately one Democrat) running for the highest office in the land and providing an opportunity to turn this nation around, it now looks bleak. The leftist media (including Fox News) came out for Trump and it appears that Trump might be the GOP nominee. We, along with many conservatives, are holding out hope that the delegates at the GOP convention will not allow a Democrat to hijack the party's nomination and that an actual Republican will get the nomination. If Trump is the nominee, then Hillary Clinton will have an easier path to the Presidency. The Republican candidate with the second most delegates and the most conservative candidate is Ted Cruz. We endorsed Senator Ted Cruz for President and here is what we wrote last year about the Senator from Texas. It is still as true now as it was then:
With the Obama administration enforcing its socialist ideology on the American people, more people have come out against oppression and are now advocating for the Constitution and the rule of law.  We have seen this with an increasing number of conservatives announcing their candidacy for the President of the United States for the coming election of 2016.  One of the strongest defenders of the Constitution is Senator Ted Cruz (R) of Texas.  He is running in order to restore this country to its rightful place as a leader of liberty in the world and to restore the American Dream for all United States citizens.  While we have been deceived by many before who have made unfulfilled promises, the record of Senator Cruz reflects that of trust in that he does what he says he is going to do.  We support him in his presidential bid and wish him the best.  The fate of the United States of America and the world are depending upon his success in this election.
Let us hope that the delegates at the GOP convention vote their conscience and that the party nominates a conservative and not a liberal.
We would like to take this opportunity to thank our readers, writers, and to those who have contributed their thoughts and comments in helping us to achieve this anniversary. As usual, we welcome your suggestions and ideas on how we can continue to bring the content you enjoy most.