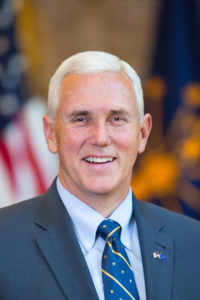 There won't be an announcement until tomorrow but, but we think Mike Pence the Indiana Governor is ending his gubernatorial re-election campaign because he has been selected to be Donald Trump's 2016 running mate.
We'll obviously have more on Pence once this becomes official, but clearly he's seen as a calming, stable, if not incredibly exciting choice. Given the bombastic nature of the man at the top of the ticket, that may be just what the doctor ordered. Pence is no slouch as a politician, he's well-respected within the party, and (despite some baggage in Indiana) he should be a solid running mate.
This is being billed as a list of speakers "so far," which means there may be additions, subtractions, and last minute guests who are not listed.
You'll notice that one name is conspicuously absent…
PastorMarkBurns
PhilRuffin
CongressmanRyanZinke
PatSmith
MarkGeist
JohnTiegen
CongressmanMichaelMcCaul
SheriffDavidClarke
CongressmanSeanDuffy
DarrylGlenn
SenatorTomCotton
KarenVaughn
GovernorMikeHuckabee
MayorRudyGiuliani
MelaniaTrump
SenatorJoniErnst
KathrynGates-Skipper
MarcusLuttrell
DanaWhite
GovernorAsaHutchinson
AttorneyGeneralLeslieRutledge
MichaelMukasey
AndyWist
SenatorJeffSessions
RetiredLt.Gen.MichaelFlynn
AlexSmith
SpeakerPaulRyan
CongressmanKevinMcCarthy
KerryWoolard.
SenatorShelleyMooreCapito
Dr.BenCarson
Co-ChairSharonDay
NatalieGulbis
KimberlinBrown
AntonioSabato,Jr.
PeterThiel
EileenCollins
SenatorTedCruz
NewtGingrich
MichelleVanEtten
LynnePatton
EricTrump
HaroldHamm
CongressmanChrisCollins
BrockMealer
CongresswomanMarshaBlackburn
GovernorMaryFallin
DarrellScott
LisaShin
GovernorRickScott
ChairmanReincePriebus
TomBarrack
IvankaTrump
AttorneyGeneralPamBondi
JerryFalwellJr.
RabbiHaskelLookstein
ChrisCox
SenatorMitchMcConnell
TiffanyTrump
GovernorChrisChristie
DonaldJ.TrumpJr.
GovernorScottWalker
That's right, no mention of Mike Pence, that could mean that Pence is now locked-in and will have a slot all to himself when he accepts the nomination.
In the meanwhile Trump has surged past Hillary in three key swing states.
The very well-respected Quinnipiac University poll came out with a poll yesterday that has three key swing states- Ohio, Pennsylvania and Florida- turning to Trump. Say What The Frack?
Ohio: Trump-41 vs Hillary-41
Florida: Trump-42 vs Hillary-39
Pennsylvania: Trump-43 vs Hillary-41
Note no presidential candidate has won the presidency since 1960 without winning two of these three swing states.
Since the last Quinnipiac poll, Hillary has dropped 8 points.
She is losing because millions and millions of people do not trust her. They believe that she is an inveterate liar, who puts her personal interests above even American national security interests.
A majority of the American people believe Hillary should have been indicted for her alleged crimes in maintaining a private server and private email system outside the secure control and custody of the American government and for receiving and sending top security American documents through her unsecure Blackberries, which probably were hacked by America's enemies.
And Hillary lied and lied and lied and lied some more about not sending and receiving Classified documents, even when they were marked, "C". Hillary is not stupid. She is just a horrible, horrible person, whose every utterance is a lie. But this time her lies had national security implications.
And the American people have had it with Hillary and the slimy slick Willy whose foundation received millions and millions of dollars from the worst Arab nations in the world, while Hillary was Secretary of State.
The Arab sheiks and potentates did not send millions to Bill out of the goodness of their dark hearts. They wanted influence. They wanted access. They wanted their interests protected by Hillary as one of the most powerful members of the Obama Administration.
And they got what they paid for.