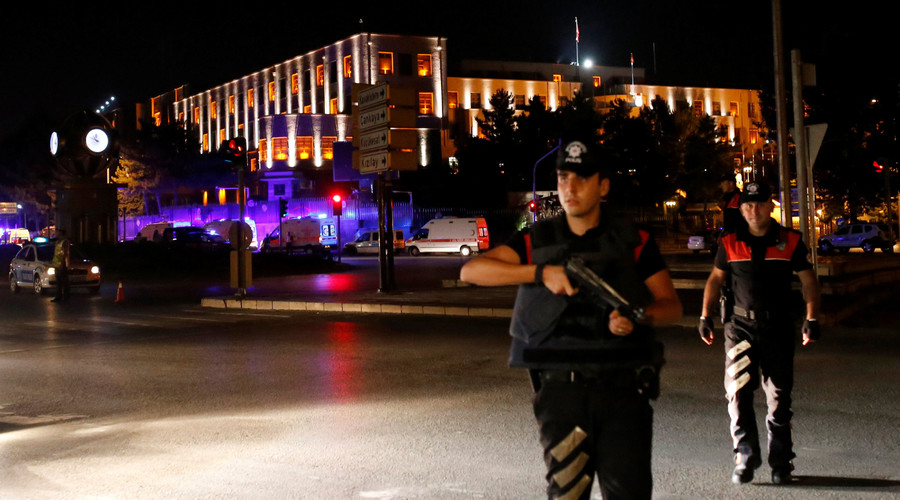 Turkish military, in statement, says it has taken over the country, citing 'democratic order, human rights' – Reuters
Part of the military is attempting a coup in Turkey, the country's Prime Minister Binali Yildirim said, following reports of military jets and helicopters flying low over Ankara and Istanbul.
"Some people took illegal action outside of the chain of command," Yildirim told news network NTV. "The government elected by the people remains in charge. This government will only go when the people say so," he added.
A military helicopter has reportedly opened fire in the district of Ankara where the Turkish National Intelligence Organization headquarters is situated.
Right now in the skies of #Ankara, fighter jets flying low. Please let this be some sort of training, I'm scared. pic.twitter.com/GBOIZL1sNZ

— Marina Lourenço (@lourenco_marina) July 15, 2016
https://twitter.com/HazalKoptagel/status/754035715709739008
According to Yildirim, Turkish security forces are currently doing what needs to be done to resolve the situation.
Shooting is being reported in the Turkish capital, Ankara, with military jets and helicopters seen in the sky above the city.
According to reports on Twitter, the authorities have closed the two Bosporus bridges in Istanbul, where military jets have also been spotted flying.
Both Bosphorus bridges (Asia to Europe access) closed by troops, @cnnturk reports. Police helicopters over Beyoglu. pic.twitter.com/C8pm1GvX1P

— Piotr Zalewski (@p_zalewski) July 15, 2016
The reasons for the Turkish Air Force taking to the skies late Friday currently remain unclear.
Ankara Genelkurmay'?n önü pic.twitter.com/qSmPdOMIGk

— Ç?nar Livane Özer (@CinarOzer) July 15, 2016