As wikileaks released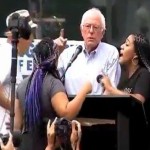 more Fresh unearthed DNC voicemails revealing even more embarrassing details about Democratic donors and party members as Bernie Sanders announced he is quitting the Democratic party.
The nomination was barely sealed up at the Democratic National Convention before Bernie Sanders, who had campaigned against Hillary Clinton for the party's nod, quit the party.
Sanders, who considers himself, officially, an Independent in Congress because his views lean further left than the Democratic party's platform, caucuses with Democrats.
And now, despite pleading with his base to support Hillary, even though they're concerned that she's too moderate, Sanders will return to Vermont and to his seat in the Senate, and he'll do it with no official party affiliation.
Debbie Wasserman Schultz, who was forced to resign as Chairwoman of the DNC after leaked emails revealed she'd tried to keep Sanders from challenging Clinton for the party's nomination unfairly.
Several leaked email and now the new voice mails shows a conspiracy within he DNC to keep Sanders from being nominated.
Wikileaks says it has many more emails and voicemail's that could destroy Clinton's chance at the presidency, may of these he said will be released at another date, perhaps close to the election.