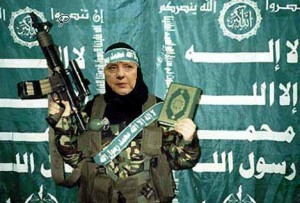 The landscape of Europe is decaying rapidly as migration from the Islamic world flood Europe and bring intolerance and destruction with them all in the name of Allah. Germany's leader Angela Merkel is hell bent on turning Germany into the next Kosovo and won't stop the migration even after numerous terrorist attacks by Muslims.
For the first time since the end of the Cold War, the German government is warning citizens to stockpile food and water to prepare for an Islamic attack or catastrophe, the Frankfurter Allgemeine Sonntagszeitung newspaper reported on Sunday.
Germany is currently on high alert after multiple Islamist attacks and a shooting rampage by Koran following Muslims last month. Berlin announced measures earlier this month to spend considerably more on its police and security forces and to create a special unit to counter cyber crime and Islamic terrorism butrefust to step the Islamic immigration, one key ingredient to terrorism inside of Europe..
"The population will be obliged to hold an individual supply of food for ten days," the newspaper quoted the government's "Concept for Civil Defence" – which has been prepared by the Interior Ministry – as saying.
The Alternative for Germany (AfD) party's leader, Frauke Petry, has stressed that Islamist attacks and the July 22nd Munich shooting rampage stand as proof that German citizens need to be allowed to arm themselves for self-defence.
Petry said she opposes new controls on weapons in the country as proposed by officials. She has intimated that it should easier for citizens to own guns for self-defence.
According to Reuters, Petry said, "Many people are increasingly feeling unsafe. Every law-abiding citizen should be in a position to defend themselves, their family and their friends. We all know how long it takes until the police can get to the scene, especially in sparsely populated places."
Germany's Defence Minister said earlier this month the country lay in the "crosshairs of terrorism" and pressed for plans for the military to train more closely with police in preparing for potential large-scale militant attacks by Muslim jihadist.
A spokesman for the German Interior Ministry said the plan would be discussed by the cabinet on Wednesday and presented by the minister that afternoon. He declined to give any details on the content.