Nothing says "pulling together" like one-race-only leftist seminars.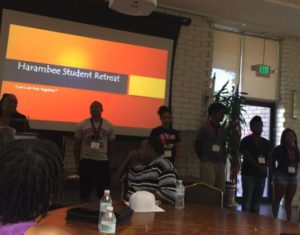 The Democrats are back at it, in the 1960's they supported segregation and today they are at their same racist antics, just a different victim to target.
Public university hosts blacks-only student retreat – to promote 'inclusion'.
These are frightening times.
Racist CSU-Fresno president: 'Create a greater sense of belonging on campus'
California State University Fresno recently held a bigoted three-day student retreat for black students only that aimed to foster inclusion and help incoming African American students adjust to college life and get involved in the campus community.
The inaugural "Harambee Student Retreat," which took place Aug.14 through Aug 17, was free to participating students but if your white please to not apply. They enjoyed housing, meals, workshops and activities meant to help aid in the "successful transition of incoming African American/Black students to Fresno State," the university's website states. This illegal racial discrimination was promoted by a California State Funded University.
About 40 new students plus about a dozen returning students took part, and about $16,000 was set aside in the university's budget to host the event, although the final cost has yet to be determined, said Shirley Melikian Armbruster, associate vice president of university communications, in an email to The College Fix.
Fresno State President Joseph Castro, in an address to kick off the new school year, praised the retreat, noting "the call to better support African American students in connecting with their peers and the university was heard and put into action."
"A first ever retreat, appropriately titled Harambee, which means 'Let's pull together,' was held this week where new and continuing African-American students, along with African-American faculty, staff and alumni, could exchange ideas of how to create a greater sense of belonging on campus," Castro continued.
FYI Mr Castro: Promoting segregated activities is not inclusion, it's racism!!
https://twitter.com/JosephICastro/status/764981007413936128/photo/1
Sadly at universities nationwide, segregated spaces for students of color is becoming a more common and welcomed occurrence, seen in everything from housing and social gatherings to protests and grief sessions.
Brown University's "Center for Students of Color" hosted simultaneous "community care conversations" July 11 to "reflect, mourn the loss of life, and engage in self-care." One was slated for "anyone who identifies as a person of color," while the other was for everyone else, according to the Ivy League group's Facebook page.
Similarly, UW-Madison's Multicultural Student Center held meetings separated by race July 11. "The center held two distinct sets of 'processing' meet-ups. First, two 'processing circles,' one for white staff and another for non-white staff, were held in the morning, followed by racially separated 'processing meet-ups' for students in the evening," the Daily Caller reported.
Likewise, in February, a "Concerned Town Hall" meeting was advertised to "black students and students of color" at the University of Missouri. White reporters who attended were asked to leave. Some did.
MORE: Missouri white students told not to take part in Ferguson 'die-in'
Social gatherings on various campuses have also been segregated by race in recent times.
As part of the University of New Mexico's sex week events last fall, a "decolonized sex" workshop only permitted entrance to "self-identified women of color, including queer and trans," according to the event's Facebook page.
Also last fall, students at some of the Claremont Colleges held several gatherings meant only for students-of-color, including a "Hurting and Healing" art show, as well as a safe place event for "healing" and "self-preservation".
Coming this fall, segregated housing for students of color will also be on tap. The Berkeley Student Cooperative is debuting a "Person of Color Theme House." It's been billed as "the best way to meet the needs of students of color and low income students' needs."