If you thought recent disclosures of NGO and UN aid benefiting Hamas was bad enough, you won't believe the scope of the shenanigans going on in Syria. The Guardian reports that UN aid money is propping up the regime.
Businessmen whose companies are under US and EU sanctions have been paid substantial sums by the UN mission, as have government departments and charities – including one set up by the president's wife, Asma al-Assad, and another by his closest associate, Rami Makhlouf.

The UN says it can only work with a small number of partners approved by President Assad and that it does all it can to ensure the money is spent properly

. . .

However, critics believe the UN mission is in danger of being compromised.

They believe aid is being prioritised in government-held areas and argue UN money is effectively helping to prop up a regime responsible for the deaths of hundreds of thousands of its own citizens.
Syrian refugee creates website to thank Israelis.
Aboud Dandachi, a Sunni Muslim from the city of Homs now living in Istanbul, has created a website dedicated to the Israeli and Jewish organizations and people helping Syrian refugees.

The website, Thank You Am Israel, highlights the humanitarian aid being given to displaced Syrians and also refutes any reasons why Israelis and Syrians should be enemies.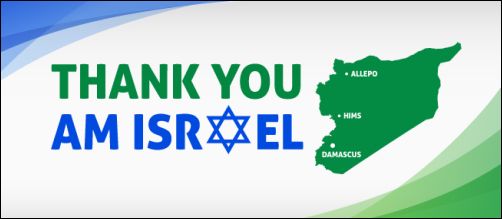 Featured image: CC BY Ian D. Keating with additions by HonestReporting; Assad via YouTube/EndRevelationTimes; money CC BY-SA knowmadic news;