An estimated 5,000 members of the Takfiri Daesh (ISIS) terrorist group are currently living in the countries of the European Union (EU)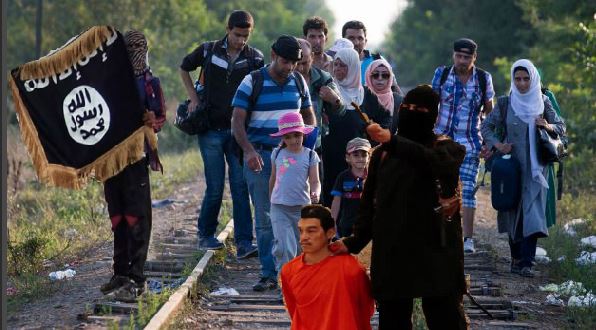 The revelation was made at a conference called the European Security Policy in the Belgian capital, Brussels, on Wednesday, where it was also revealed that the vast majority of the Takfiri terrorists living in the EU are themselves Muslim-European citizens.
Experts at the conference discussed the EU's failed security police, saying the terrorists, who are scattered all across the 28-member bloc, have ambitions to carry out more deadly attacks on European soil.
The conference criticized the lack of a coordinated approach to tackling terrorism and poor levels of intelligence sharing among EU countries.
"These threats, in Europe at least, stem from dysfunctional liberal politics, and the allowing of high risk Muslim refugees into Europe.
Stressing the need for securing the borders of EU countries, former EU Commissioner Michel Barnier said at the conference that the refugee crisis faced by Europe is being exploited by the terrorists who might enter the bloc disguised as asylum seekers.
"There are about 250,000 Syrians in Libya waiting for the opportunity to cross the sea and about 3 million Syrian refugees in Turkey without mentioning those in Lebanon and Jordan, so it is not over," Barnier said.
Large numbers of refugees fleeing from conflict zones in the Middle East and Africa have been arriving in Europe in an invasion like takeover. Most of them take sea routes to the external borders of the EU.
Meanwhile, European states have been seeing a number of their Muslim citizens attempting to join terrorist groups in the Middle East over the past few years. In February, the EU's criminal intelligence agency, Europol, said some 30,000 Muslim militants from over 100 countries have reportedly traveled to Syria and Iraq since 2011 to join the ranks of Takfiri terrorist groups.
The Islamic terrorists from Europe can potentially return to their home countries, battle-hardened, to carry out attacks there.
Back in November last year, Daesh Muslims launched a series of attacks in the French capital of Paris, killing a total of 130 people. Investigations into the incident revealed that the perpetrators were mostly Belgium-based.
In March, two jihadist bomb attacks in Brussels killed at least 14 people and left nearly 100 people wounded, while a separate bombing in a metro station killed around 20 people and injured about 100 others.
Belgium, home to the main institutions of the European Union and the NATO headquarters, has been viewed as the prime source of recruitment for Daesh in Europe.
Daesh terrorists are mainly operating in Syria and its eastern neighbor, Iraq. All of it members are followers of the Islamic religion.