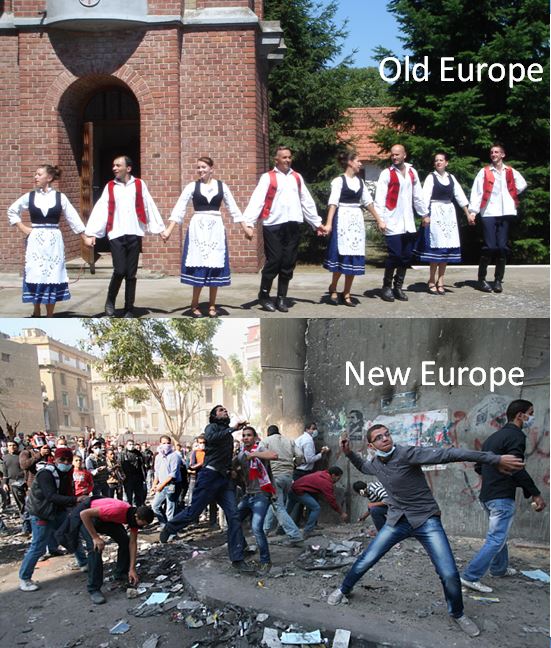 Merkel continues to publicly defend her "open border" immigration policies despite continued erosion of her popularity amid rising nationalist sentiments in Germany and across the EU.  Meanwhile, Germany is preparing to deploy troops within its borders for the first time since World War II amid growing fears that the potential for a large-scale terrorist attack is "conceivable, even probable," at least according to Lt. Gen. Martin Schelleis. Switzerland has also deployed troops to its border near Italy to keep out the high risk Muslim refugees.
Concerns of a potential threat come as nearly 30,000 asylum seekers continue to flood the country each month from Syria alone (see chart below).  Overall, Germany took in about 2.1 million immigrants last year and over half of them were refugees.
On top of that Germany's interior minister has warned that the country is home to at least 500 Islamic terrorist militants migrants who could be capable of carrying out assaults on their own or as members of "hit teams." At least another 360 "relevant" migrants terrorist Muslims are known to police because of their close proximity to the potential attackers.
In France the situation is just as dire French Prime Minister Manuel Valls said on Sunday there would be new attacks in France and the French are to prepare for their new way of life living with Muslim migrant,s, terrorism, death and blood on the streets
The French capital was put on high alert last week when French officials said they dismantled a "terrorist cell" that planned to attack a Paris railway station under the direction of Islamic State.
"This week at least two attacks were foiled," Manuel Valls said in an interview with Europe 1 radio and Itele television on Sunday.
Valls said there were 15,000 Muslim people on the radar of police and intelligent services who were in the process of being radicalized. All 15,000 people on the watch list are members of the Islamic religion.  No Christians migrating from he same middle eastern countries are on the watch list, nor have they committed any terror acts in Europe, meaning this is an Islamic problem.
There will be new attacks, there will be innocent victims… This is the new way of life for Europeans as they allowed in Barbarians,   after thousands of years of Muslim trying to invade Europe only to be repealed,  the Muslims will fulfill their goal of taking Europe all thanks to liberal leftist literally handing the west to 3rd world barbarians that follow a death cult religion.