When Donald Trump was asked at the third and final presidential debate if he will accept the outcome of the election, and if he loses, concede to the winner.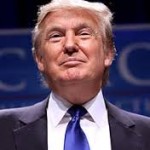 "I will tell you at the time," said Trump, who has frequently discussed voter fraud and a "rigged" system.
Trump responding to many revelations of voter fraud. He said he wants integrity in the system and to make sure American voters voices are heard and that no manipulation is present, he is looking out for the American peoples voices.
Latest news reports show people within Hillary's Clinton's Campaign in the latest Wikileaks documents they say it is OK for illegals to vote if they have a driver's license.  See story here. conservativepapers.com
There is already leaked email proof that Hillary stole the nomination from Bernie Sanders, it even led to the head of the Democratic National Party Chair Debbie Wasserman Schultz  and two others to step down.
James O'Keefe's new explosive series on the DNC and Hillary Clinton campaign, Democratic party operatives tell liberals how to successfully commit voter fraud on a massive scale. Scott Foval, who has since been fired, admits that the Democrats have been rigging elections for fifty years.
Indiana Secretary
of
State
Connie Lawson said her office has found voter registration forms containing first names and birth dates different from what voters provided. She said she has handed those altered records over to the Indiana State Police for review.
More than 14 percent of non-citizens in both the 2008 and 2010 samples indicated that they were registered to vote. Furthermore, some of these non-citizens voted. Our best guess, based upon extrapolations from the portion of the
sample
with a verified vote, is that 6.4 percent of non-citizens voted in 2008 and 2.2 percent of non-citizens voted in 2010. Because non-citizens tended to favor Democrats (Obama won more than 80 percent of the votes of non-citizens in the 2008 CCES sample), we find that this participation was large enough to plausibly account for Democratic victories in a few close elections.
Allegations of voter fraud continue to surface all over the country with the latest example coming from Kankakee County, just outside of Chicago.  According to the Kankakee County State's Attorney's office and the Kankakee Daily Journal, multiple people reported being offered "bribes for votes" while the county is also investigating what appears to be"fraudulently executed" mail-in ballots.
AL Gore Challenged the election results in the year 2000 election. A lawsuit was filed and the courts made a decision. The leftist at the time argued that Gore had every right to challenge the result and confirm their integrity then,  watch today as the leftist media will attack Trump for doing the exact same thing.
Gore, speaking from the White House the week after having lost the general election, explains why he refused to concede the race:
"The effort that I have underway is simply to make sure that all of the votes are counted, and when the issues that are now being considered in the Florida Supreme Court are decided, that will be an important point. But I don't want to speculate what the court will do."
BREAKING: Top Indiana election official alleges more voter fraud just 3 hours ago.
10 more examples on why we should be concerned with Voter Fraud.
1. Dead people voting in Colorado.
A CBS affiliate's evidence of voter fraud in Colorado in September sparked an immediate investigation by Secretary of State Wayne Williams. A report in Denver exposed multiple incidents in recent years where dead Coloradans were still voting. A dead World War II veteran named John Grosso voted in a 2006 primary election, and a woman named Sara Sosa who died in 2009 cast ballots in 2010, 2011, 2012 and 2013. Mrs. Sosa's husband Miguel died in 2008, but a vote was cast in his name one year later.
2. Illegals found voting in Virginia; only discovered after they self-reported.
A study by the watchdog Public Interest Legal Foundation found in just eight Virginia counties, 1,046 alien non-citizens successfully registered to vote. These aliens were only accidentally caught because when they renewed their driver's license and self-reported, telling authorities they were a non-citizen. This study doesn't even include the metropolises of Fairfax County and Arlington. Moreover, the FBI opened an investigation in the state after 20 dead people turned in applications to vote.
3. Some Pennsylvania citizens voting twice.
Last year, Pennsylvania's secretary of state admitted data showed more than 700 Pennsylvania voters might have cast two ballots in recent elections, yet said she's powerless to investigate or prosecute double voters.
Nearly 43,000 voters in Pennsylvania had potentially duplicate registrations in either Pennsylvania or other states, data researcher Voter Registration Data Crosscheck found.
4. Illegal voters uncovered in Philadelphia; half had previously voted.
At least 86 non-citizens have been registered voters in Philadelphia since 2013, and almost half of them have cast a ballot in a recent election, watchdog Public Interest Legal Foundation noted this month. The number was only turned up after officials received specific requests from the voters themselves to remove their names from the rolls.
"This is just the tip of the iceberg," Joseph Vanderhulst, the watchdog's attorney, told LifeZette on Oct. 5. "Who knows how many are on and don't ask to be taken off?"
5. Voter rigging triggers probe in Texas.
This week, allegations of voter fraud in Tarrant County, Texas, prompted a state investigation. The suit focuses on mail-in ballots, which allows for people to vote from their homes without any ID or verification of identity. There's concern of so-called "vote-harvesting" were political operatives fill out and return other people's ballots, without their consent.
6. Indiana voter fraud investigation grows to 56 counties.
According to a local NBC report, Indiana State Police are in the midst of a statewide investigation into possible voter registration fraud.
"Police believe there could be hundreds of fraudulent voter registration records with different combinations of made up names and addresses with people's real information," NBC 12 reported.
The police encourage victims of suspected voter fraud to report it to Indiana's secretary of state.
7. Three under investigation in Oklahoma for voting twice in the presidential primary.
An investigation is underway into three Comanche County, Oklahoma, residents who voted twice in last week's Presidential Preferential Primary, according to the local ABC 7 News station, KSWO.
"All three submitted absentee ballots before showing up to their polling place on March 1 and voted again in person," the report said. "The Comanche County Sheriff's Department is investigating the case and will interview all three of them before handing the case over to the district attorney."
8. Election fraud in Kentucky.
A Franklin County grand jury has indicted a Pike County man in June on multiple felony counts of election fraud in connection with last month's statewide primary.
Keith Justice, 50, has been charged with four counts of intimidating an election officer and one count of interfering with an election officer in Pike County.
9. Underage voters found voting in Wisconsin's presidential primary.
Brown County election officials in April found six cases where underage voters cast a ballot in the state's presidential primary. County Clerk Sandy Juno told a local reporter that six 17-year-old students registered and voted. Despite five of the students presenting a valid ID, poll workers never looked at the date of birth on them or on the registration forms they filled out, Ms. Juno told local news website wearegreenbay.com. In one case, the student used a report card as identification.
10. Voter registration cards sent to illegals in Pennsylvania.
In September, the secretary of state's office in Pennsylvania mailed about 2.5 million voter registration postcards to people who are not registered voters, but are licensed drivers. Secretary of State Pedro Cortes admitted to the House of Representatives that seven people had reported that they received voter registration cards in error, self-reporting.
State Rep. Daryl Metcalfe, a Butler County Republican who chairs the State Government Committee, said in September testimony that there's several problem's with the state's voter registration system.
"There's certainly the potential for hundreds, if not thousands, of foreigners here legally and illegally to be on our voter rolls, and a certain percentage who are casting ballots," Mr. Metchalfe told LifeZette. "We've got a lot of integrity issues that need to be addressed."