As unbelievable as this headline might sound, that is exactly what Bernie Sanders supporters are encouraging Trump supporters to do.  It actually might work.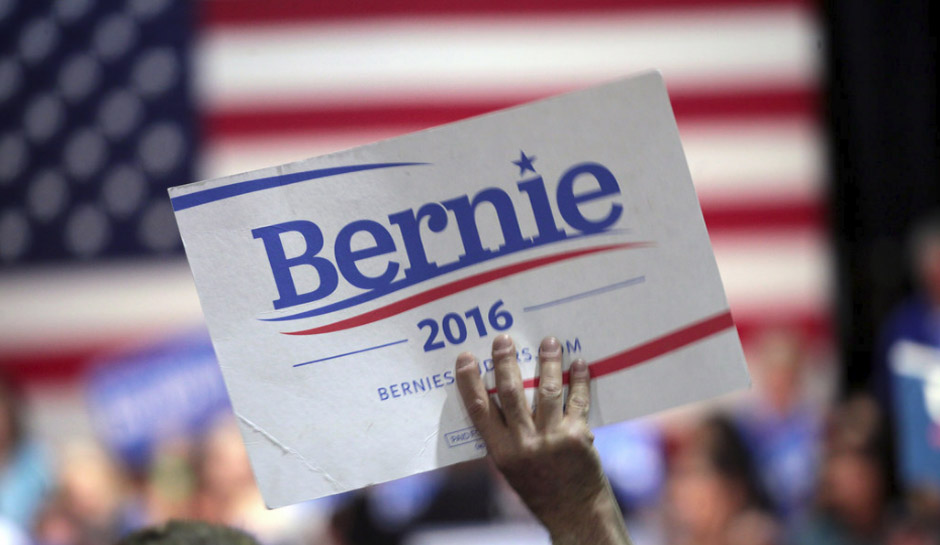 With so many registered Democrats in the state of California, the 55 electoral votes are a lock for Hillary Clinton.  Not so fast say Bernie Sanders supporters.  Democrats are very unhappy about Hillary Clinton and all of her scandals and crimes.  They are especially upset that Hillary stole the Democratic nomination from Sanders.  Supporters are encouraging a write-in vote for Bernie Sanders.  He, along with Evan McMullin, have officially been certified as eligible write-in candidates in California.  You can see the official list of California write-in candidates here.
According to Bernie Sanders supporters, if he can get more votes than Hillary Clinton, it would stop Clinton from getting 270 electoral votes and throw the election to the House of Representatives.  This is similar to the plan that Evan McMullin has with winning the state of Utah.  However, while Utah has only 6 electoral votes, California has the most of any state with 55 and could stop Hillary from winning.  This is why Bernie Sanders supporters are encouraging Trump supporters to write-in their vote for Bernie.  They argue that Trump has no chance of winning in the deep blue state of California.  Trump supporters might as well use their vote for Bernie and stop Clinton from getting so many electoral votes.
The Inquisitr notes the following:
First off, California is hardly a swing state. California has almost twice as many registered Democrats as they do Republicans and over four million registered voters who have no party preference established with the state. KCRAreported this summer that almost half of all independent, vote-by-mail voters wanted to vote for a Democratic presidential candidate, but only 15 percent requested the correct ballot that would have allowed them to vote in the California primary election. KCRA reported that most of those independent voters who were left out of the primary wanted to vote for Sen. Sanders.

Secondly and brilliantly, write-in organizers have a been appealing to Trump supporters in California to vote for Bernie Sanders because it's so unlikely that Trump could take California, they might as well help Sanders prevent Clinton from earning them. According to Electoral Vote, as of November 1, Clinton is set to take 323 electoral votes, while Trump lags behind at 215. Should Clinton lose California to either Bernie Sanders or Donald Trump, she could drop below the 270 electoral vote threshold.
From McClatchyDC:
The write-in campaigns are also reaching out to a group that would seem to have nothing in common with Sanders, the democratic socialist: Trump supporters.

"All the news about the FBI and (Clinton's) emails has been big . . . and it has turned out that some in the Trump camp are willing to work with us, because to them it's critical that she not become our president," said Small, who is a registered elector for Sanders in California.
Bernie Sanders supporters have been getting very excited over the prospect that Bernie Sanders could win California:
I got it already! pic.twitter.com/htlMoDs7bw

— Bad John Brown (@BadJohnBrown) October 31, 2016
And so it begins…#FeelTheBERN #WriteInBernie#EarlyVoting pic.twitter.com/hx3WrGBsO4

— Xavier Pérez (@DOUBTMYPROGRESS) October 25, 2016
— Donald Kronos *Actor (@DonaldKronos) October 31, 2016
https://twitter.com/NizamovRus/status/788677824207085568
#Bernie's down w/ #Berners' #WriteInBernie, not against it as #OpJillStein IMPLY but NEVER prove, or he wldn't've posed for this photo. pic.twitter.com/RELoaxWuyG

— #BernThe270 (@BernThe270) October 16, 2016
How to write-in Bernie in 11 states #writeinbernie #opdeny270 pic.twitter.com/YJhbyeHl4n https://t.co/RTYN5UDnrY

— Mike Copelan (@ImwiththeBern) October 26, 2016
What do you think?  Should Trump supporters in California write-in Bernie Sanders?
Let us know in the comments below.