While Europe descends on Chaos and another terror attack just foiled in France, Bulgaria has had enough of these intolerant "refugees" after over 2,000 violent Muslim refugees clashed with Bulgarian police and set their refugee came on fire.
The Muslim barbarian so called "migrants" burnt car tires, and set mattresses and furniture alight in several of the camp's buildings. Many structures, including a canteen and a new building which was supposed to open this week were damaged.
Buglaria has hit it breaking point with the migrants and Bulgarian Prime Minister Boyko Borisov said all refugees who took part in Thursday's riot will be put into closed camps, most will be deported back to the Islamic world immediately.
PM Boyko Borisov, who had to cancel a planned trip to Hungary, later arrived on the scene. "I am very worried … you see there is no window left unbroken. The people who committed these acts of vandalism will be brought to justice," said Borisov, as quoted by Reuters.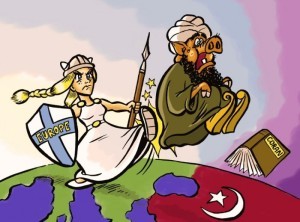 Based on an agreement between the European Union  we have asked for a plane to start extraditing people there in early December.
Tensions between asylum seekers and local people in the area have been rising for quite some time. "This camp should be closed," one local resident, Rusi Stoev, told Reuters. "You should see what it's like here at weekends. They go around in big groups and take fruit and vegetables at the market without paying."
Politician Krasimir Karakachanov of the Patriotic Front coalition saw the riot as yet further evidence the asylum seekers were a threat to Bulgarian society. "The riot and the vandalism at the camp in the town of Harmanli confirms that these people are not some poor refugees at all but rather people with aggressive behavior," Karakachanov told Focus News Agency.
Bulgaria, one the EU's poorest countries, has been at the forefront of the ongoing migrant crisis, with many trying to cross over the border from Turkey. Despite the erection of a border fence and tighter security, which has reduced the flow of asylum seekers substantially, many nationalists insist the country cannot support any asylum seekers and have called for the closure of all refugee centers.