Fast-tracking the Obama administration's plan to accept hoards of high risk Islamic migrants from terrorist nations who were turned down by Australia, United States Secretary of State John Kerry worked out a covert deal to bring around 1,800 illegal aliens to the U.S. – ahead of schedule.
Many high-ranking government officials are upset over the secret negotiations that many believe will put American citizens in danger – and be unlawful.
"The chairmen of the House and Senate judiciary committees are demanding the Obama administration provide details of a secret resettlement deal in which the U.S. has agreed to take up to 1,800 mostly Muslim asylum seekers who have been rejected by Australia as illegal aliens," WND reported. "Congress only learned of the deal through media reports two weeks ago and – according to a letter sent to administration officials by [lawmakers] Sen. Chuck Grassley (R-Iowa), and Rep. Bob Goodlatte (R-Va.) – the deal is not only a matter of grave national security concern, but it could be illegal."
Above the law
When held up to the U.S. Constitution the lawlessness of the clandestine dealings becomes clear.
"[The deal] amounts to an international treaty that Secretary of State John Kerry negotiated without consulting or notifying Congress, according to Article II, Section II of the U.S. Constitution, according to the letter, sent by [Senate Judiciary Committee Chairman Chuck Grassley and House Judiciary Committee Chair Bob Goodlatte on] Nov. 22 to Kerry and DHS Secretary Jeh Johnson," WND's Leo Hohmann explained.
Inviting danger?
Many of the safety concerns are rooted in the fact that the origins of the rejected Islamic migrants are rooted in the jihadist hotbeds of Iran, Somalia, Iraq, Afghanistan and Sudan.
"Nearly 2,500 of them were interdicted off the coast of Australia in 2013, in accordance with that country's policy of not accepting any of the wave of 'refugees' streaming out of the Middle East," Hohmann pointed out. "Unlike Europe, Australia effectively said 'no' to the United Nations' plan to open up Western democracies for millions of refugees fleeing not only the Syrian civil war, but conflicts in Afghanistan, Somalia, Sudan and even countries like Pakistan that are not at war. Germany alone has accepted 1.5 million Muslim refugees and subjected itself to thousands of sexual assaults on its women and girls."
Australian officials never extended the welcome mat to the Muslim migrants attempting to seek asylum in the Land Down Under.
"They were rescued by the Australian coast guard from their unsafe vessels and taken to off-shore camps on the islands of Papua New Guinea and Nauru, where they have remained ever since," Hohmann informed." The United Nations stepped in and is looking for countries that will take the asylum seekers."
Knowing the Obama administration's pro-Muslim stance, the U.N. successfully appealed to the U.S. to take in the potentially hostile illegal aliens.
"Kerry confirmed he had reached a deal to take an undetermined number of the 2,465 aliens for permanent resettlement in the United States," WND announced. "Goodlatte and Grassley said they have since found out that up to 1,800 of the boat people could end up being distributed to U.S. cities and towns. But very little information has been released about the aliens – or how many will end up in which American cities."
The lawmakers asserted in their letter that Kerry and the Obama administration acted above the law and beyond their authority by singlehandedly moving forward with the plan – essentially skirting the system of checks and balances by which they are obligated to abide.
"This situation is concerning for many reasons," Grassley and Goodlatte's letter reads. "First, your departments negotiated an international agreement regarding refugees without consulting or notifying Congress. Such information was not disclosed to Congress during the annual refugee consultation that occurred on September 13, 2016, even though your staff confirmed that the agreement had, at the time, been negotiated 'for months.' Second, the agreement and the number of refugees to be resettled has been deemed by your departments as classified, thus the American people are left in the dark as to the rationale for this agreement. Third, the individuals who will be resettled are coming from countries of national security concern. In fact, two of the countries are officially designated by the State Department to be State Sponsors of Terrorism. Finally, it begs the question why Australia and other countries refuse to admit these individuals, what other countries are doing to help alleviate the situation, what kind of precedent this sets for future refugees interdicted at sea by Australian forces and prevented from entering Australia, and how a similar situation will be prevented in the future."
Blind acceptance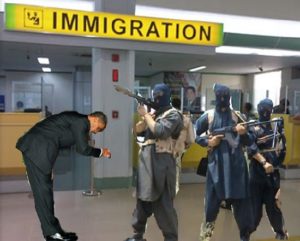 Shocking to both conservatives and liberals alike, the Obama administration went ahead and brokered the deal without knowing what they would get, as information about the incoming Muslim migrants was not sought until after the secretary of state signed the dotted line.
"No details have been released as to how many from each country would be considered for resettlement in the U.S., what cities or states they would be sent to, the breakdown of men, women and children, or the state of their health," Hohmann stressed. "The U.S. sent teams to begin screening the aliens almost immediately after the deal was brokered by Kerry, according to the letter."
Tougher under Trump
It is argued by Refugee Resettlement Watch's Ann Corcoran that Congress' hard stance against the Obama administration – as exhibited in the letter – is a huge indicator that it is being tougher on America's lax acceptance of refugee. However, she notes that the U.S. shows no indication of being as hard on immigration as Australia.
"There are many important concerns in this letter, but one issue in particular caught my eye – the idea of setting a precedent, which is something I've been hammering for years," Corcoran wrote in her blog.
The refugee watchdog emphasized that agreements like the one Kerry just signed to forward the State Department's refugee program are by no means uncommon, as the U.S. is in the practice of regularly agreeing to accept migrants –migrants who more security-savvy nations outright reject.
Come on over …
Laying out the welcome mat for potentially dangerous migrants is a policy that the Obama administration has employed for some time.
"[The] U.S. has been accepting illegal African migrants from Malta for years," Hohmann maintained. "For instance, the U.S. has for years been admitting Libyans and Somalis who arrive on the Mediterranean island of Malta."
Corcoran says the security issues with accepting these illegal aliens are astronomical, insisting that the U.S. should not open its arms to the problems other nations are looking to pawn off on it – as it has done during the last two administrations.
"Surely these people are undocumented with only their personal stories to rely on," Corcoran contends. "But we have been transforming them into refugees and placing them in your American towns ever since the Bush Administration. These are Europe's illegal aliens and not our concern. Just as this new batch is Australia's problem."
"Congress and the new president can quickly plug this hole, and we must stop these foolish 'deals' wherever they are occurring."
Of course, a "deal" implies that the United States will get something in exchange.
"But what we get is never clear," Corcoran said.