The aging white population and fast-growing younger minority groups from massive immigration are speeding demographic changes across the nation, hastening a political divide likely to have long-term ramifications. 
The percentage of the U.S. population that is white has decreased from 79.6 percent in 1980 to 61.9 percent in 2014. The percentage of Latino Americans has increased from 6.4 percent to 17.3 percent over the same time period, while both the African American and Asian American populations have grown, too.
There are growing signs that the rate of change is increasing. The number of non-Hispanic whites who died in 2014 outpaced the number of white births in 17 states, according to a new analysis from the University of New Hampshire. That's the largest number of states to experience a natural decrease in the white population in American history.
Only two states, Maine and West Virginia, experienced more deaths than births — an indication that Latino and African American populations are growing at a fast clip in most states.
Both Maine and West Virginia are among the whitest states in the nation. In twelve of the 17 states where white deaths outpaced births, naturally increasing populations among Latino voters was sufficient to offset the declining white population.
Rather than the liberal Utopian dream of Multiculturalism, there tends to be a more of separation from parts of a city where different cultures and languages are spoken.
The divide is causing racism to rise on the left with a political divide. The leftist have openly and shamelessly promoted white privilege and have had a negative view of whites, often holding them solely responsible for any hardships minorities have in life.
The rise of the racist left is concerning, in the past year, all of the following headlines have appeared, in well-read liberal biased publications:
White people are being asked—or pushed—to take stock of their whiteness and identify with it more. This is a remarkably bad idea.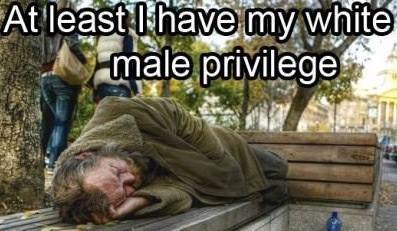 Parents of Virginia high school students complained about a white privilege video being shown to their kids, they rightfully noted that their kids were being singled out based on their race. The video featured a foot race in which people of color were burdened by impediments while the white people ran free.  These type of racist videos defining a person by skin tones is becoming all more common from the left, and in their heads, the leftist find nothing wrong with this outright bigotry.
Disadvantaged white people reject the notion of their grand privileges and resented the key confessional component of white privilege education. One case study involved an education student named John, from a small, non-diverse town. In his final essay for the class John explained his reaction to McIntosh: "I got the feeling from it that it was more about trying to make white males feel guilty for things they most likely had no control over. Being a white male I got a little worked up about the whole list since I don't feel like I have anything to apologize for."
Hillary Clinton lost the election in many stronghold Democratic Union states, the hard working Rust Belt states, white workers having a hard time getting by did not appreciate the "white privileged" notions coming out of the left, until the Democrats can again learn to include all and treat all equally, Democrats are going to have a hard time winning elections down the road.  You cannot alienate a whole group of citizens based on their skin colors, and expect to win elections.
Following the Ferguson riots, an outbreak in violent anti-white racism has been increasing. It's time to call it what it is.
If white mobs harassed black people, screamed racist slogans and claimed that even the existence of black people was oppressive, no one would hesitate to describe that ugliness as racism. When #BlackLivesMatter racists do it, it's excused, defended and even praised as a civil rights movement.
Racism is not civil rights as the left thinks it is. No group that talks about "white supremacy", "white privilege" or "white spaces" is a civil rights movement.
It is a racist movement, and anti-civil rights.
Leftist racism hides behind alleged victimhood. Every act of bigotry, from name-calling to race riots to murder, is justified by the claim that every single white person is part of a conscious or unconscious conspiracy to discriminate against them. This claim, embodied by the racist term "White Privilege", is classic racism. White people are not responsible for the fact that homicide is the number one cause of death for black males.
Liberals hesitate to call out this vile bigotry because they carry the stereotype of minorities people as
victims. The left shrieks that minorities can't be racists because racism exists only as an institutional phenomenon and allegedly minorities people are institutionally powerless. Not only is this wrong, it is ridiculous.
Making minority people into victims and white people into perpetrators dehumanizes both races. It provides fertile soil for racism, paranoia and mistrust to grow on both sides.
The first step to getting out of the corner the nation has painted itself in is to admit that leftist racism is real. It is not a minor problem. It has become the engine of racial tensions in America. It must cease to be a taboo to speak out and tell that truth.