German Chancellor Angela Merkel is facing a backlash after 12 people were murdered when an Islamic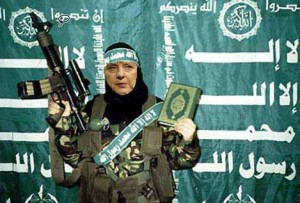 terrorist from Pakistan ploughed through innocent revellers at a Christmas market in a truck, similar to what an Islamic terrorist did in Nice France five months ago when a Tunisian Islamic terrorist Mohamed Lahouaiej Bouhlel ploughed a truck into a crowd on the Nice seafront, killing 86 people.
The country's conservative-right leaders have blasted the chancellor's "open-door" immigration policy for sparking the attack in Berlin, and even her own party is putting the boot in.
"These are Merkel's dead," Marcus Pretzell, chairman of the Alternative for Germany party in the western state of North Rhine-Westphalia, posted on Twitter.
And Klaus Bouillon of Mrs Merkel's CDU party said told Saarland radio: "We must state that we are in a state of war, although some people who want to see only the good can not see."
Merkel – who attended an award ceremony to celebrate the International Day of Migrants the day of the attack, said she was "shocked and shaken" by the tragedy.
Belgian woman Carima Douch, who was working at the Zaventem airport in Brussels when the Islamic suicide bombings happened in March, told of yet another lucky escape form Islamic terror in Europe.
She told Dutch daily De Telegraaf daily after witnessing the Berlin attack: "It's very difficult. You feel totally powerless. And I am speechless. Everything comes back again. It is unbelievable that it is happening all over again in Europe, once a safe continent, and now so many terrorist attacks in one year".
According to one Tourist in Berlin, "There is a huge exodus of tourists from Berlin. Everyone is scared."
Merkels open-door approach, criticised by political allies and foes, may seal Merkel's fate if the terrorist turns out to be a migrant let into the country.
A series of violent attacks and sexual offences involving Muslim migrants has hardened the German public's attitude.
On New Year's Eve 2015 hundreds of sexual assaults by Muslim migrants, including at least 24 rapes, and numerous thefts were reported in Germany, mainly in Cologne city centre. Similar incidents were reported in Hamburg, Frankfurt, Dortmund, Düsseldorf, Stuttgart, and Bielefeld.
On July 18 a 17-year-old Afghan Muslim refugee wielding an axe and a knife attacks passengers on a train in southern Germany, severely wounding four, before being shot dead by police. Islamic State claimed responsibility for the attack.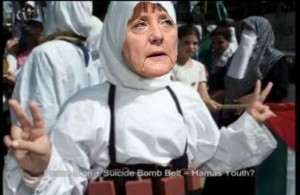 Four days later an 18-year-old Muslim German-Iranian gunman killed nine people in Munich. The teenager was obsessed with mass killings.
On July 24 a 21-year-old a Muslim Syrian refugee was arrested after killing a pregnant woman and wounding two people with a machete in the southwestern German city of Reutlingen, near Stuttgart.
That same day a Muslim Syrian man wounded 15 people when he blew himself up outside a music festival in Ansbach in southern Germany. Islamic State claims responsibility for the attack.
The 27-year-old arrived in Germany two years ago and claimed asylum. He had been in trouble with the police repeatedly for drug-taking and other offences and had faced deportation.
The recent arrival of more than one million mostly Muslim migrants has served to trigger the biggest rise in right-wing support since the 1930s.
Monday night's terror attack could end Merkel's bid for a fourth term in office next year.
Local broadcaster RBB cited security services as saying the arrested truck driver came to Germany via Passau, a city on the Austrian border, on New Year's Eve 2015.
Daniel Hamilton, executive director of the Center for Transatlantic Relations at the Johns Hopkins School of Advanced International Studies in Washington, told Bloomberg Politics: "Germany hasn't had an attack like this that's killed a lot of people in a long time, so clearly there will be pressure on Merkel and her invited guests.