The leftist liberals have lost their mind with the now extreme peddling of Sodomy using children to sell their sickness. When the Devil realized that he could not dethrone God, he sought to devalue Man. 
The sickening new "comedy" show on FOX features a 6-year-old boy wearing a bondage gag.
The boy, who is apparently transgendered, is seen wearing the gag after burning his tongue licking a hot grill at a Benihana style restaurant in exchange for $1,000 from his older teenage brother.
The FOX show is named "The Mick" and it aired on January 1st, 2017. It was created by Dave Chernin and John Chernin, both sons of top Hollywood executive Peter Chernin.
Other scenes show the boy dressing like a girl and commenting how the dress he's wearing "kind of breezes on my vagina."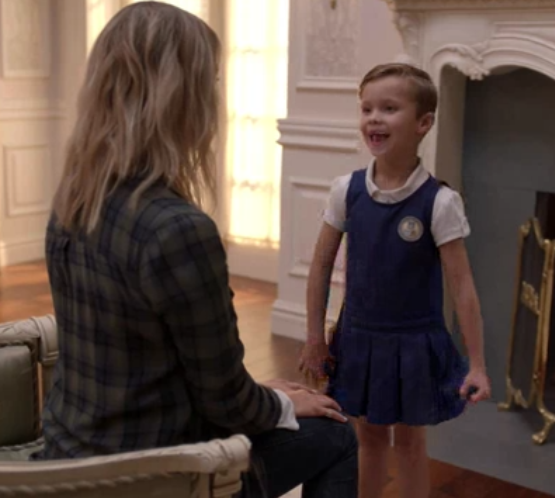 Another scene shows the boy celebrate after a man's eye is impaled in front of him by a woman's high-heeled shoe.
As blood is shooting on the boy's face and clothes, he exclaims, "cool!"
Another forced scene highlighted by Newsbusters shows one of the characters awkwardly praising Planned Parenthood, plugging how they provide "health care to over three million women in this country."
While Sam Hyde's show was canceled from Adult Swim for jokes vaguely referencing the alt-right, utter filth like this is aired during prime time on FOX.
https://twitter.com/Night_0f_Fire/status/816454810371325953?ref_src=twsrc%5Etfw
The strategy here is to normalize pedophilia.The left wants to normalize, mainstream and legalize pedophilia.
That's what the gay rights movement was all about until the early 90s. They stopped publicly supporting NAMBLA because they realized they would never win with that albatross around their necks. The public was starting to sympathize with gays, but not pedos. So they had to change their approach.
Homosexuality was once unthinkable and unacceptable. Wait a few decades and voila! Gay marriage and gay "rights." Since they've gotten this far without significant pushback – why not graduate to pedophilia, which was their real intention all along?
You're being acclimated to accept and embrace pedophilia through "journalism" and entertainment. They're going to keep pushing now that they've won the culture war.
Has The Normalizing of Pedophilia Begun?
First Homosexuals; Now Progressives Want Pedophile Rights
It Begins: Pedophiles Call for Same Rights as Homosexuals