The 2017 Screen Actors Guild (SAG) Awards were held on Sunday night in Los Angeles, and many of the actors took the opportunity to make political speeches.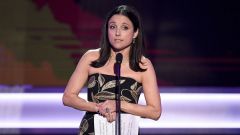 The speeches were critical of President Trump's recent executive order which calls for careful vetting of refugees entering the United States.
"Good evening fellow SAG-AFTRA members and everyone at home, and everyone in airports that belong in my America," said actor Ashton Kutcher, who opened the show. "You are a part of the fabric of who we are, and we love you, and we welcome you," Kutcher added.
Julia-Louis Dreyfus, who won best actress in a comedy series for "Veep," said the following: "My father fled religious persecution in Nazi-occupied France. I'm an American patriot. And I love this country, and because I love this country, I am horrified by its blemishes, and this immigrant ban is a blemish, and it is un-American."
David Harbour, an actor on the Netflix series "Stranger Things," said, "We are united in that we are all human beings and we are all together on this horrible, painful, joyous, exciting and mysterious ride that is being alive."
He went on:
Now, as we act in the continuing narrative of "Stranger Things," we 1983 Midwesterners will repel bullies. We will shelter freaks and outcasts, those who have no home. We will get past the lies. We will hunt monsters and when we are at a loss amidst the hypocrisy and the casual violence of certain individuals and institutions, we will, as per Chief Jim Hopper, punch some people in the face when they seek to destroy the weak and the disenfranchised and the marginalized. And we will do it all with soul, with heart, and with joy. We thank you for this responsibility. Thank you.
Mahershala Ali, who won the award for best supporting film actor, made a speech discussing his role as Juan in "Moonlight." "What I've learned from working on 'Moonlight' is, we see what happens when you persecute people," Ali said. "They fold into themselves. And what I was so grateful about in having the opportunity to play Juan was, playing a gentleman who saw a young man folding into himself as a result of the persecution of his community, and taking that opportunity to uplift him and tell him that he mattered and that he was O.K. and accept him and, uh — I hope that we do a better job of that."