Mainstream media fails to comprehend a crisis it has also failed to cover honestly
by Edmund Kozak
On Wednesday morning, CNBC reported with utter shock the results of a European survey which revealed strong, Europe-wide opposition to Muslim migration.
"Not everyone in Europe is welcoming Muslim migrants with open arms," a narrator says on a video embedded in the online article about the survey. "A surprising number of Europeans are in favor of a Muslim immigration ban," states CNBC's Facebook post containing the report.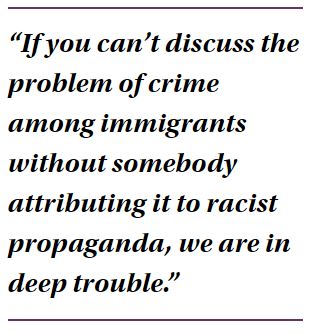 It should be of little surprise that a majority of Europeans are unhappy with the massive influx of unassimilated Muslim migrants that has brought with it a marked increase in violent and sexual crimes, social disunity, welfare obligations, and radical Islamic terrorist attacks
The survey of 10 European countries, carried out by the Royal Institute of International Affairs (also known as Chatham House), asked if "all further migration from mainly Muslim countries should be stopped."
An average of 55 percent of respondents across the 10 countries agreed. Only one in five respondents said they wanted Muslim migration to continue.
If the globalist activists posing as journalists in the mainstream media ever bothered to cover the Muslim migrant crisis in Europe honestly, these survey results wouldn't come as a shock.
Only on Sunday, five German girls between the ages of 12 and 14 were molested by two Muslim asylum seekers, aged 23 and 34, in the town of Bad Oldesloe. The police report on the incident, released Monday, said that the victims were "touched under water."
Sex crimes committed by Muslim migrants in swimming pools have become so widespread in countries like Germany and Sweden that it can accurately described as an epidemic, and have led some pools to institute extra security and even sex-segregation in some instances.
In March, 2016, Gatestone Institute researcher Ingrid Carlqvist identified at least 28 instances of rape or sexual assault at Swedish public swimming pools in 2015 and the first two months of 2016.
Sunday's attack at a public pool in Germany is the third such attack in Germany this year, and follows attacks in
pools at Düsseldorf and Krefeld. In 2016, there were over 200 reported sexual assaults or rapes at public pools perpetrated by Muslim migrants in Germany and Austria.
This is to say nothing of the hundreds of sexual assaults and rapes carried out by unassimilated migrants in Europe outside of public pools.
But the average American who relies on the mainstream media to report on these crimes doesn't know about these shocking details, because the mainstream media dare not report them.
In the last 12 months, CNBC has published only 17 articles focusing on the Muslim migrant crisis. Not a single one of those articles details the shockingly high number of violent and sexual crimes committed by Muslim migrants in Europe.
A brief search was unable to find a single article on CNN or MSNBC detailing the shocking extent of Muslim migrant crime in Europe. Dedication to the multicultural dream is so strong among the globalist elite and media that these crimes are vastly underreported even in the countries in which they take place.
This suffocating culture of silence about the true nature of unfettered, mass Muslim migration is practically paralyzing police forces. A minor national row occurred in Sweden over the weekend after a police officer could no longer take the culture of denial and took to Facebook to vent.
"Here we go; this is what I've handled from Monday-Friday this week: rape, rape, robbery, aggravated assault, rape-assault and rape, extortion, blackmail, assault, violence against police, threats to police, drug crime, drugs, crime, felony, attempted murder, rape again, extortion again and ill-treatment," wrote Peter Springare.
"Suspected perpetrators; Ali Mohammed, Mahmod, Mohammed, Mohammed Ali, again, again, again. Christopher … what, is it true? Yes, a Swedish name snuck in on the edges of a drug crime. Mohammed, Mahmod Ali, again and again," Springare added.
"If you can't discuss the problem of crime among immigrants without somebody attributing it to racist propaganda, we are in deep trouble," Springare wrote. "The problem is that nobody wants to talk about this."
Chancellor Angela Merkel is setting aside €90m (£76m) in taxpayers' money to create a fund which will pay migrants to withdraw their asylum applications and leave Germany voluntarily.
The handouts will form part of a 16-point plan to speed up the removal of rejected asylum seekers, after Tunisian migrant Anis Amri murdered a Polish lorry driver, hijacked his vehicle and drove it into a Christmas market in Berlin while awaiting deportation.
U.S. president Donald Trump told The Times that Merkel made a "catastrophic mistake" when she opened the doors to an unlimited number of migrants in 2015. Her vice-chancellor, Sigmar Gabriel, later admitted that his superior had underestimated how difficult it would be to integrate migrants on such a grand scale, and that Germany had been plunged into a kulturkampf, or "cultural war", as a result.