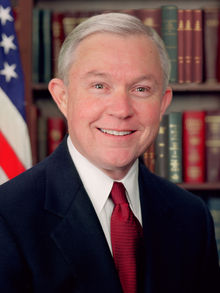 For those that continue to seek improper and illegal entry into this country, be forewarned: This is a new era. This is the Trump era. The lawlessness, the abdication of the duty to enforce our immigration laws and the catch and release practices of old are over.
In that vein, I am also pleased to announce a series of reforms regarding immigration judges to reduce the significant backlogs in our immigration courts.
Pursuant to the President's executive order, we will now be detaining all adults who are apprehended at the border. To support this mission, we have already surged 25 immigration judges to detention centers along the border. I want to thank personally the judges who answered the call to help us with this new initiative.
In addition, we will put 50 more immigration judges on the bench this year and 75 next year. We can no longer afford to wait 18 to 24 months to get these new judges on the bench. So today, I have implemented a new, streamlined hiring plan. It requires just as much vetting as before, but reduces the timeline, reflecting the dire need to reduce the backlogs in our immigration courts.
With the President's Executive Orders on Border Security, Transnational Criminal Organizations and Public Safety as our guideposts, we will execute a strategy that once again secures the border; apprehends and prosecutes those criminal aliens that threaten our public safety; takes the fight to gangs like MS-13 and Los Zetas; and makes dismantlement and destruction of the cartels a top priority. We will deploy a multifaceted approach in these efforts: we are going to interdict your drugs on the way in, your money on the way out, and investigate and prosecute your trafficking networks to the fullest extent of the law.
Why are we doing this? Because it is what the duly enacted laws of the United States require. I took an oath to protect this country from all enemies, foreign and domestic. How else can we look the parents and loved ones of Kate Steinle, Grant Ronnebeck and so many others in eye and say we are doing everything possible to prevent such tragedies from ever occurring again.
The AG's speech comes on the heels of the government confirming that Immigration and Customs Enforcement officers had arrested nearly 400 criminal illegal immigrants in a series of raids over the last week.
Immigration officials announced last week they detained at least 367 individuals in a series of raid operations—nearly one a day—across the country.
Source material can be found at this site.