MINSTER, Ohio—Across the country, Republicans in Congress are returning home to face angry constituents at town halls and other public events, voters in both parties who want answers from elected officials about the GOP's stalled plan to repeal and replace Obamacare.
But here in Ohio's 4th Congressional District, the response to Rep. Jim Jordan couldn't be more different.
For nearly as many years as he's been in Congress, the 10-year Republican incumbent has been outspoken about the need to repeal and replace Obamacare.
Jordan is unwavering in his commitment to eliminate, not fix, the health care law Democrats passed under President Barack Obama.
And even after Jordan and other members of the House Freedom Caucus, of which he is a founder, received a public scolding from President Donald Trump, Jordan was unapologetic for the role played by conservative lawmakers in sending Republican leaders back to the drawing board after their first attempt to repeal the health care law failed spectacularly.
Yes, some of Jordan's constituents don't want to see the law repealed, and disagree with his calls to roll back Obamacare. But others are putting their trust in the 53-year-old Republican.
"Congressman Jordan is a stalwart defender of the truth, a stalwart defender of the Constitution. He understands fiscal responsibility, fiscal accountability, and he's very accountable to us, and he recognizes that," James Alter, senior pastor at Grace Baptist Church in Sidney, Ohio, tells The Daily Signal. "I know that he has butted heads with Speaker [Paul] Ryan over this, and I'm on Jordan's side."
Jordan seems to enjoy unwavering support from his core constituency here in the western part of his duck-shaped district, which runs from close to the Indiana border north to the shorelines of Lake Erie.
It could be because Jordan won the district effortlessly in 2016, besting Democratic challenger Janet Garrett by 36 percentage points. Trump won the district by a similar margin.
But it also could be because this is the part of the district that knows Jordan best.
'Going to Be Difficult'
A former wrestling coach at the Ohio State University, Jordan has represented this portion of his district for 22 years. First it was as a member of the Ohio House of Representatives, then as a member of the state Senate, and, beginning in 2007, as a member of the U.S. House of Representatives.
Though constituents may not agree wholeheartedly with Jordan's stance on the issues, including health care, they say they trust him.
"If he's in disagreement, then it probably needs some looking in to," Elaine Altstaetter, of Wapakoneta, Ohio, tells The Daily Signal, referring to House GOP leadership's health care bill.
Altstaetter is one of approximately 200 members of Ohio's Electric Cooperatives who gathered at a breakfast early Tuesday morning in St. Marys, Ohio, to hear Jordan speak.
Along with state Rep. Craig Riedel, a fellow Republican, Jordan was there to give attendees a rundown of what issues have been and could be before Congress—the U.S. airstrikes in Syria, the Senate's confirmation of Judge Neil Gorsuch to the Supreme Court, the investigations into Russia's role in the 2016 presidential election, and, of course, efforts to repeal and replace Obamacare.
Ohio's Electric Cooperatives is concerned about the Cadillac tax, Spencer Waugh, manager of government affairs for the organization, tells The Daily Signal.
Under Obamacare, this tax on high-cost, employer-sponsored plans won't take effect until 2020. But the House GOP's health care bill, called the American Health Care Act, moved the implementation date back another five years.
But Jordan's constituents, Altstaetter among them, also are worried about the rising cost of insurance premiums and access to good health care providers.
"They're almost out of sight, these charges," Altstaetter, who wants to see Obamacare "redesigned," says. "But to find plans that are going to work for so many people is going to be difficult. Sometimes you feel it's some of us paying for them."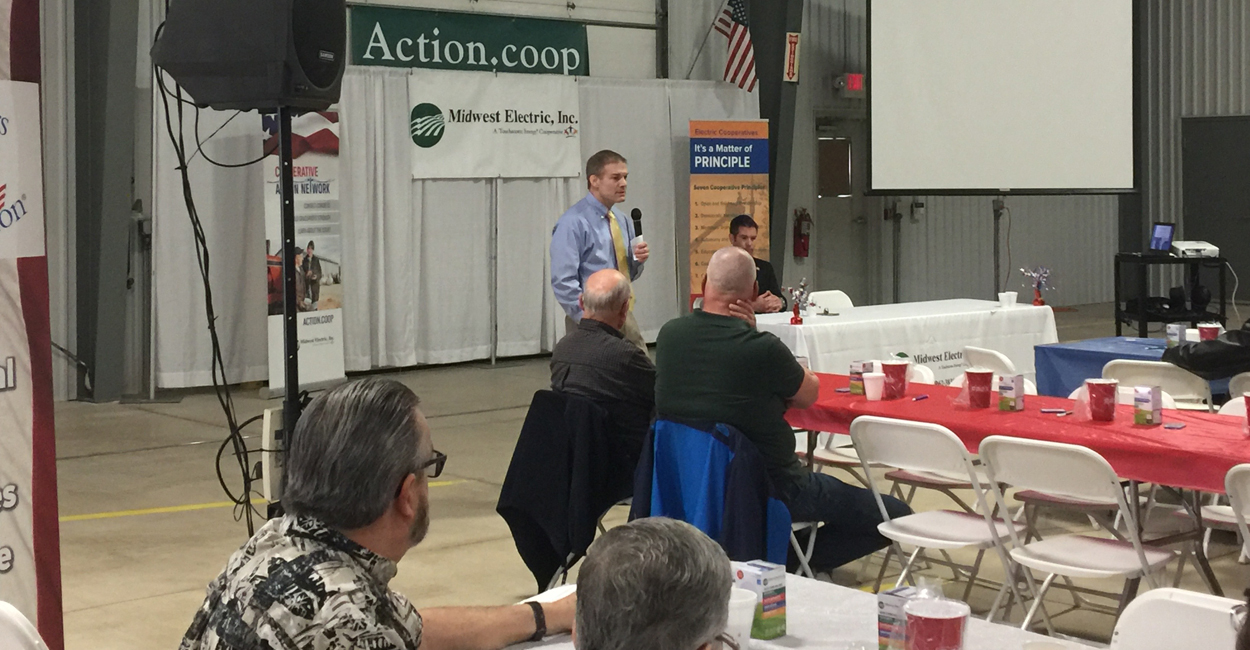 A Long-Held Promise
For most of his time in Congress, Jordan and his fellow Republicans have promised voters they'll repeal and replace Obamacare.
So in November, when Republicans retained control of the House and Senate, and took control of the White House, conservatives like Jordan thought it was time for the GOP to deliver on its yearslong promise.
The bill House GOP leaders ultimately put before lawmakers, though, fell far short of expectations.
Jordan has said he wants legislation that repealed as much of Obamacare as possible and would combat the rising cost of premiums for constituents such as Altstaetter.
What House Republican leaders presented them with, though, did neither.
According to the Congressional Budget Office, the health care bill actually would cause premiums to rise 15 percent to 20 percent in the next two years.
Premium costs would taper by 2026, CBO said, but by how much would depend on a consumer's age.
Jordan and the roughly 30-member Freedom Caucus, which wields considerable influence, came out against the bill, as did some centrist Republicans.
Just 17 percent of Americans supported the plan, according to a March poll by Quinnipiac University.
For the two weeks following the bill's introduction, the White House waged a near-constant charm offensive in an effort to woo conservatives.
Those efforts failed, though, as Jordan and his fellow conservatives did not back off their demand that the legislation lower the cost of premiums for consumers.
The President Tweets Displeasure
Ryan, R-Wis., decided to pull the bill from the House floor March 24, just before lawmakers were supposed to vote. He already had delayed a vote the day before.
During a press conference on his decision, the speaker took a subtle jab at the Freedom Caucus.
"There is a bloc of 'no' votes that we had that is why this didn't pass. They were a sufficient number of votes that prevented it from passing, and they didn't change their votes," Ryan told reporters. "We were close. Some of the members of that caucus were voting with us, but not enough were."
Trump initially spared Jordan and the rest of the conservative caucus from criticism, saying it was a "hard vote," in part because caucus members were some of Trump's earliest supporters.
But the president later took to Twitter to criticize the group.
Democrats are smiling in D.C. that the Freedom Caucus, with the help of Club For Growth and Heritage, have saved Planned Parenthood Ocare!

— Donald J. Trump (@realDonaldTrump) March 26, 2017
The Republican House Freedom Caucus was able to snatch defeat from the jaws of victory. After so many bad years they were ready for a win!

— Donald J. Trump (@realDonaldTrump) March 28, 2017
The Democrats will make a deal with me on healthcare as soon as ObamaCare folds – not long. Do not worry, we are in very good shape!

— Donald J. Trump (@realDonaldTrump) March 28, 2017
The Freedom Caucus will hurt the entire Republican agenda if they don't get on the team, fast. We must fight them, Dems, in 2018!

— Donald J. Trump (@realDonaldTrump) March 30, 2017
Jordan, though, is unfazed by the president's about-face.
"I don't get into the tweets or the statements of blame," Jordan tells The Daily Signal in an interview Tuesday. "My focus, and I think the focus of the Freedom Caucus, is [to] do what we said and to look at the legislation. What does the legislation do, and what does it not do?"
Jordan says he is more concerned about following through on his commitment to the people who sent him to Washington.
"It wasn't just [the Freedom Caucus]. The moderates opposed it, too," Jordan says. "When Congress doesn't approve a bill that only 17 percent of the country supports, that's probably a good thing. That tells us maybe we need to make this bill a little better."
And Jordan's constituents tell The Daily Signal that they aren't worried about Trump's decision to put the Freedom Caucus in his crosshairs.
"The Freedom Caucus has been maligned, but what the Freedom Caucus is doing is they're just trying to do what they told the voters they were going to do," Alter, the Baptist pastor, says. "That bill that was presented was a train wreck from the beginning. I don't know that any thinking person would support it."
"So it's been said that if something doesn't make sense, there's a buck in it," he quips.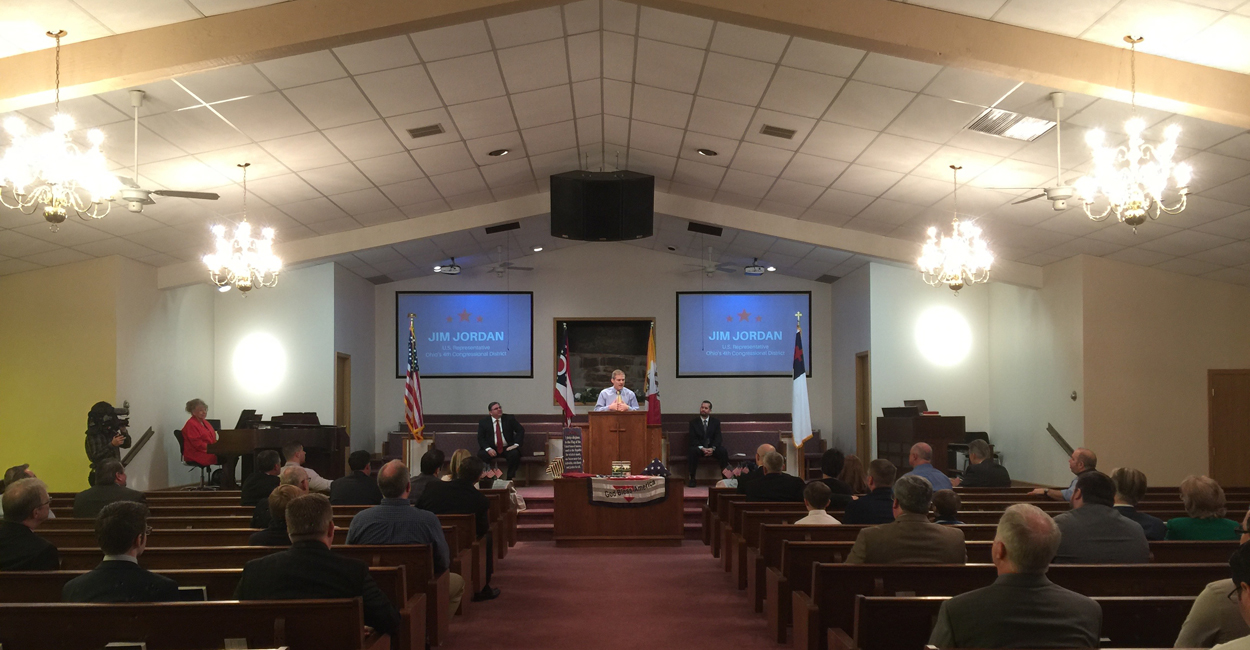 From the Pulpit
Alter is one of nearly 50 people who gather this Tuesday  morning at Calvary Chapel Baptist Church in Minster.
American flags line the edge of the lawn outside the church, and in the parking lot sits a "Marine Corps-Vette" with the hood popped. The owner of the sports car, who travels the country in it to remind Americans of the Sept. 11, 2001 terror attacks,parked it at Ground Zero in New York on the seventh anniversary.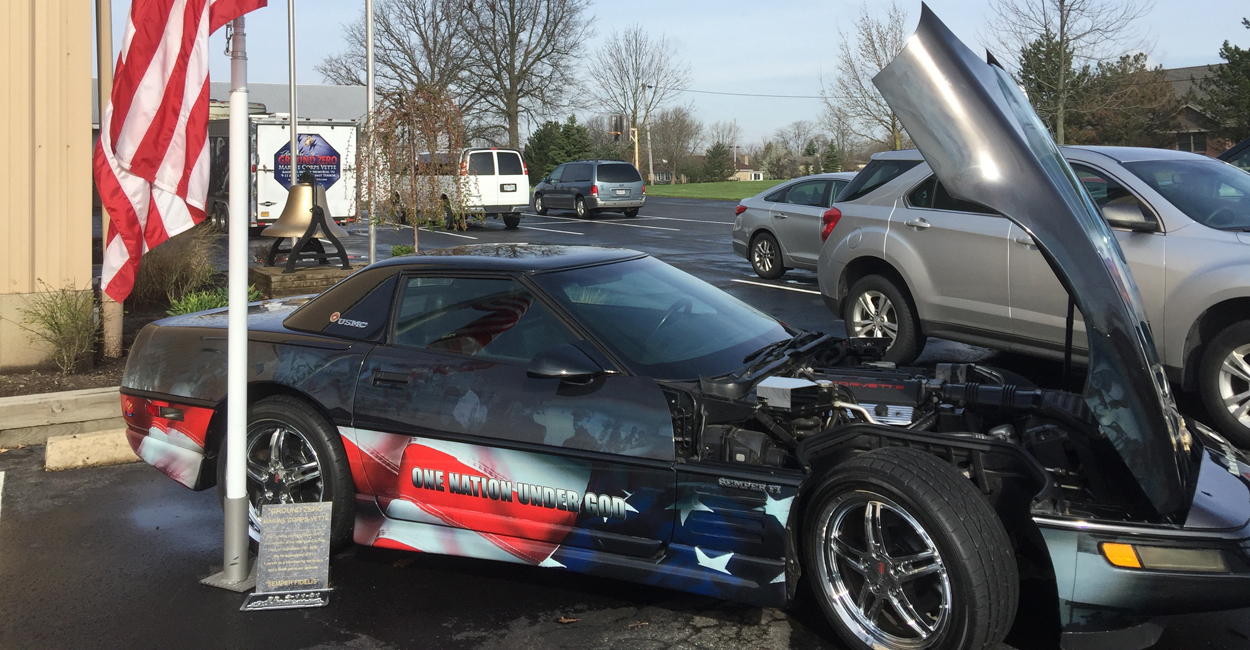 Inside the church, the group convenes for a meeting of Awake America Ohio, an organization designed to keep independent Baptists informed of legislation moving through the state and federal legislatures.
Robert Warnick, pastor at Calvary Chapel Baptist Church, presented Jordan with a red Bible, a thank you of sorts for 'doing what he says he's going to do.' From the pulpit, Warnick thanked the congressman for standing strong on his promise to repeal and replace Obamacare.
"He says and does what he says. … Repeal, replace, not modify," Warnick says of Jordan, to responses of "Amen."
"I'm grateful for that, because that's what we were promised," the pastor says. "I'm grateful for someone that's standing there fighting for us, and we're with you."
Those in the meeting, mostly pastors, are familiar with the political process.
Awake America Ohio and its national organization coordinate trips to Washington, through an initiative called Capitol Connection. During their trips, these independent Baptists meet with their elected officials.
Alter, the senior pastor from Sidney, knows all about the debate raging over Obamacare's repeal and replacement.
He knows that Republicans passed a bill dismantling major portions of the law in 2015, and he knows that Jordan wants GOP leadership to bring that bill before members for a vote again. (Jordan reintroduced the legislation in the House last month, teeing it up for leadership.)
But while some in Washington have wanted to put the blame for failure of the health care bill failing squarely on the Freedom Caucus, Alter knows that, at home in Ohio, Jordan has nothing to worry about.
"The idea that we're not behind what he's doing is so ludicrous," he says. "It's beyond imagination."
Friends and Critics
Outside Ohio's 4th Congressional District, Jordan's fellow Republicans aren't faring as well as he has so far.
Rep. Mike Coffman, R-Colo., faced an angry crowd of Republicans and Democrats at a town hall Wednesday. The voters demanded to know why Coffman supported the House GOP's health care bill.
But make no mistake—Jordan, too, has faced his fair share of critics back home.
During a short recess in February, a crowd of protesters confronted Jordan at two events, the first at the historic home of President Warren G. Harding in Marion, Ohio, and the second at the Rutherford B. Hayes Presidential Library in Fremont.
Jordan faced the protesters head on, taking questions at both stops.
And he'll do that again next week.
Jordan is scheduled to attend an April 24 town hall in Lima hosted by a local group. He is almost certain to face pushback for his stance on Obamacare and efforts to dismantle the health care law.
But in Minster, the congressman is meeting amicable groups of constituents. This part of Ohio's 4th boasts a significant amount of both agriculture and manufacturing.
With a population of 713,300, Jordan's district employs more people in manufacturing than in any other sector.
One of Dannon's four yogurt plants is located in Minster. (Don't mentioned the Y-word—Yoplait—here.)
And Honda has a large presence along U.S. Route 33, which runs through Jordan's district and will become a test track for self-driving vehicles.
Only a small fraction of the district's residents, though, enrolled in plans through the Obamacare insurance exchange. According to the Kaiser Family Foundation, 10,700 consumers did so in 2016. Of those, 9,600 received a government subsidy.
'This Is Killing Us'
So Jordan, like other lawmakers in the Freedom Caucus, is focused on lowering the cost of premiums for his constituents.
In an interview with The Daily Signal, Jordan recalls a woman who approached him earlier in the day and rattled off the specifics of her plan: a monthly premium of $1,500 and a $6,000 deductible.
Jim Kronenberger, of New Bremen, Ohio, works for an insurance company and says he's met with many small businesses struggling under Obamacare.
"Every one of them is like, 'This is killing us,'" he tells The Daily Signal. "'The Affordable Care Act is killing us.'"
Kronenberger attended a luncheon for small business owners with Jordan at the Wooden Shoe Inn in Minster. He wanted to know why Congress scheduled a vote on the bill so quickly—two weeks after it was introduced.
"What was the big rush?" Kronenberger says. "I know this stuff takes awhile, and I didn't want to see something screwed up, and I'm glad they didn't pass it. It's something that has to be thought out and done right."
Jordan explains Republicans' timeline to pursue tax reform after health care, but notes that he and many other caucus members believed they were going to begin with the legislation crafted in 2015–which both houses passed and Obama vetoed.
Rick Schwartz, a vice president at Nidec Minster, wants to know why Jordan opposed the health care bill, especially since Trump backed it.
"There were a lot of discussions going on behind closed doors, so everyone could get a little bit of what they wanted," Schwartz tells The Daily Signal. "I'm not privy to those discussions, but Jim should know that."
Schwartz says too many Ohio families have few choices in health insurance, and many watched the cost of their premiums rise over the past few years.
He says he wants the law to be changed and improved.
"Obamacare seems like it's been a failure from the start, and I think it needs to be replaced with something that's more affordable for all American people," Schwartz says.
Though Schwartz has questions about why Jordan and fellow Freedom Caucus members broke with Trump, his trust in his congressman curbs that skepticism:
I was hoping that they would've found a way to work together and put the best program in place, but I don't think we want to settle for something that's not all the way there. I trust Jim, he's a real solid congressman. If, in his view, we weren't doing what he's promised the American people, then let's find a way for him and the Trump administration to make that happen.