Multiculturalism strikes again, today it's in Manchester, UK. ISIS terror group said they are responsible for the blast that so far took 19 lives.
This is only the beginning."
Thanks to the feckless policies of the UK government and governments all over the West, that is undoubtedly true.
SO far the Muslim killed 19 people and about 50 others are injured in this Islamic suicide bombing Monday night after an Ariana Grande concert at Manchester Arena in England.
Greater Manchester Police said the incident was being treated as terrorism. A senior White House official told NBC News that President Donald Trump, who is on a visit to Jerusalem, had been briefed.
Police said the explosion took place outside the arena, which is near the Manchester Victoria transit station, as the concert ended at about 10:35 p.m. local time (5:35 p.m. ET), catching people as they exited.
A representative of Ariana Grande said the singer, who has millions of young fans around the world, was not hurt. Likewise, Bianca Landrieu, the Boston hiphop star known as Bia, who also performed, tweeted: "Guys we are okay!!!"
Ivo Delgado, who attended the event, told NBC News that the concert had just ended when "I just heard a loud bang."
"People started screaming and going to the other side of the arena," said Delgado, who said he saw at least one person with blood on his face.
Steve Rotheram, mayor of the Liverpool City Region, tweeted that his two daughters had been in attendance and were safe.
"But I fear for others," he said.
Manchester Arena, which opened in 1995, is one of the largest indoor arenas in Europe. More than 1 million people fill its 21,000 seats every year.
Mayor Khan of London said Terrorism is a normal part of life when you live in big cities (and Islam).
The UK has a moral obligation to round up every single Muslim on her soil and deport them all to Syria or Saudi Arabia, ban Muslims from ever entering her borders, and ban the religion of Islam in general.
Islam simply does not belong in the UK at all. Period.
Britain: You have opened the door to the barbarian who uses religion to mask its control-freak intentions. Ditto for many other Western nations, including my own, America.
Truly, and I say this as a student of history for some forty years now, I know of no comparable allowance for the barbarian to enter into the civilized world all the while the pretense is proffered that the barbarian is not a barbarian.
Yes, later Roman Emperors (e.g., Valens) allowed various Teutonic barbarians to enter into the perimeters of the Empire (which came back to bite Valens in the butt in 378 at Adrianople), but they were under no illusion that such Teutons were anything but barbarians. Other examples could be found when the civilized world made concessions to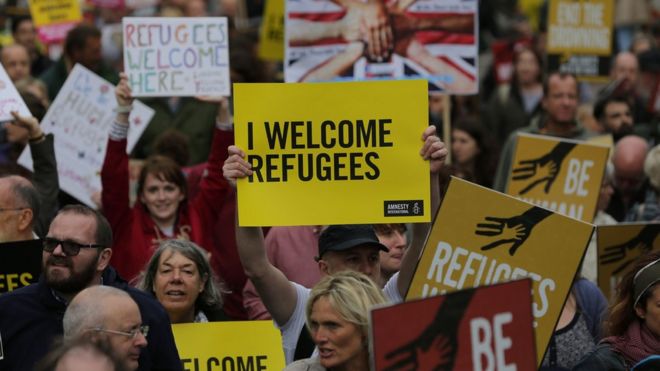 the uncivilized world (e.g., certain Byzantine emperors in the latter stages of Byzantine history). But we live in a unique age whereby the barbarian is described, and described regularly, as something good and noble (e.g., by that silly valedictorian at Notre Dame the other day).
This is nuts. Islam is evil and a mortal enemy of freedom. Its reputed founder was a psychopath. Most all that Islam stands for is in opposition to Western Civilization as it has evolved. And so inviting this beast into the West makes zero sense. Well then, to put it simply, expect many more bombings AND the use of Western law to eventually replace said law with Islamic law.
Meanwhile Multiculturalism  in Sweden is going about as well as it is in the UK:  A SWEDISH AIRPORT HAS BEEN EVACUATED AFTER A BAG WITH "TRACES OF EXPLOSIVES" WAS DISCOVERED IN THE DEPARTURE HALL.
It is believed the police have sealed off a 200m scene around the suspect bag, and are awaiting the arrival of a bomb squad to further examine the package. Sweden was hit by terrorists last month when a truck attacker killed four people outside a busy shopping centre in Stockholm.
Armed police seem to be working to clear the area around the arena. Armed response officers are running to check the surrounding area. pic.twitter.com/FlVn751vCG

— Adam McClean (@AdamMcCleanITV) May 22, 2017
Sadly this is only the beginning  for Europe, Europe is in the receivership of an exodus of "dangerous and disillusioned" Islamic State jihadists, defeated in Syria and Iraq earlier this year and possibly seeking revenge, the head of the UN Security Council's counterterrorism agency has warned.
Scores of foreign Islamic State (IS, formerly ISIS/ISIL) fighters, determined to migrate to Europe, are "more dangerous" than previous waves of migrants, Jean-Paul Laborde told reporters on Thursday. Some may be eager to
seek revenge after defeats on the battlefield, including in recent confrontations in Mosul.
 This second wave of Muslim migrants contain a much more extreme Muslim. Islamist who had more time to build contacts with terrorist organizations that can assist them in committing attacks inside Europe.Between 40 to 50 percent of foreign fighters, who left for Syria and Iraq, have already left territories controlled by IS, Laborde added.
"On average, these people are much more committed, more experienced and more skilled," he told reporters, as cited by Reuters.
A number of foreign terrorist fighters which will probably slip through the borders and migrate to these countries, especially with smuggling networks," he added.
 Some 5,000 Muslim EU nationals are currently fighting in Syria among the ranks of IS and other jihadist groups, a senior Syrian official said last month, warning that it'll be a disaster for European security if these militants are allowed to return.