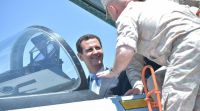 (CNSNews.com) – Russia's reaction to any U.S. provocation against the Syrian government would be "proportionate," Foreign Minister Sergei Lavrov said Wednesday, responding to a White House warning about "potential preparations for another chemical weapons attack by the Assad regime."
Lavrov told reporters in a city near the Black Sea that the U.S. should not "create pretexts" for further attacks on Moscow's ally in Syria, based on speculation on intelligence that is so secret no one is allowed to see it.
"Our reaction will be dignified and proportionate to the situation that may take shape," he said.
Lavrov confirmed that Secretary of State Rex Tillerson had called to apprise him of the statement issued by the White House late on Monday night. In it, the administration warned that, if President Bashar al-Assad "conducts another mass murder attack using chemical weapons, he and his military will pay a heavy price."
Lavrov said Russia expects the U.S. and European nations to de-escalate the situation in Syria, and abandon attempts to seize control over parts of the country and put its territorial integrity at risk.
Following the White House statement, Pentagon officials said the U.S. has seen suspicious activity at Syria's Shayrat airbase. That was the base targeted by U.S. cruise missiles last April, after an alleged sarin gas attack at Khan Sheikhun in Idlib province which the U.S. blamed on the Assad regime and said had originated from Shayrat.
Lavrov's ministry in a statement Wednesday lashed out at "Washington's bellicose rhetoric" and warned the U.S. "against further irresponsible steps in violation of the United Nations Charter" and international law as had occurred, it said, in the April 7 missile strike at Shayrat.
The ministry said the White House statement was seen as an "invitation" for terrorists to stage a provocation using chemical weapons.
(Both Russia and the Assad regime have alleged that the Khan Sheikhun chemical attack was either a "false flag" provocation designed to draw outside intervention against the regime, or a case of noxious gas escaping when a rebel chemical weapons storage facility was bombed. An Organization for the Prohibition of Chemical Weapons fact-finding mission in Syria is expected to release a report on the Khan Sheikhun chemical attack as early as Thursday.)
The foreign ministry said the U.S. appeared incapable of learning from "past mistakes."
"This scenario has been repeatedly used with regard to Iraq, Yugoslavia, Libya and also other countries too," it said. "Unfortunately, although many officials in Washington have admitted their unacceptable and really tragic past mistakes, it appears that the Washington establishment still fails to draw any practical conclusions from this."
The Trump administration and Pentagon has not said much on the reported "potential preparations" for a chemical attack.
Defense Secretary James Mattis, however, suggested on Wednesday that the Syrian regime may have backed away from the intended use of chemical weapons following the U.S. warning.
"It appears that they took the warning seriously," he told reporters accompanying him to a NATO meeting in Brussels. "They didn't do it."
Asked how seriously he viewed the preparations that had been underway, Mattis said, "I think the president speaking about them says how seriously we took them.  He wanted to dissuade them."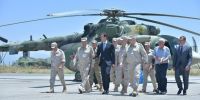 Hours after the White House issued the warning statement, Assad paid a visit Tuesday to the hub of Russia's military operation in Syria, the Hmeimim airbase in Latakia.
He was accompanied by the Russian chief of general staff, Gen. Valery Gerasimov, and the Syrian regime posted videos and photographs showing Assad examining weapons, equipment and aircraft, and sitting inside the cockpit of a Sukhoi SU-35 'Flanker', one of the world's most advanced fighter jets.
It's not known whether the visit to the airbase was planned before the White House warning was issued or was intended as a show of solidarity or defiance in response to the statement.
Either way the timing was noteworthy. It's believed to be the first time Assad has visited the base since Russia's launched its military intervention on his behalf on September 30, 2015.
Assad's other key ally, Iran, also weighed in Wednesday in response to the U.S. warning.
Ali Shamkhani, secretary of the Supreme National Security Council, said Washington was "playing with fire, and foreign ministry spokesman Bahram Qassemi said America's "baseless claims" and any action it may take would merely strengthen terrorist groups in Syria.