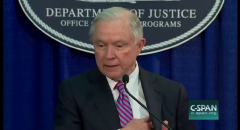 (CNSNews.com) – Attorney General Jeff Sessions announced Friday the creation of a gun strike force to reduce violent crime in Chicago, making good on President Donald Trump's campaign promise that he would address the matter.
The president tweeted Friday: "Crime and killings in Chicago have reached such epidemic proportions that I am sending in Federal help. 1714 shootings in Chicago this year!"
"No child in America should have to walk the streets of their neighborhood in fear of violent criminals, and yet in Chicago, thousands of children do every day. Last year, more than 4,300 Chicagoans were shot, and more than 700 were killed—the deadliest year in two decades," Sessions said in a statement Friday.
"The Trump Administration will not let the bloodshed go on; we cannot accept these levels of violence. That's why, under President Trump's strong leadership, we have created the Chicago Gun Strike Force and are sending 20 more permanent ATF agents to Chicago, reallocating federal prosecutors and prioritizing prosecutions to reduce gun violence, and working with our law enforcement partners to stop the lawlessness," Sessions added.
During an off-camera press briefing Friday, White House Deputy Press Secretary Sarah Sanders Huckabee was asked whether the task force was "a suggestion or a recognition that at least part of the problem in Chicago is a gun control problem or a firearms access control problem."
Sanders said it was clearly "a crime problem."
"I think that the problem there is pretty clear that it's a crime problem. I think crime is probably driven more by morality than anything else. So I think that this is a law enforcement issue, and our focus is trying to add additional support," Sanders said.
"We've talked to people on a local level and asked for their input on how we best can be helpful, and that's exactly what we're trying to do. That's something the president talked about pretty extensively, and he's focused on trying to help the people in Chicago," she said.
The task force became operational on June 1. It consists of: 20 additional permanent ATF special agents, 6 intelligence research specialists, 12 task force officers from the Chicago Police Department (CPD), 2 task force officers from the Illinois State Police, and 4 NIBIN specialists (National Integrated Ballistics Information Network).
Sessions commended Trump for committing to enforcing U.S. law and "keeping our communities safe."
"The Trump administration will also continue to pursue every avenue available to ensure that states and cities comply with federal immigration law and protect our citizens—rather than protecting the criminal illegal aliens who prey upon them," the attorney general said.
He said sanctuary city policies "tie the hands of law enforcement by rejecting common sense and undermining federal laws that would remove criminal, illegal aliens from the streets and remove them from this country.
"These policies are opposed by some 80 percent of the American people because they endanger us all by letting dangerous criminals stay in this country that are due to be removed," Sessions added.