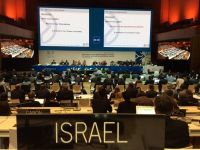 (CNSNews.com) – Cuba's delegate at a U.N. meeting an hour's drive from the site of a Nazi extermination camp in Poland objected Tuesday to an Israeli request for a minute's silence for Holocaust victims – then called for another one, for the Palestinians.
The meeting of the U.N. Education Science and Cultural Organization (UNESCO) heritage committee had earlier passed an Arab-initiated measure denouncing Israeli activity in Jerusalem's Old City and declaring it an "occupying power" in the city.
Israeli ambassador Carmel Shama HaCohen noted the proximity of Auschwitz to the meeting and linked modern-day efforts to separate the Jewish people from their ancient capital to Hitler's campaign.
He recalled that Jews have for centuries prayed "next year in Jerusalem" – including in the Nazi death camps.
"We are assembled here next to the largest mass grave of the Jewish people – but it's also the deepest, darkest grave into which humanity had ever descended," he said.
The ambassador recalled that a month ago he had written to Arab delegates, urging them to be sensitive to the location of the meeting and not go ahead with presenting an "anti-Jewish resolution regarding Jerusalem."
Instead, he said, the meeting had put forward not just one but two such measures.
Shama HaCohen then asked the assembled diplomats to stand for a minute's silence in memory of the six million Jewish victims and of all those killed by the Nazis or who died fighting against them.
When the silence was over, he suggested that Arab and partner delegates visit Auschwitz.
"Maybe there you will understand that even in the darkest hours, when they separated parents from their children, dismembered live people, and where they separated human beings from their humanity, the Nazis could not succeed in separating the Jewish people from our eternal capital, Jerusalem," he said.
Shama HaCohen said Jews had never stopped declaring "next year in Jerusalem" – not even during the Holocaust – and never would.
"Just as Hitler, the Nazis and their partners like [wartime mufti of Jerusalem] Haj Amin el-Husseini did not succeed, you will not succeed as well – in denying the Holocaust, or in your efforts to destroy Israel or Jewish history," he told the gathering.
"No politicized decision of UNESCO will ever move one brick from a wall in Jerusalem, nor will it succeed in separating between Jerusalem and the Jewish nation. Nor will it succeed to rewrite our history in Jerusalem."
The presiding official then immediately gave the floor to Cuba's representative, who objected on procedural grounds to a call by a delegate, rather than the chairman, for a minute's silence.
She rejected the Israeli envoy's accusation that the resolution in question was a measure against Israel or the Jewish people, and said that his conduct was "turning this meeting into a politicized circus."
"Only the chair can request a minute of silence," the Cuban representative said through a translator. "So, with your indulgence let me request, Mr. Chairman, that we stand for a minute of silence for all of the Palestinians who have died in the region."
Delegates stood again, and when the silence ended Shama HaCohen was heard to remark, "Good comparison."
Tuesday's resolution, sponsored by Jordan, was the latest in a string of UNESCO decisions over a number of years siding with Palestinian claims to some of Judaism's most revered sites, in Jerusalem, Hebron and elsewhere. A new measure on Hebron, the traditional burial place of the Jewish patriarchs Abraham, Isaac and Jacob, is scheduled for late this week.
The Israeli foreign ministry called Tuesday's Jerusalem resolution absurd, unnecessary and "pathetic."
"Jerusalem is the eternal capital of the Jewish people, and no UNESCO resolution will change this reality," a spokesman said.
The measure passed in the 21-member heritage committee by a 10-3 vote, with eight abstentions.
Voting in favor were Islamic members states Azerbaijan, Indonesia, Kazakhstan, Kuwait, Lebanon, Tunisia and Turkey – along with Cuba, Vietnam and Zimbabwe.
The "no" votes came from Burkina Faso, Jamaica and the Philippines, while Angola, Croatia, Finland, Peru, Poland, Portugal, South Korea and Tanzania abstained.
In 2011, the U.S. in line with 1990s legislation cut funding to UNESCO after it became the first U.N. agency to admit the Palestinians.
The Obama administration then repeatedly sought waiver authority to enable it to restore the funding, but without success.