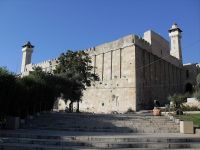 (CNSNews.com) – An Israeli diplomat demonstrated his contempt for a U.N. Education Science and Cultural Organization (UNESCO) decision to designate the traditional burial place of the biblical patriarchs as part of Palestinian territory by saying a call from his plumber about a leaking toilet was more important, and excusing himself from the proceedings.
The farcical moment came during a highly-charged session Friday of UNESCO's world heritage committee, meeting in Poland, after the committee voted to name the Old City of Hebron and the Cave of the Patriarchs as a Palestinian "world heritage site in danger."
Israeli ambassador Carmel Shama-HaCohen began his intervention by noting the presence of Tayseer Abu Sneineh, a Palestinian convicted of a 1980 terrorist attack in which six Israelis were killed – who was last year elected mayor of Hebron.
It was a "great honor for this organization to have him today with us," Shama-HaCohen said derisively.
He then poured scorn on an earlier incident in which Cuba's delegate, after a minute's silence to mark the victims of the Holocaust, asked for another in memory of "the Palestinians who have died in the region." (The heritage committee session is taking place an hour's drive from Auschwitz.)
Shama-HaCohen said the implied equating of the six million Jewish victims of the Nazis with those killed in a political conflict marked "one of UNESCO's most dishonorable moments."
He then took out his cellphone and apologized to the chairman for having to leave to make a call.
"Sorry, I had a very – it's an urgent – Mr. Chairman, it's my plumber in my apartment in Paris. There is a huge problem in my toilet and it is much [more] important than the decision you just adopted."
Minutes earlier the assembly in Krakow burst into sustained applause after the 15-member heritage committee passed the Hebron decision by a vote of 12-3, with six abstentions.
U.S. Ambassador to the U.N. Nikki Haley said in a statement afterwards the vote "represents an affront to history."
"It undermines the trust that is needed for the Israeli-Palestinian peace process to be successful. And it further discredits an already highly questionable U.N. agency," she said, adding that the U.S. was "currently evaluating the appropriate level of its continued engagement at UNESCO."
The U.S. has not funded UNESCO since 2012, in keeping with a 1990 law prohibiting funding to any U.N. body "which accords the Palestine Liberation Organization the same standing as member states."
Israel says that since UNESCO that year became the first U.N. agency to admit the "state of Palestine" its Arab members have stepped up a campaign to nullify Jewish connection to some of Judaism's most revered heritage, including in Jerusalem, Hebron and Bethlehem, with resolutions and measures effectively siding with Palestinian claims and narratives.
The site in Hebron, about 20 miles south of Jerusalem, has links to foundations of the Jewish faith almost 4,000 years ago: According to Genesis 49, Abraham bought a cave there to bury his wife, Sarah. He was buried there himself too, along with Isaac and Jacob, as well as Isaac's wife Rebecca, and Jacob's first wife, Leah.
The Old Testament also records that Hebron was the capital of the kingdom of Israel for seven years before King David moved his seat to Jerusalem (2 Samuel 5). Rabbis consider the Cave of the Patriarchs to be the second holiest site in Judaism, after the Temple Mount in Jerusalem.
According to historians a Jewish presence in Hebron survived for thousands of years until 1929, when 67 members of the then 800-strong Jewish community were killed during three days of Arab riots, prompting the British mandate authorities to evacuate the rest.
After Israel captured the area during the 1967 Six Day War Jews began to return to Hebron in small numbers. Several hundred live under heavy security in the historic Jewish Quarter, and several thousand in a community on the outskirts, regarded by the international community as an "illegal settlement."
In 1994 an Israeli opened fire on Muslims in a mosque at the site, killing at least 29 people before he was overpowered and killed.
Hebron remains a predominantly Arab city, and the Cave of the Patriarchs incorporates a mosque named for Abraham (Ibrahim). Muslims also revere biblical figures, in line with the Islamic precept that all major biblical figures, from Adam to Jesus, were Muslim prophets.
Palestinians and their supporters say that the Cave of the Patriarchs is the fourth-holiest site in Islam, after Mecca, Medina and Jerusalem.
However, other sources ascribe that position to Kairouan in northern Tunisia, Harar in Ethiopia – which UNESCO itself says is "said to be the fourth holiest city of Islam" – or Najaf in Iraq.
On one online list of the 15 "holiest sites in Islam," Hebron does not feature at all.