(CNSNews.com) – Lebanon's prime minister said at the White House Tuesday he was committed to a U.N. Security Council resolution calling for Hezbollah's disarmament – but back home his government's failure to rein in the Iranian-backed group is being starkly illustrated by a fierce terrorist-versus-terrorist battle underway along the Lebanon-Syria border.
"Our government is committed to the United Nations Security Council resolution 1701, as well as all resolutions," Prime Minister Saad al-Hariri said alongside President Trump in the Rose Garden.
Although he did not mention Hezbollah by name in his English comments, the 2006 resolution he cited calls for "the disarmament of all armed groups in Lebanon, so that … there will be no weapons or authority in Lebanon other than that of the Lebanese state."
Hezbollah is deeply enmeshed in the Syrian civil war on the side of the Assad regime, and since Friday has been fighting alongside Assad's forces to dislodge members of the al-Qaeda-affiliated Jabhat al-Nusra (now calling itself Jabhat Fateh al-Sham) from the border area of Arsal.
On Tuesday, Hezbollah, a U.S.-designated foreign terrorist organization, announced it was on the verge of ousting the Sunni terrorists from the area, and it called on those surviving to surrender to avoid further bloodshed.
The fact the Shi'ite terrorist group is able to carry out an armed offensive on Lebanese soil while the country's national army stands by underscores the government's inability or unwillingness to challenge it.
Apart from its armed activities, Hezbollah operates as a political party, and has two ministers in Hariri's cabinet.
At the same time, Hariri's Future Movement has criticized Hezbollah's Arsal offensive, calling it an attempt by the group's Iranian sponsors to "seize control of Lebanon."
Last week, new bilateral legislation was introduced in the U.S. House and Senate increasing sanctions imposed against Hezbollah in 2015.
Speaking in the Rose Garden Tuesday, Trump said he was consulting with military experts and would announce his response to the initiative "over the next 24 hours."
He did not hold back on criticizing the terrorist group, however.
"Hezbollah is a menace to the Lebanese state, the Lebanese people, and the entire region," he said, citing its military buildup, threats to Israel and conduct in Syria.
"With the support of Iran, the organization is also fueling the humanitarian catastrophe in Syria," he said. "Hezbollah likes to portray itself as a defender of Lebanese interests, but it's very clear that its true interests are those of itself and its sponsor – Iran."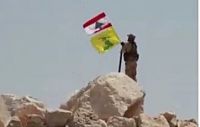 Lebanon's refusal to disarm Hezbollah is a violation of more than one U.N. Security Council resolution. Aside from the resolution cited by Hariri, resolution 1559 of 2004 calls for "the disbanding and disarmament of all Lebanese and non-Lebanese militias."
Since that resolution was adopted in New York, U.S. administrations have provided the Lebanese Armed Forces (LAF) and Internal Security Forces (ISF) with some $1.4 billion in aid.
The Obama administration's FY 2017 foreign operations budget request included $105 million in foreign military financing for the LAF, in addition to international military education and training (IMET) and economic support funds.
Trump on Tuesday praised the LAF for "fighting continually to guard Lebanon's border and prevent ISIS and other terrorists – of which there are many – from gaining a foothold inside their country."
'The United States military has been proud to help in that fight and will continue to do so," he said. "America's assistance can help ensure that the Lebanese army is the only defender Lebanon needs."
Source material can be found at this site.