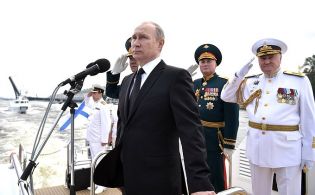 (CNSNews.com) – Russian President Vladimir Putin said Sunday 755 U.S. diplomats and staff in Russia will have to "terminate their activity" and warned that further restrictions could be taken in response to U.S. sanctions – although he added he hoped they would not be necessary.
"We have been waiting for quite a long time for any positive changes [in Washington's approach to Russia]," Putin said in an interview with the state broadcasting network.
"But, to all appearances, even if it ever changes, it will not be soon," he said. "I thought we must demonstrate that we are not going to leave anything unanswered either."
Pointing to possible additional future measures, Putin said imposing restrictions on joint Russia-U.S. activities would be "painful" for the U.S. and would also cause "certain damage" to Russia, and said he hoped such a moment would not arrive.
On Friday the Russian foreign ministry signaled Moscow's response to new sanctions legislation, saying that the numbers of U.S. diplomatic and consular employees in Russia would be reduced to match the 455 Russian diplomats and technical staff currently employed in the U.S.
It was Putin who first put a number on the U.S. personnel and staff who would therefore have to leave.
Citing staffing figures from several years ago (a total of 1,279 in 2013), the Diplopundit blog said the number he gave indicate that the planned reductions do not apply only to U.S. diplomats but to the entire mission staff, including local employees.
The ministry also said the U.S. use of two facilities in the Russian capital would be suspended with effect from August 1 – a "dacha" or recreational compound in the city's north west, and a storage warehouse.
Moscow has for months sought to reverse a seizure by U.S. authorities late last year of two Russian dachas, one in Maryland and one in New York.
The Obama administration took that step in response to alleged Russian interference in the 2016 U.S. election. It also expelled 35 Russian diplomats at the time, although Putin said then he would not immediately respond, suggesting he hoped relations would improve after President Trump's inauguration.
Putin's announcement came two days after the White House indicated that Trump "intends to sign" legislation imposing sanctions on Russia, Iran and North Korea, which won overwhelming support in the U.S. House and Senate last week.
The Russia sanctions are intended as a response to its military actions in Ukraine and Syria and alleged meddling in last year's U.S. election. A provision that requires congressional review of any proposal by Trump to ease the sanctions was especially contentious, and the White House earlier seemed reluctant to endorse it.
But White House press secretary Sarah Huckabee Sanders said in a Friday night statement that the president had read early drafts of the bill and negotiated on critical elements of it. "He has now reviewed the final version and, based on its responsiveness to his negotiations, approves the bill and intends to sign it."
'Russophobic forces'
Secretary of State Rex Tillerson voiced the hope the sanctions would prompt better behavior from the Russians.
"The near unanimous votes for the sanctions legislation in Congress represent the strong will of the American people to see Russia take steps to improve relations with the United States," he said in a statement. "We hope that there will be cooperation between our two countries on major global issues and these sanctions will no longer be necessary."
On Friday, Russian Foreign Minister Sergei Lavrov blamed the developments in the U.S. on "Russophobic forces" bent on pushing Washington towards confrontation with Russia.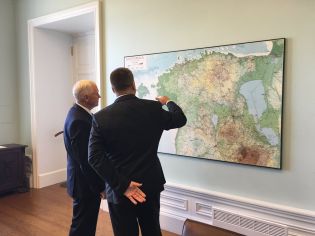 In a phone conversation with Tillerson, Lavrov was quoted by the foreign ministry as saying the latest Russian measures were in response to hostile U.S. steps including "illegal anti-Russian sanctions and slanderous accusations against Russia, the mass expulsion of diplomats and expropriation of our diplomatic property."
Putin's announcement came during a trip by Vice-President Mike Pence to three countries in central and eastern Europe that have difficult histories with Russia – former Soviet republics Estonia and Georgia; and Montenegro, the newest member of NATO, where authorities accuse Russia of involvement in an alleged attempt to assassinate a pro-Western prime minister last year.
Speaking in Estonia, Pence also voiced the expectation that Russia's behavior will change.
"The president's made it very clear that Russia's destabilizing activities, its support for rogue regimes, its activities in Ukraine are unacceptable," he told Fox News in a square in central Tallinn, adding that Trump will sign the sanctions legislation to reinforce that.
"But at the same time, as we make our intentions clear, we expect Russian behavior to change, " Pence said. He said a change in Russian behavior would be in the interests of both countries, and of stability of the region and the world.
Estonian Prime Minister Juri Ratas said the U.S. has an "irreplaceable role in securing our neighborhood" and Europe as a whole.
"We share the same values with countries that have strong ties and good cooperation, and we are grateful to the United States for their contribution to European security," local media quoted him as saying.
Meanwhile a senior Iranian official predicted the sanctions against Russia and Iran would boost the already strengthening relations between the two targeted countries
"The value of mutual relations between Iran and Russia will become more evident after the sanctions and these relations will become deeper and stronger," said Ali Akbar Velayati, a former foreign minister who advises supreme leader Ayatollah Ali Khamenei on foreign affairs.
Source material can be found at this site.