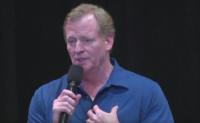 National Football League (NFL) Commissioner Roger Goodell says that "we want to respect" the "rights" of players to protest the national anthem before games.
On Monday, after players protested the national anthem at games over the weekend – one by sitting and eating a banana while the anthem played – Goodell was asked if anthem protests are going to be a problem in the upcoming season.
Goodell dismissed the protests as merely a difference of opinion. "It's one of those things where we have to understand that there are people who have different viewpoints," Goodell said, according to ESPN.com.
Goodell said players have "a right" exhibit disrespect for the national anthem and the country when the anthem is played at games – and called on fans to "respect" that right:
"It's something that I think everybody wants. The national anthem is a special moment for me. It's a point of pride. That is a really important moment but we also have to understand the other side — that people do have rights, and we want to respect those."
While NFL fans may agree players have the "right" to protest, viewers reserve the right to change the channel. Last month, a J.D. Power and Associates survey found that player protests of the national anthem are the top reason that fans watched fewer NFL games last year.
NFL Gone Wild! Commissioner: 'Respect Those Rights' of Players Protesting National Anthem

,
Source material can be found at this site.