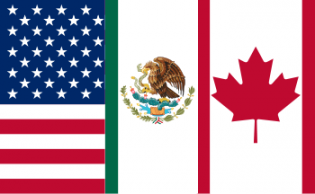 Mexico City (CNSNews.com) – Mexico's negotiating team may be "better prepared," but overall, Mexico suffers from a relatively weak negotiating position according to analysts interviewed as NAFTA renegotiation talks kicked off this week in Washington.
The Trump administration's insistence that U.S. trade deficits be brought down by a revamped treaty is likely to be a major stumbling block to success, one analyst predicted.
The talks aim to modernize the 23-year-old pact that established a tri-lateral trade bloc between Canada, Mexico and the U.S., eliminating many import and export tariffs.
"We feel that NAFTA has fundamentally failed many, many Americans and needs major improvement," U.S. Trade Representative Robert Lighthizer said in a prepared statement issued as the first round of talks began.
"We need to assure that huge trade deficits do not continue and that we have balance and reciprocity."
"I don't see the U.S. changing its stance," on trade deficits, Monica de Bolle, a senior fellow at the Peterson Institute for International Economics told CNSNews.com.
"And I don't see that as being acceptable to either Mexico or Canada."
If the U.S. doesn't back down from the stance, it will be harder for Canada and Mexico to fully engage in the negotiations, de Bolle predicted.
"It's not common to go into a trade negotiation insisting on reducing trade deficits. That's not what trade agreements are about."
De Bolle said she is hoping for a successful renegotiation of the trade pact, but "I would say at this point the chances of a stalemate are slightly higher than success."
If not wrapped up by the end of this year, the talks could drag on for up to two years, because next year's mid-term elections in the U.S. and a presidential election in Mexico will make a speedy settlement even more difficult, de Bolle said.
Luis Enrique Zavala, director of ANIERM, Mexico's national association of importers and exporters, argued that Mexico's position going into the talks "is very weak."
"Mexico is underestimating the grave world trade deficit that the U.S. has. It is reasonable for any president to want to solve a trade deficit that is affecting the economy."
Mexican negotiators, Zavala said, will find it difficult to take the "offensive" in the talks as its internal market is weak, and "Mexico doesn't have alternatives if the U.S. market is closed to us."
Zavala said Mexico would like to see the talks wrapped up quickly before the country's presidential election so it doesn't become a campaign issue.
One risk in the talks for Mexico is if the Trump administration succeeds in tightening existing NAFTA rules restricting the use of foreign-made parts in products Mexico manufactures and exports to the U.S.
Tougher restrictions would force Mexico to source the parts in the U.S. or Canada at a higher cost, damaging its existing trading relationships with low-cost producers, including China, Zavala said.
Still, according to de Bolle, Mexico's government has spent more time than the U.S. examining its priorities and what it wants out of the renegotiation, and its negotiation team is "much better prepared."
In her view, Mexico also has the upper hand over the U.S. regarding agricultural exports and imports covered by the treaty.
U.S. agriculture would "lose quite a bit if there are any hiccups in the negotiations," de Bolle said, noting that Mexico has a "credible threat" that it could turn to Argentina and Brazil to replace agricultural imports from the U.S.
Mexico is the biggest market for U.S. corn and the second largest market for U.S. sorghum, according to the U.S. Grain Council.
In a statement before the House Committee on Agriculture in July, the council warned that the U.S. threat to withdraw from NAFTA "has prompted the Mexican government to look to Brazil and Argentina for alternative sources of corn and other grain products."
Exports of corn have declined 4 percent since the start of the year, it said.
NAFTA has "resulted in the most efficient and effective interregional grain and livestock value chain in the world," the statement said. "It is imperative that other negotiating objectives or independent trade policy actions that could result in retaliation should be avoided at all costs."
Source material can be found at this site.