Five people were killed by a bus that crashed down the stairs of an underground passage in western Moscow, police said. The driver of the bus was taken into custody.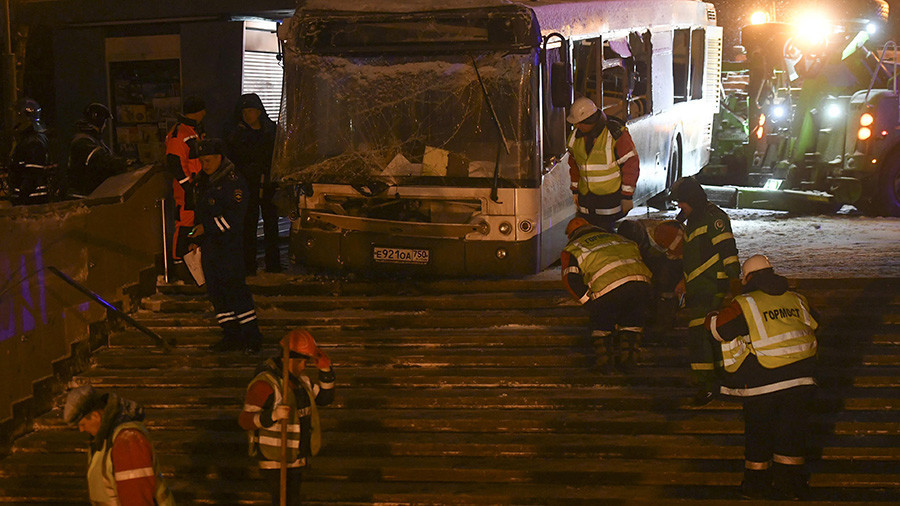 The driver whose bus crashed into a pedestrian underpass in Moscow on Monday was acting with malicious intent, one of the passengers claims. At least five people were killed and over a dozen injured in the incident.
The witness told the Russian media that he was sitting next to the driver and "saw how he did it on purpose." The incident occurred at around 14:50 local time, the passenger recalled, adding that he asked the driver when the bus was going to move out and received the reply: "I'll move at 15:00."
He seemed calm," the man said of the driver. "Suddenly, for no reason he stepped on the gas and drove out into the sidewalk… I was surprised, there was a bus ahead of him, which he could've driven into if he wanted to stop, or the trees. But he deliberately drove [into the underpass]," he added.
"He drove into the underpass, right there… ramming people… there were so many people under the bus," the witness said, adding that the five or six passenger on the bus, including himself, were unharmed.
It is not yet know the region of the driver or if Islamist are involved in the intentional crash.