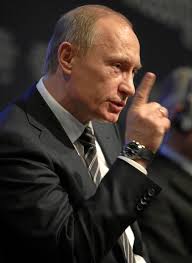 Russian President Vladimir Putin on Monday praised the "social, literary and journalistic activities" of the editor of an ultra-nationalist, anti-Semitic newspaper who has called for a new Cold War.
Putin, who is all but guaranteed to win a fourth Kremlin term in a presidential election next month, sent Stalinist journalist and writer Alexander Prokhanov a telegram to congratulate him on his 80th birthday.
"You have taken a great professional path, you have found your calling in your columns and in your social, literary and journalistic activities," Putin said in the message published on the Kremlin's website.
"You have always remained committed to your civic principles and ideals… I wish you good health and hope that your plans will be realized."
Prokhanov is the editor-in-chief of the far-right newspaper Zavtra (Tomorrow), which he founded in 1993.
In 2014 he accused Jews who supported anti-Russian protesters in Ukraine as "hastening a second Holocaust" with their backing of "fascist" Western reformers.
A Jewish character in Prokhanov's best-selling novel "Mr. Hexogen" said Jews were planning to take the blood and organs of health Russians and sell them to medical centers in Israel.
He has said that Russia does not need new monuments to Soviet dictator Joseph Stalin because the "unique, red civilization" he founded was so great that further memorials are unnecessary.
"I am afraid that I am interested in a Cold War with the West," he told The New York Times in 2014 at the height of the Ukraine conflict, which saw relations between Russia and the West plummet to levels not seen since the collapse of the Soviet Union.
"I was very patient. I waited for 20 years. I did everything I could so that this war would begin. I worked day and night."
Source material can be found at this site.