By Matthew Vadum — Front Page Mag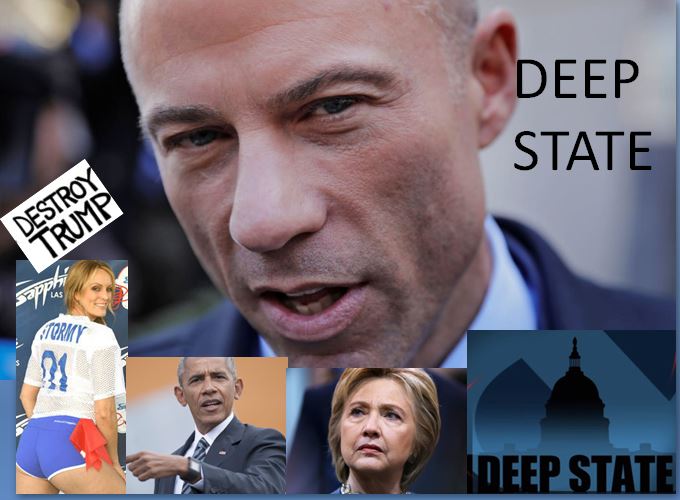 Trump antagonist and left-wing character assassin Michael Avenatti, whom Tucker Carlson has taken to calling "that creepy porn lawyer," is threatening to sue journalists for a conservative-leaning media outlet for defamation for daring to report on the attorney's highly questionable ethics and business dealings.
Avenatti's uncharacteristic loss of self-control could indicate that the attorney is beginning to realize his vexatious lawsuit against President Trump to free plastic surgery-addicted X-rated film star Stormy Daniels to talk about the alleged affair she had with Trump – that she has already talked about at length over and over and over – is about to collapse.
Avenatti's relentless assault on President Trump and his personal lawyer Michael Cohen is part of the Barack Obama-led anti-democratic insurgency
The media-savvy attorney who has become a household name across America has to know he has close to zero chance of succeeding in his own defamation lawsuit because he is now a hugely famous public figure who no longer enjoys the same civil law protections he enjoyed when he was relatively unknown.
Or all of this could be an act, a kind of political theater aimed at an ulterior objective such as continuing to generate adverse publicity for President Trump to distract from his many impressive policy achievements.
The evidence continues to accumulate that Avenatti's relentless assault on President Trump and his personal lawyer Michael Cohen is part of the Barack Obama-led anti-democratic insurgency to oust the duly elected 45th president of the United States from the White House.
Democrats, and more than a few Republicans on Capitol Hill, refuse to accept that the irretrievably corrupt Democrat Hillary Clinton was flattened by Republican Trump in a fair fight and they support the Left's rolling coup attempt. Their hatred of Trump is so deep they are willing to believe anything.
After a year of coming up with nothing but tedious perjury-trap process crimes and potential crimes having nothing to do with the Left's ridiculous Trump-Russian electoral collusion conspiracy theory, many on the Left are no longer counting on out-of-control Special Counsel Robert Mueller to take down the president. Avenatti is the Deep State's Plan D or perhaps a plan associated with a letter father along in the alphabet given that plot after Democrat plot against President Trump has failed miserably.
Mollie Hemingway of the Federalist connected the dots for Fox News Channel viewers on the weekend.
Avenatti's freak-out
After host Howard Kurtz noted Avenatti "is a guy who's been on CNN and MSNBC more than a hundred times in a couple of months," Hemingway asked the right questions and she explained what has really begin going on with the lawyer.
He is the front man for a well-funded and well-coordinated operation that has received next to no criticism or reflection by many people in the media. I saw something that showed that he had $175 million in free coverage on the various networks. And I think it is worth asking, Who is this guy? How does he have access to Special Counsel or Treasury Department documents? Who are his connections? Who's paying for this? We know that he ostensibly represents Stormy Daniels. She has said she's not paying him. It's worth finding out just a little bit more about who's driving the coverage.
Avenatti's freak-out began after the Daily Caller News Foundation published a fact-filled news report about his shady history.
"Let me be clear," the apparently thin-skinned lawyer who has become a constant presence on cable news shows, wrote in an email to the media outlet that was co-founded by Tucker Carlson.
"If you and your colleagues do not stop with the hit pieces that are full of lies and defamatory statements, I will have no choice but to sue each of you and your publication for defamation."
"During that process, we will expose your publication for what it truly is. We will also recover significant damages against each of you that participated personally. So if I were you, I would tell Mr. Trump to find someone else to fabricate things about me."
Avenatti's past is littered with lawsuits, jilted business partners and bankruptcy filings
"If you think I'm kidding, you really don't know anything about me. This is the last warning," he sputtered.
It is not clear what Avenatti believes was fabricated in the May 13 article by Peter Hasson and Joe Simonson, which seems even-handed.
In the piece the writers state that:
Avenatti's past is littered with lawsuits, jilted business partners and bankruptcy filings. People who have worked with the lawyer described him to TheDCNF as ruthless, greedy and unbothered by ethical questions.
It also states that Avenatti stiffed a supplier to his coffee shop chain. The lawyer angrily denied the claim but a mere three hours later the supplier tweeted that the dispute had been settled.
The article continued:
Those who have worked with Avenatti describe an individual obsessed with fame and willing to use unethical methods to win a case.

"He honestly believes he can get up and say or do anything he wants and there's no repercussions — largely there's not," said one individual who has worked with Avenatti in the past.

"I know this guy; he doesn't care about anybody but himself. He loves the attention. It's his whole lifestyle."
---
Avenatti lives by Rule No. 13, "Pick the target, freeze it, personalize it, and polarize it."
On CNN on May 8, Avenatti gave patriotic Americans the middle finger he thinks they so richly deserve:
There's been some criticism about how our media strategy, and how often I'm on CNN and how often I've been on your show, and other networks et cetera. It's all a bunch of nonsense because here's the bottom line, Anderson: it's working. It's working in spades.
In other words, ethics shmethics.
Avenatti takes the Alinskyite ends-justify-the-means perspective as he destroys innocent people and wages a war to undemocratically reverse the results of the presidential election while pretending to be concerned about the free speech rights of a woman with fake 36E breasts who makes a living having sex on camera with strangers in such lofty contributions to modern cinema as Revenge of the Dildos, Da Vagina Code, and Big Boob Bonanza.
At Politico, Jack Shafer beat me to the punch with his essay on Avenatti's embrace of Saul Alinsky's Rules for Radicals. (Or more precisely, Shafer analyzes Avenatti's use of several of Alinsky's "rules of power tactics.")
Shafer writes:
Appearing on TV, Avenatti wears down his opponents by deploying Alinsky's Rule No. 5, one that Trump has long observed in his own battles: "Ridicule is man's most potent weapon." Avenatti routinely mocks Cohen as a "thug," "beyond stupid," legally "radioactive" and "not that bright," and goes after Cohen's attorney with an ack-ack of insults and slights. Wherever possible, Avenatti makes personal everything that is legal, perhaps because he figures that a temperamental opponent like Cohen will grow unsettled and erratic in the face of ridicule, unable to muster any real defense.
Avenatti lives by Rule No. 13, "Pick the target, freeze it, personalize it, and polarize it." Thanks to the mainstream media and Avenatti's agitations, Cohen is viewed by many as an unsympathetic figure, so it isn't difficult to keep on vilifying him. Besides, Cohen is a Jew and the Left loves to stick it to Jews. Avenatti and his people know he'll never be called out for savaging a Jewish Republican. They can call Cohen whatever they want with impunity.
What do we know about Michael Avenatti?
Avenatti also believes in Rule No. 8, "Keep the pressure on. Never let up." He recently leaked "financial documents that documented suspicious cash transfers from corporations to Cohen," as if they somehow moved the ball forward in the legal case to free Daniels from the nondisclosure agreement she signed about her alleged fling a decade ago with Donald Trump. It's only purpose is to keep the pressure on Cohen.
But what do we know about Michael Avenatti?
Avenatti, it turns out, is not only an indefatigable, high-powered trial lawyer – he's a major political operator in Democratic Party circles. He worked for hardcore Alinskyite Rahm Emanuel, for five years at a political consulting firm and reportedly "worked on nearly 150 campaigns in 42 states, all while attending night law school at George Washington University, where he graduated first in his class."
Born Feb. 16, 1972, Michael John Avenatti has a net worth of $20 million, according to Heavy, a figure that seems surprisingly low given his wildly successful career as a top class-action litigator.
"A lawyer who has won more than $1 billion in judgments for his clients, Avenatti is a class action contingency fee plaintiffs' lawyer, so massive wins for a client mean a big payday for him. Typically, contingency fees are one-third of a judgment not including associated court fees but can range as high as 50 percent, plus costs."
In his self-supplied profile at IMDb (Internet Movie Database), Avenatti boasts at length of his lucrative legal successes. Of himself, he states:
Responsible for securing over $1 Billion in verdicts and settlements as lead counsel, including an April 2017 $454 Million verdict after a jury trial in Federal Court in Los Angeles in a fraud case against Kimberly-Clark (NYSE: KMB) and Halyard Health (NYSE: HYH) … a $80.5 million class action settlement against Service Corporation International (NYSE: SCI) … a $39 million settlement in a case involving the alleged theft of trade secrets; and a $13 million plus verdict after a six week jury trial in Palm Beach, Florida. …
Heavy calculates that the Kimberly-Clark case alone should have generated a payday of $151 million for Avenatti's law firm, assuming a modest fee equal to 33 percent of the judgment.
Yet Avenatti only has a net worth of $20 million? Yeah, right.
We know Avenatti is a major league tax deadbeat. Avenatti is personally named as a debtor in several tax liens worth more than $1.2 filed by governments. According to Nexis, those tax liens are: $308,396 to the IRS (filed Feb. 22, 2018); $903,987 to the IRS (Sept. 2, 2015); and $13,346 to the State of California (Sept. 12, 2014).
Avenatti reportedly owes millions more dollars to various governments but that could not be confirmed at press time. Heavy claims "Avenatti and his coffee company are looking at more than $5 million in tax liens" related to taxes that were supposed to be withheld from employees' pay. The Nexis public records database identifies the company, Global Baristas, as the debtor, but not Avenatti personally.
"Grey's Anatomy" actor Patrick Dempsey was involved in a business deal with Avenatti in which the thespian became part owner of Tully's Coffee Shops, a chain in the Pacific Northwest operated by Global Baristas. Things soured and Dempsey sued Avenatti in 2012 to extricate himself from the investment, according to Heavy. The case was settled out of court.
As the Daily Caller reported in the article that enraged Avenatti:
David Nold, a Seattle attorney representing several Tully's vendors, filed a complaint against Avenatti with the California State Bar on March 26, accusing him of fraud.

"In essence, he bought a company out of bankruptcy and then used it for a 'pump and dump' scheme to deprive federal and state taxing authorities of millions of dollars," Nold claimed.
For the record, Avenatti practices law in California and his State Bar No. there is 206929. Regular TV commentator Jonathan Turley, a law professor at George Washington University, said Avenatti used to be his law student and has described the attorney as "an adrenaline junkie." Avenatti has expensive, intense hobbies such as racing sports cars. He also reportedly owns an airplane.
This past Dec. 7, Avenatti petitioned the court in Orange County, Calif., for divorce from his current wife Lisa Storie-Avenatti. The couple have a three-year-old son.
Avenatti may have been previously married. The Nexis public records database indicates "Michael J. Avenatti" sued his wife, "Christine R. Avenatti," for divorce in Los Angeles County, Calif., on Dec. 8, 2006.
The information uncovered by the Daily Caller and by this writer is merely a modest down payment on what appears to be a massive story that has been almost completely ignored by the media.
Isn't it time, as Mollie Hemingway suggests, that someone started to investigate this previously obscure lawyer who has been dictating the news cycle for months?
Does this mean Americans will soon learn who is paying for Avenatti's crusade? Russians? George Soros? Tom Steyer? Jason Zuckerberg? The DNC?
One thing's for sure: Avenatti won't cough up the information on his own.
---
Please SHARE this story as the only way for CFP to beat Facebook anti-Conservative Suppression.