Voting Choices 2018: Republicans for a safe Israel vs Democrats for a nuclear Iran
by Ezequiel Doiny
On May 21, 2018 World Israel News reported "US Secretary of State Mike Pompeo threatened on Monday to impose "the strongest sanctions in history" if Iran doesn't meet a list of demands, including abandoning its involvement in Syria, Yemen, Lebanon and Afghanistan. Pompeo also demanded that Iran stop enrichment of uranium…"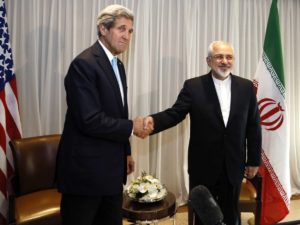 If the Democratic Party with its anti-Zionist faction wins the next election will the sanctions now imposed by Trump on Iran continue or will the US stop the sanctions on Iran and impose them against Israel? President Trump must protect his legacy by asking the Congress to endorse his sanctions against Iran and protect Israel against anti-Zionist radicals by passing legislation that demands Congress approval on any sanctions against the Jewish State.
On May 18, 2018 Sean Savage wrote in JNS "…As the 2018 midterm elections approach, many within the Democratic Party believe that they have a strong opportunity to take back control of the House and possibly the Senate. Driving much of this Democratic enthusiasm is an activist liberal base that has become strongly opposed to Trump and Republican control of Congress.
"Democrats are increasingly viewing Israel through the lens of American partisan politics, rather than judging Israel by an independent standard," Michael Koplow, director of the Israeli Policy Forum, told JNS.
Like the Republican Party faced with Tea Party activists several years ago, Democrats are increasingly vexed about certain grassroots leanings within its base. This was on display in congressional primaries across four states this week, when several very liberal candidates defeated party moderates, which some Democratic strategists worry may thwart their hopes of winning back the House in the November mid-term elections.
And, of course, they worry how this liberal element will affect support for Israel?
Koplow noted a marked swing within the Democratic Party, especially at the grassroots level, in recent years towards a more critical stance on Israel.
"There is no question that there is a shift within the Democratic Party, which can be observed both anecdotally and in polling data. I think it is largely being driven by Democratic voters who are responding not only to Israeli actions that they view as incompatible with liberal values, but also by the close embrace of President Trump by the Israeli government," said Koplow.
He noted that the main question is "whether this shift is a permanent one and how far it will go, and my hunch is that it is more a response to domestic politics here than an ideological shift on Israel writ large."
That shift was on display among Democrats during the 2016 Democratic presidential primary between Sanders and former Secretary of State Hillary Clinton. Sanders, who gained a strong following among young voters and party activists, inserted more pro-Palestinian language into the Democratic Party's platform ahead of its convention. This language called for a Palestinian state with "independence, sovereignty and dignity." A plank also pushed by Sanders supporters calling for an "end to the occupation and illegal settlements" was only narrowly defeated by Clinton loyalists in a committee.
More recently, liberal movements such as Black Lives Matter and the Women's March, which have been embraced by some leading Democratic figures, such as Warren and Kennedy, have also been highly critical of Israel and Jewish groups.
…Look, explained Koplow, "There are groups within the Democratic coalition that are hyper-critical of Israel—to the point of being anti-Zionist. That is always going to be a fact of life, much like there are going to be Republicans on the extremes who espouse anti-Semitic views. The question is how much power these groups will have over Democratic politics, and more importantly, over Democratic foreign-policy positions."
Ezequiel Doiny is author of "Obama's assault on Jerusalem's Western Wall"