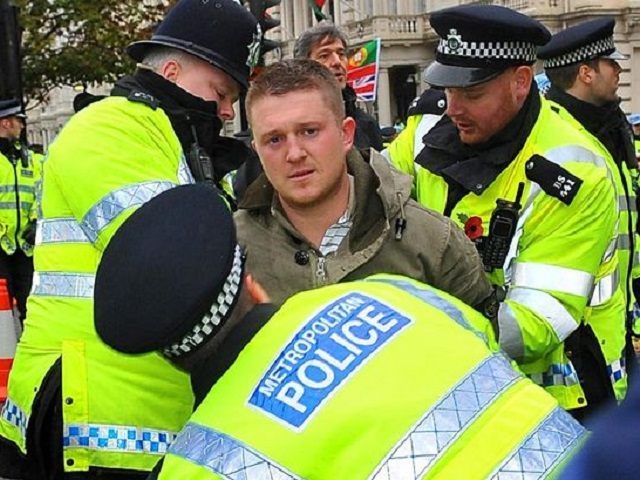 English patriot and social activist Tommy Robinson has been arrested and purportedly sentenced to 13 months in prison for attempting to report on an alleged Muslim "grooming gang." Great Britain (I use the term "great" loosely) has issued a gag order on media, barring them from reporting on Robinson's plight. Nothing to see here folks, move along.
Roibeard O'Longain "Activist Tommy Robinson has been jailed for 13 months for covering Muslim rape trial"
Robinson has been active for several years exposing the epidemic of Muslim rape gangs targeting non-Muslim England children and has been routinely arrested and jailed by UK police attempting to silence him.
Across the UK dozens of Muslim Rape Gangs have been exposed as operating sex trafficking rings targeting non-Muslim girls, some as young as 10, for sexual exploitation, drug peddling and torture. Several deaths have been linked to these gangs.
Where is Tommy Robinson?  A question whose answer should be demanded rather than merely asked.
We all know where Prince Harry is but not where Tommy, arrested Friday outside a court in Leeds, England, is.
Modern day Merry England has become far more nightmare than fairytale, as it steadily works its way toward ugly police state status.
Scores of pictures continue to dominate 'The News'  one week after the Royal wedding while, according to a current Fox News headline: 'Right Wing Activist Tommy Robinson reportedlyjailed after filming outside child grooming trial'.
"Right wing activist"?  How about civil rights activist or humanitarian activist?
"Reportedly" jailed?  Was Tommy Robinson jailed or not?
The trial of the child sex scandal going on in Leeds, England right now is not a one-off, it's an ongoing horror as Britain has been racked by a SERIES of child sex scandals perpetuated by gangs of predominantly Muslim men.
The stunning truth of horrific child abuse is not pretty and gallons of tea sipped from bone china cups won't ever change it.
The antiseptic of God's own sunshine is needed to penetrate Britain's ongoing series of child sex scandals.
.
Here's what happened Friday as many of the rest of us merely went about our business: Courageous Tommy Robinson showed up—alone— to livestream on his phone the trial of the latest alleged child grooming scandal, and was "reportedly" arrested during his remarkable act of valor.
Robinson, the former head of the English Defense League and a longtime activist against Islam and Islamic migration, was arrested after he was filming men accused of being part of a gang that groomed children. Britain has been rocked by a series of child sex scandals perpetuated by gangs of predominantly Muslim men.

"Video shows Robinson, whose real name is Stephen Lennon, being surrounded by as many as seven police officers as he livestreamed the incident on his phone. The police informed him he was being arrested for "breach of the peace."

"But shortly after his arrest, a source with knowledge of the case told Fox News that he had been jailed for 13 months on a contempt-of-court charge."
Dare we ask whether authorities seized the opportunity of arresting Robinson Friday for a contempt-of-court charge dating back to a year ago?
As I mentioned, if you rely on the British MSM to get your news the chances are slim to none that you are even aware that Tommy Robinson has been arrested, let alone imprisoned (a prison sentence for Tommy may well be tantamount to a death sentence).
Vivian Evans "IT DIDN'T HAPPEN…ON THE JAILING OF TOMMY ROBINSON"
[The] MSM policy of "if we don't report it, it hasn't happened" attitude has hit us here in the UK with full force: if you look at today's MSM, the arrest and jailing of Tommy Robinson yesterday simply didn't happen.
If #Tommy is put on a regular prison wing he will not survive. This is how the British State cleanses those it would prefer silenced. At least the Russians do it in the open #Skripal #TommyRobinson https://t.co/JedL10SBhx

— Katie Hopkins (@KTHopkins) May 25, 2018
Martin Barillas "Katie Hopkins says fellow activist could be killed while serving sentence: is she right?"
If you to dare speak the truth in Britain these days you are viciously attacked as a knuckle-dragging racist buffoon, as a matter of course. The Powers That Be have a jackboot firmly on the throat of the British people. Truth has become "hate speech" and patriotism is regarded as xenophobic subversion.
Tommy Robinson has warned the USA numerous times that what has happened to once great Britain is inexorably making its way to America. But for the grace of God and Donald J. Trump it would already be here. May God guide, bless, and protect Tommy Robinson. Laus Deo, power to the people!