Germans were silent while Hitler marched the Jews to the gas chambers. Today again they are silent while Angela Merkel condemns Trump and passionately supports a flawed nuclear agreement which will lead to a nuclear holocaust
by Ezequiel Doiny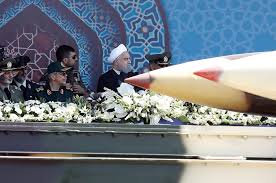 On May 11, 2018 Joel Gehrke wrote in the Washington Examiner "President Trump's decision to withdraw from the Iran nuclear agreement "undermines trust in the international order," German Chancellor Angela Merkel said Friday. "I believe it is wrong to unilaterally tear up the agreement, which was agreed on and which was unanimously approved by the UN Security Council," Merkel told attendees of a conference in Muenster, Germany, per TASS, a Russian-run media outlet that transcribed her remarks."
https://www.washingtonexaminer.com/policy/defense-national-security/angela-merkel-trumps-iran-deal-exit-undermines-trust-in-the-international-order
Netanyahu proved that Iran lied when they denied ever pursuing nuclear weapons. How can Angela Merkel ignore this as irrelevant?
On April 30, 2018 Tim Hains wrote in Realclearpolitics "Israeli Prime Minister Benjamin Netanyahu made a special presentation Monday evening documenting what Israeli intelligence says is proof of a clandestine Iranian nuclear program. "Iran did not come clean on its nuclear program," Netanyahu said, saying more than 100,000 Iranian documents obtained by Israel prove the JCPOA nuclear "deal is based on lies…Iran's leaders repeatedly deny ever pursuing nuclear weapons," Netanyahu said during a televised address carried by Israeli TV. "Tonight I'm here to tell you one thing: Iran lied."
https://www.realclearpolitics.com/video/2018/04/30/israeli_pm_netanyahu_reveals_proof_of_secret_iranian_nuclear_program.html
On August 11,2016 Newsmax reported about "Khamenei's Mein Kampf": "Supreme ruler Ayatollah Khamenei of Iran has published a book on how to destroy Israel, arguing that his position is based on "well-established Islamic principles."
The 416-page book is titled Palestine. An item on the books' back cover describes Khamenei as "The flagbearer of Jihad to liberate Jerusalem." The book explains that land that falls under Muslim rule, even briefly, can never again be ceded to non-Muslims, the Post reported. "What matters in Islam is ownership of a land's government, even if the majority of inhabitants are non-Muslims."
Khamenei also argues that Israel is a special case because the nation is a loyal "ally of the American Great Satan," meaning the United States; because it has warred against Muslims on many occasions; and because Israel occupies Jerusalem, which Khamenei describes as "Islam's third Holy City."
https://www.newsmax.com/newsfront/iran-book-destroy-israel/2015/08/01/id/664999/
Iranian leaders call Israel a "one bomb state" because it is so small it can be destroyed with only one bomb. Iran wants Israel's destruction and they will use nuclear weapons to attack Israel if they are able to build them. Iran currently does not allow inspections in its military sites. David Albright President of the Institute for Science and International Security and Olli Heinonen former deputy director general of the IAEA wrote "…the Iranian authorities have repeatedly stated that its military sites are off limits to the IAEA, indicating that the IAEA currently has limited or no access to Iranian military sites. Such access is an essential part of a broader effort to verify Section T undertakings of Iran…The United States and its allies should press the IAEA to develop and establish an effective, credible verification regime under Section T that includes requests to access military sites…"
http://isis-online.org/isis-reports/detail/verifying-section-t-of-the-iran-nuclear-deal
Rather than stopping the Iranian Nuclear program, the Nuclear Deal paves the way for Iran to build Nuclear weapons. Iran is still enriching Uranium, the inspectors don't have access to Iran's military sites and the sunset provision will allow Iran to do whatever it wants in less than 15 years. On October 14 the Jerusalem Post reported "…Netanyahu asserted that "If the Iran deal is left unchanged, one thing is absolutely certain- in a few years' time, the world's foremost terrorist regime will have an arsenal of nuclear weapons and that's tremendous danger for our collective future."
http://www.jpost.com/Israel-News/Politics-And-Diplomacy/Netanyahu-congratulates-Trump-on-courageous-Iran-decision-507356
Iranian leaders have repeatedly called to wipe Israel off the map. Khamenei describes Israel as a "cancerous tumor" that has to be eliminated, and Former President Rafsanjani once called Israel a "one-bomb country" because it is so small it can be destroyed with only one bomb. Iran wants to destroy Israel and if it builds a nuclear bomb it will cause a Nuclear Holocaust.
Angela Merkel says that "President Trump's decision to withdraw from the Iran nuclear agreement "undermines trust in the international order," But it is not Trump's withdrawal from the Nuclear agreement that undermines trust in the international order. What undermines the trust in the international order is allowing Iran to develop nuclear weapons after they repeatedly said they want to destroy Israel. Would Merkel have done something to stop the Holocaust or would she have looked the other way as most Germans did then?
Germany is a key member of the EU, without its approval the EU would not be able to support the Nuclear Deal with Iran with one unified voice. Germany has the power to make it harder for Iran to obtain nuclear weapons by breaking the European consensus and demanding a better deal.
In 1996 Professor Daniel Goldhagen wrote the book "Hitler's willing executioners" in which he claimed ordinary Germans, and not just Nazi leaders, were responsible for the Holocaust. Germans have a choice: they can demand their government to improve the nuclear deal and prevent a nuclear holocaust or they can remain silent as they did during WWII.
Today Germans can prevent a Nuclear Holocaust, would they look the other way again? If Germans today don't demand that their government change their policy towards the nuclear deal and prevent a nuclear holocaust they will just be like their Nazi parents who looked the other way wile Jews were being gassed.
Ezequiel Doiny is author of "Obama's assault on Jerusalem's Western Wall"