The conservative commentator Tommy Robinson, real name Stephen Lennon, was reporting outside court when police officers approached him. Known for leading protests against the influence of Islam in Britain.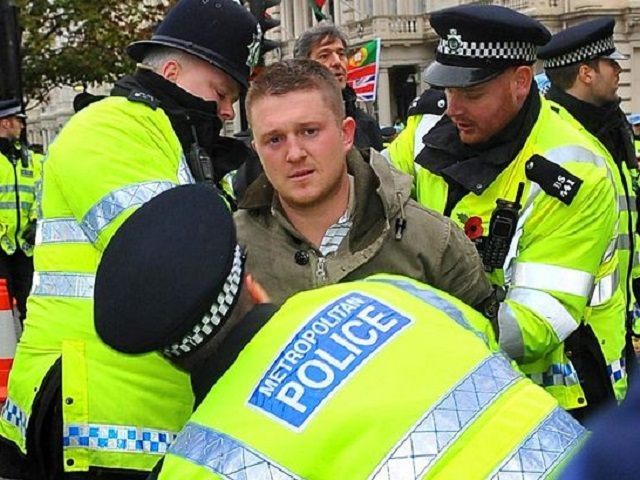 The U.K. conservative activist and journalist Tommy Robinson was arrested and  jailed Friday after he filmed members of a Muslim child grooming gang entering a court for trial — but the details of his purported sentence remain murky after the judge ordered the press not to report on the case.
Robinson, the former head of the English Defense League and a longtime activist against Islam and Islamic migration, was arrested after he was filming men accused of being part of a gang that groomed children. Britain has been rocked by a series of child sex scandals perpetuated by gangs of predominantly Muslim men.
He had been outside the Court for over an hour when he was approached by police, and the arrest was caught on a separate video.
As he was being searched by officers, Tommy asked his supporters: 'Can you get me a solicitor?' He then added: 'This is ridiculous, I haven't said a word…I've done nothing.'
Ahortly after his arrest, a source with knowledge of the case told Fox News that he had been jailed for 13 months on a contempt-of-court charge.
A court listing indicated the case was "closed" by Friday afternoon.
One source said he was jailed in Hull Prison. The prison declined to comment to Fox News on whether Robinson was there. Leeds Crown Court also did not return a request for information.
The judge in the case on Friday slapped a reporting ban on the case. The order bans reporters from reporting on a case if there is reason to believe the reporting could prejudice a trial. The order prevents reporting until the conclusion of the trial Robinson was reporting on.
The gag order led to news outlets in the U.K. removing their reporting from their websites to comply with the order. Most remaining reporting in the U.K. comments on Robinson's arrest, but not on his purported sentencing.\
Geert Wilders Statement in Solidarity with Tommy Robinson