Russia is not constraining Iran in Syria, they are just gaining time until Trump's Presidency is over
by Ezequiel Doiny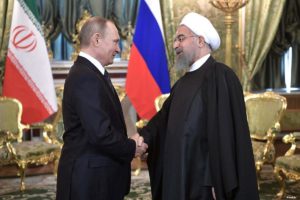 On June 4, 2018 Amb. Dore Gold wrote in the Jerusalem Center for Public Affairs an article called "Russia Constrains Iran" in which he argues that:
"Russia has made it clear that it expects all foreign forces to withdraw from Syria, including those forces belonging to Iran, Turkey, the U.S., and Hizbullah.
It appears that the Kremlin began to understand that Iran handicapped Russia's ability to realize its interests in the Middle East.  Iran was putting Russia's achievements at risk through a policy of escalation with Israel.
According to one report, a Moscow think tank closely identified with President Putin published a commentary blaming Iran for the deteriorating situation between Iran and Israel in the Syrian theater.
Putin seemed to have growing reservations about Iran's policy of exporting the Islamic revolution from the soil of Syria. Now, with IS fundamentally vanquished, Iranian military activity in Syria lost its primary justification.
Russia is not cutting its ties with Iran. But it is clearly cutting back Iran's freedom of action in Syria. The idea that Russia would back Iran's use of Syria as a platform for operations against Israel or Jordan is not tenable."
The Russian announcement comes after America killed about 300 Russian contractors in Syria and Israel, emboldened by Trump's actions, attacked Iranian bases. On February 15, 2018 Maria Tsevtkova reported in Reuters "About 300 men working for a Kremlin-linked Russian private military firm were either killed or injured in Syria last week, according to three sources familiar with the matter…The timing of the casualties coincided with a battle on Feb. 7 near the Syrian city of Deir al-Zor where, according to U.S. officials and associates of the fighters involved, U.S.-led coalition forces attacked forces aligned with Moscow's ally, Syrian President Bashar al-Assad…"
On May 10, 2018 the BBC reported "Israel says it has struck almost all of Iran's military infrastructure inside Syria in its biggest assault since the start of the civil war there…Col Conricus said fighter jets had struck 70 military targets belonging to Iran inside Syria, causing significant damage…"
Although it may appear that Russia is constraining Iran in Syria, in reality Russia and Iran may be working together to gain time and wait until Trump's Presidency is over. Once Trump is gone, the next US president, like Obama, will likely not interfere with the Russian-Iranian plans to control Syria.
Ezequiel Doiny is author of "Obama's assault on Jerusalem's Western Wall"