200 Christians murdered by Islamists in Nigeria: Why would Ifnotnow say kadish for dead Hamas terrorists but not for dead Boko Haram terrorists?
by Ezequiel Doiny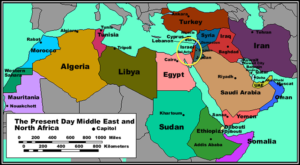 On April 8,2018 United with Israel reported "Tens of thousands of Palestinians in the Gaza Strip tried to infiltrate the border with Israel during a six-week campaign of mass protests — called the "March of Return" — organized by Hamas, Islamic Jihad and other radical Palestinian terror groups.
Many in the mainstream media are portraying the riots as "peaceful protests" when in fact they are violent demonstrations to provoke the IDF and challenge Israeli sovereignty.
Watch as one of Hamas' leaders in Gaza, Yehia al-Sinwar, promises more riots and violence against the state of Israel.
Do his calls for violence sound peaceful to you?"
Watch: "We will tear Israelis' hearts out" threatens Gaza riot
Does this sound like a "peaceful protest" to you? Hamas leader in Gaza Yehia al-Sinwar promises more violence against the state of Israel from the Gaza riots.

Posted by StandWithUs on Saturday, April 7, 2018
To protest the Israeli Army, Ifnotnow activists said kadish for Palestinians killed by Israeli soldiers while trying to infiltrate into Israel. What would it have been like if Israeli soldiers had allowed Palestinian "protesters" to break the border fence from Gaza and trespass into Israel? Look at what happened in Nigeria.
In Nigeria the soldiers of President Muhammadu Buhari ran away when the Islamists attacked Christian villages, this is what would have happened in Israel if the Israeli soldiers had ran away instead of stopping the "protesters".
On July 24, 2018 Jack Kerwick wrote in Frontpage magazine
"…how many people know that just last month, over a span of four days, militant Islamic Fulani herdsmen embarked on a killing spree that reduced a dozen Nigerian villages to dust and claimed the lives of at least 200 Christian men, women, and children?
Open Doors, an organization dedicated to serving persecuted Christians throughout the world, describes these targeted villages as Nigeria's Plateau State, and describes the region as "the epicenter of Christianity in northern Nigeria's Middle Belt." The organization is still trying to piece together the events surrounding the genocidal attack of Nigerian Christians on June 25th,
According to reports, 120 villagers were hunted down and hacked to death by machete-wielding Muslims while traveling home from the funeral of an elderly villager in the Nigerian ward of Gidin Akwati.
Also slaughtered that day was a Christian pastor, the Reverend Musa Choji – murdered by these savages along with his wife and son.
These terrorists scorched the entire community of Gidin Akwatito the ground. Reports claim that some of those forced to flee their homes are now hiding in the Bush – remaining ever vulnerable to future attacks.
In a neighboring community of Gidin Akwati , another Christian pastor reported "more than 50 heavily armed Fulani herdsmen" laid waste to his whole village via fire and murdered 100 of his neighbors. Predictably, these Islamic militants destroyed that town's Christian churches while also laying waste to all the homes in the community. Remarkably few people managed to save themselves that day.
This pastor's wife's childhood home was also "decimated" – home to 15 people and another unlucky 13 visitors.
World Watch Monitor reports that the two soldiers and one police officer who was present in the village of Nghar during the attack fled when the Islamic militants invaded…
Community members insist that these attacks are part of "a grand plan to Islamize Nigeria." According to a Dr. Soja Bewarang, the murders are "no longer farmer and herder clashes" but, rather, a "deliberate attempt to conquer and occupy the land of the people's ancestral heritage."
Reverend Gideon Para-Mallam maintains that the violence, constituting as it makes a steady pattern, is "another Boko Haram in disguise."
And speaking of Boko Haram, though the terrorist organization remains alive and well, no one, least of all "the Resistance" and "MeToo" crowd, has shown the inclination to utter a peep about it.
Yet, in addition to engaging in the destruction of villages and churches and the perpetration of mass murder, from 2009 to the present, Boko Haram has kidnapped as many as 3,000 women and girls. There are concerns that it is spreading throughout Southeast Africa.
In predominantly Christian Mozambique, throughout June, the members of a Sunni Muslim sect visited a reign of terror upon the residents of the villages that they targeted. Armed with AK-47s and machetes, groups of Muslim men destroyed hundreds of homes and murdered several people—all while loudly reading Arabic words from the Quran…"
https://www.frontpagemag.com/fpm/270787/genocidal-assault-nigerias-christians-jack-kerwick
Why is president Mohammudu Buhari not doing more to prevent the ethnic cleansing of Christians in Nigeria? Is he perhaps involved?
200 Christians have been murdered by Islamists in Nigeria: Can you imagine the outcry if this had happened against the Palestinians? Why would Ifnotnow say kadish for dead Hamas terrorists but not for dead Boko Haram terrorists?Why is the UN silent? Why is EU silent?
Ezequiel Doiny is author of "Obama's assault on Jerusalem's Western Wall"