As debate grows in the United States over whether to ditch private health insurance and put everyone on a government-run health care system, it's worth taking a look at how Britain's government-run system is doing—and it's not looking good.
Britain's National Health Service suffered particularly last winter from a bad strain of influenza and, unfortunately, this summer hasn't been much better.
Data available from the NHS showed that July saw a 4.9 percent increase in emergency department visits, compared with July 2017, owing to an especially hot summer for the British isles.
Performance metrics had been slowly improving for the NHS after some very unfortunate numbers in March, but they slipped again by July.
Compared with the preceding month, the number of patients who waited more than four hours to be seen in the emergency department increased from 193,469 in June to 232,833 in July (an increase of 20.3 percent).
Patients waiting more than four hours to be transferred to a hospital bed after being admitted increased from 33,754 in June to 41,553 patients in July. Some 147 patients waited more than 12 hours in the emergency department before transfer, up from 99 in the previous month (which was the best performance thus far in 2018).
The summer heat wave in the United Kingdom has had a number of effects with implications for the NHS, including increased incidences of dehydration and respiratory issues, inpatient admissions from nursing homes, and staffing issues.
"These days, there is no real letup in the pressure on NHS services in summer in the way we used to see," Saffron Cordery, the NHS Providers deputy CEO, said of the heat wave, "but the heat wave has meant that in some places at least, we're back to winter conditions."
Indeed, a graphical representation of the data from this year bears out a tough summer season coming after a brief spring of reprieve. In 2018, July is a performance slip in an otherwise improving trend of decreasing wait times.
Except for spikes in March and July, the number of patients waiting longer than four hours to be seen in the emergency department has been steadily decreasing: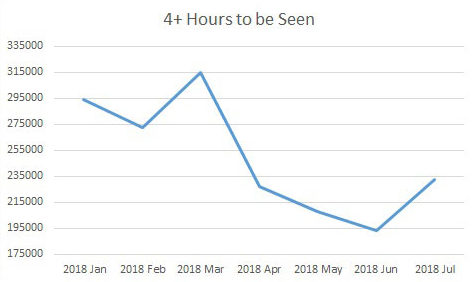 Likewise, the number of patients who have had to wait more than four hours to be given a hospital bed has been decreasing overall:
However, emergency department visits tend to be more influenced by seasonal factors, such as bad strains of influenza or heat waves in traditionally mild climes.
The ability to handle waiting lists and planned treatments speak to the underlying capability of a health system to handle its obligations.
By the end of June, the NHS had 4.3 million people waiting to start a treatment plan, which is the highest since 2007, the first year that statistic was collected. Of the 4.3 million, more than a half-million patients have been waiting for more than 18 weeks, which is an increase of 17,000 patients over the previous month. Of those, more than 3,500 patients in the NHS have waited longer than a year.
Seasonal influences, including that summer heat wave and the extra-virulent influenza strain this past winter, would affect that number, as available hospital beds would be taken up by the acutely ill, and clinics would fill with those less ill, but data since 2016 shows that this trend of increasing waiting lists has existed well outside the bounds of seasons.
Patients who have waited 18 weeks or more:
Patients who have waited more than a year: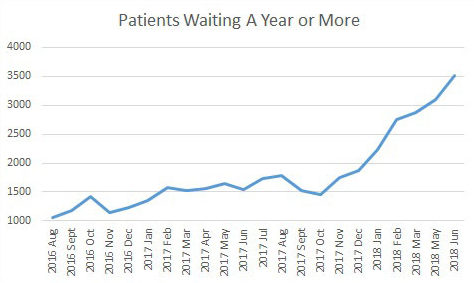 Undoubtedly, last winter seriously taxed the NHS, and this summer brought back a scare. But if health care crises keep arising with the seasons, one starts to wonder whether the underlying problem might possibly be the system itself.
Source material can be found at this site.