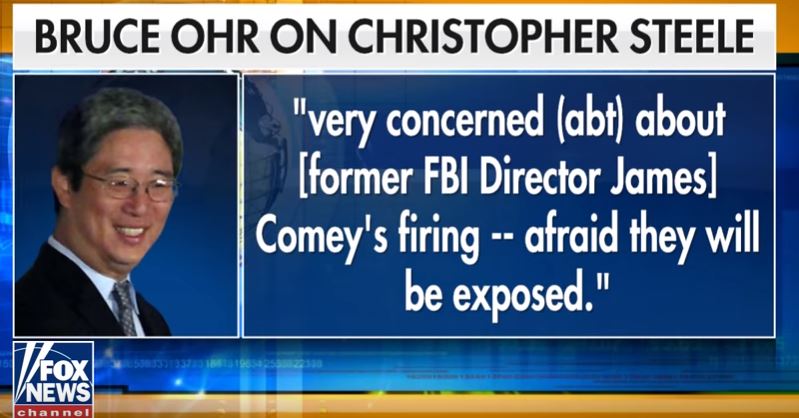 CIA whistleblower Kevin Shipp says the next revelation that will come to light will be that Bruce Ohr, who was the fourth highest ranking official in the Obama Justice Department (DOJ), wrote the now infamous phony Trump Dossier which was used to apply for fraudulent federal wiretaps (with the FISA Court) to spy on Trump.
Shipp, who is a former CIA Officer with a high security clearance, explains, "It all started from the fake dossier which led eventually to the appointment of Robert Mueller (Special Prosecutor) and the entire foundation is based on a falsity. . . . I understand the next revocation of security clearance is probably going to be Bruce Ohr because he crafted the fake dossier with Christopher Steele.
Justice Department official Bruce Ohr testified to lawmakers on the House Oversight and Judiciary committees Tuesday about his relationship with former British spy Christopher Steele and his ties to the salacious anti-Trump dossier.
Ohr did not respond to reporter questions as he arrived for the closed-door session, accompanied by two officials.
While lawmakers told reporters that Ohr was being cooperative, Rep. Darrel Issa, R-Calif., said that Ohr "has a poor memory."
"He seems to not remember a lot of details and, you know, poor memories are often claimed by people who want to stick to what they can say and not be caught in perjury," he told Fox News.
Republicans allege that Ohr played a key role in selling the dossier, commissioned by Fusion GPS and paid for by Hillary Clinton's campaign and the Democratic National Committee. They were expected to ask why Ohr broke with protocol and kept up communication with its author, Steele, long after the FBI fired him as a source in late 2016 due to his contacts with the media.
Courts found that the Dossier could not be used in the court of law, although it was used to spy on the Trump campaign. Muller has never even questions Ohr to the roots of the dossier.
The Clinton funded Dossier was used to gain a subpoena to spy on Trump and his campaign, the FISA court was mislead as there were not made aware of the roots of the dossier being from Clinton, Obama and the Democrats. Those that requested the FISA order intentionally withheld pertinent info from the FISA court and appears they committed illegal acts in doing so.
About two hours into the session, Rep. Mark Meadows, R-N.C., came out and told reporters that the FBI knew there were "credibility" issues surrounding the dossier before it was used to secure the first FISA warrant on Page in October 2016
Text messages obtained and reviewed by Fox News show that Steele also tried to use Ohr as a go-between with Special Counsel Robert Mueller.
"We are frustrated with how long this reengagement with the Bureau and Mueller is taking," Steele wrote to Ohr. "Anything you could do to accelerate the process would be much appreciated."
Months later, Ohr confirmed to Steele that he had passed along his questions to Mueller's team. The Republican-led House Intelligence Committee found that Steele effectively used Ohr as a back channel for communications after his termination.
The controversy has even reached the White House, where President Trump has weighed in and floated revoking Ohr's security clearance.
Muller investigation is to hide what Mueller and the establishment and the Democrats and the media, and Crooked Crazy Hillary we're doing all during the campaign.
The Mueller investigation is to hide that. To cover up what they did under the guise of trying to find so-called perps and enemies, which are Trump and Russia. When, in fact, the only lawbreaking, the only fakery, the only deceit that was used was Hillary Clinton, DNC, Barack Obama.
Ohr confirmed to Steele that he had passed along his questions to Mueller's team."
Bruce Ohr confirms that he is working directly with a British Agent to help Mueller's Team remove a president.
How is that not Treason or Collusion at the very least?
Where is Jeff Sessions? Rouge agents led Mueller down a path of Russia Collusion when there was none..
Watch this video for further details, its alarming what fraud the Democrats has committed.
No matter what side of the political isle you are on, you cannot condone what these people did, for if you do, then you're saying it's OK if it happens to your party candidate too.
Whoever wins the Presidency, gets to use the three letter agencies to wipe out his rival like Obama and Clinton tried to do?
Are any Americans really OK with that?