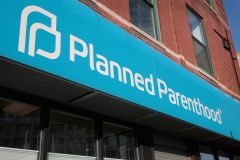 (CNSNews.com) — On Wednesday, Oct. 10, the Planned Parenthood Action Fund released a multi-million dollar, three-part plan to protect and expand abortion access in the United States in case Roe v. Wade is overturned.
Expressing the fear that newly confirmed Supreme Court Justice Brett Kavanaugh will help eradicate the "right" to "safe" abortion, Planned Parenthood said it would work to "ensure abortion is still accessible in the United States no matter what happens at the Supreme Court."
Dawn Laguens, executive vice president of Planned Parenthood, said, "There's no way to sugarcoat it. With Brett Kavanaugh on the Supreme Court, we will likely see the further erosion – and perhaps complete reversal – of Roe v. Wade soon. But Planned Parenthood is not going to let this become a country where people can no longer access abortion."
Roe v. Wade is the 1973 Supreme Court decision that legalized abortion in all 50 U.S. states. If the decision is overturned, states will have the power to individually determine whether abortion is legal and whether there any restrictions on abortion.
Prior to 1973, abortion laws varied state to state, some states more restrictive than other states.
Planned Parenthood's report, "Care For All: A 3-Part Plan to Protect and Expand Access to Abortion in the United States," takes a three-pronged approach to expanding abortion access, targeting "access to health care," "policy" and "culture change."
The plan has been under development for over two years. According to Planned Parenthood, its staff "began work on this plan shortly after Donald Trump and Mike Pence took office."
Planned Parenthood, which is the nation's largest abortion provider, detailed the ways in which it would work to expand abortion access in the U.S., including increasing access in states where abortion is "likely to remain legal," "leveraging technology and innovation to help connect people to services," and expanding "telemedicine" abortions.
Telemedicine abortions, or medication abortions without a doctor present at any point during the procedure, are currently banned in multiple states due to safety concerns about the absence of a medical professional.
Planned Parenthood, however, described both medication abortion and telemedicine abortion as "safe and effective" in a February 2018 press release.
According to Wednesday's report, Planned Parenthood will work with pro-abortion legislators to "push policies to protect, expand, and enhance access" to abortion.
Crystal Strait, president and CEO of Planned Parenthood Affiliates of California, said Planned Parenthood is "ready to move forward with elected officials in California to advance a bold agenda that invests millions of dollars in new resources to expand access and break down barriers for women and people to get abortion care, no matter where they are."
The organization also announced its intention to "destigmatize abortion in the media and across popular culture," in part by "working with content creators on honest and authentic portrayals of abortion in film and television."
Planned Parenthood touted an episode in the third season of the popular show Jane the Virgin as an example of an "honest," "real life" portrayal of abortion. However, according to Vanity Fair, the episode which featured an abortion did not actually show the main character "grapple and agonize over the decision" or even "go to the clinic," and the abortion took place "off-screen."
The report also emphasized Planned Parenthood's goal of "educating people about what abortion is."
Kevin Griffis, Planned Parenthood's vice president of communications, told NPR in an interview that the organization was working to "change people's perception of abortion so that they see it for what it is – which is a really safe medical procedure and a typical, standard part of healthcare."
Source material can be found at this site.