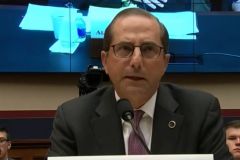 (CNSNews.com) – The Health and Human Services Department wants pharmaceutical companies to include list prices in television ads hawking their prescription drugs.
Right now, drug companies are required to disclose a drug's major side effects, but not the effect that buying the drug could have on your wallet. "Patients deserve more transparency," HHS said in its announcement on Monday.
The proposal will require television advertisements for prescription drugs – the ones that are paid for by Medicare or Medicaid — to include the list price if that price is greater than $35 for a month's supply or the usual course of therapy. The prices would be updated quarterly.
HHS said the ten most commonly advertised drugs have list prices ranging from $535 to $11,000 a month or for the normal course of therapy.
HHS noted that many patients pay either list price or prices based on list price.
The proposed regulation is part of the American Patients First Blueprint announced in May by President Trump and Secretary Alex Azar.
That blueprint laid out four strategies: boosting competition, enhancing negotiation, creating incentives for lower list prices, and bringing down out-of-pocket costs.
Appearing on CNBC's "Squawk Box" on Tuesday, Secretary Alex Azar said, "We think it's critical that patients being pitched these medicines and asked to go talk to their doctor about these drugs, that while they currently get the medical efficacy and safety concern information in the ads, they're not being told the price of the very medicine that they're being asked to have a discussion about.
"And that list price, we think, is part of fair balance, that it ought to be in the ads. And that's why the president committed to proposing a regulation that would mandate prices in the ads. That's what we delivered on yesterday."
Pharmaceutical companies set the list price. Azar said may people, including Medicare recipients and younger people with high-deductible health plans, pay list price until they meet their deductible. "So I'm not buying the pharma talking point that list prices don't matter. They do matter," Azar said.
Right now, the proposed regulation is focused on television ads. Azar said the requirement may eventually expand to include direct-to-consumer magazine and Internet ads.
He also noted that the pharmaceutical industry could have voluntarily agreed to disclose list prices in their advertising, but "they didn't do it. So we have to go with regulation if people believe in transparency."
The Trump administration also is working on a plan to get doctors' offices involved in list-price disclosure:
"We think you have a right to know not just when you have the TV ad what the drug ought to cost, but actually at the point of prescribing, when you're there with the doctor, we need to get the tools so that the doctor knows not just the list price but also what under your health care plan you would pay for that medicine as well as the competing medicines the doctor might prescribe, so you can have a more engaged, competitive discussion right there at the point of the scripts getting written."
Azar said he hopes that insurance companies who try to steer patients toward a particular medication under their benefit plans will develop the tools to help patients find the lower-cost option.
Azar also expressed concern about the rebate system, which creates the incentive for extremely high list prices.
"What we instead think we ought to be considering is pulling those rebates forward to the point of sale, when the patient walks in the pharmacy. Let the patient get that discount when they walk into the pharmacy — that's an idea worth all of us thinking about. It would be more transparent; it would create a disincentive to these absurd list prices and constant list-price increases; and it would decrease spending for patients at the pharmacy.
"So that's something we all in our system have to be thinking about."
Source material can be found at this site.