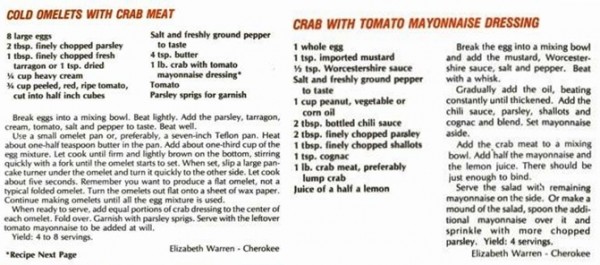 Democratic Senator Elizabeth Warren is in hot water after allegations have surfaced that she plagiarized her " family Cherokee" recipes in the cook book "Pow Wow Chow" from the New York Times and other publications.
Elizabeth Warren contributed five recipes to the Native American-themed cookbook and claimed they were handed down from generation to generation in her "Cherokee" family. But radio talk show host Howie Carr has released damning evidence that appears to confirm that Senator Warren's recipes were simply copied from a famous French chef's recipes online.
Elizabeth "Pocahontus" Warren was humiliated on Monday after her claims of Native American ancestry were roundly dismissed, with even the Cherokee Nation asking her to stop claiming she is one of them, and now things are looking even worse for the Massachusetts senator.
Heritage: Mrs Warren has been under scrutiny since she first claimed Native American heritage, arguing that because her great-great-great-grandmother was Cherokee, she is a member of the community MailOnline reports: The 1984 cookbook "Pow Wow Chow" was edited by Mrs Warren's cousin Candy Rowsey and is billed as a collection of recipes from the Five Civilized Tribes.
Mrs Warren's recipes are featured alongside her mother's directions for sugar cake and her two children's recipe for peach cobbler. Mrs Warren's recipes include herbed tomatoes and a crab with tomato mayonnaise dressing, among other dishes. But it appears that at least three of the five recipes featured in the book were fakes, according to an investigation by Mr Carr. They found her recipes to be plagiarism and exactly the same as a recipe list that appeared in The Virgin Islands Daily News in 1979,  with jst some minor grammatical changes.
It's almost like her whole persona and everything else about her has been appropriated. What a total phony.

Elizabeth Warren's Pow Wow Chow 'Cherokee' recipes were word for word COPIES of famous FRENCH chef's techniques https://t.co/gdmYtExWH1

— Donald Trump Jr. (@DonaldJTrumpJr) October 17, 2018
On top of her DNA test  showing she is NOT Native American was her once compelling personal family narrative about the her parents' love story.
Warren's perspective on her heritage was shaped through her mother and father's decision to elope because her "daddy's parents" "were bitterly opposed to their marrying because of my mother's family … was part Native American."
We are finding out that story was fabricated, concocted and based on a lie as proven, right?
Her DNA test did not show she was even 1/1024th "Native American," as the Boston Globe pointed, because there is no DNA test for Native American ancestry. Her entire story is a lie.
Question is, how exactly how did her name appear listed as a minority in the Association of American Law Schools Directory? Answer: Warren admitted that she described herself as a minority when she registered for the Directory.
Now their is a movement from Native Americans down to politicians calling for Warren to resign.