Sometimes it's the most innocuous things that give an insight into minds of the media, particularly where Israel is concerned. Take this timeline of historical events during the life of Britain's Prince Charles in a feature story in The Independent: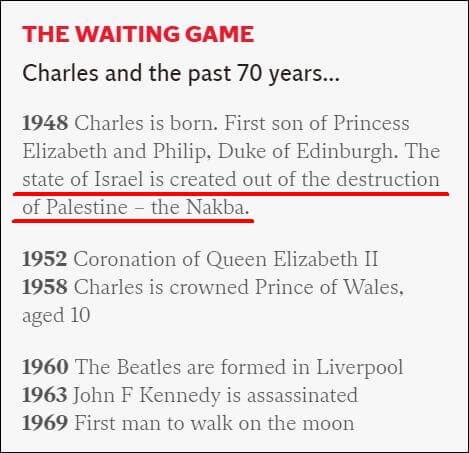 The timeline includes events such as the formation of the Beatles, Watergate, the end of the Vietnam War, the fall of the Berlin Wall, the 9/11 terror attacks, the death of Osama bin Laden, and the inauguration of Donald Trump.
Only one includes a politicized reference:
The state of Israel is created out of the destruction of Palestine – the Nakba.
Go on Independent – why don't you tell us what you really think?
Source material can be found at this site.