If you've ever watched Hindi action movies, you've probably seen the actor Pawan Kalyan. He's compared to the Tom Cruise of India; now, he's leading his own political movement. He and Nadendla Manohar, who recently joined the Jana Sena Party in India, speak to The Daily Signal during their visit to Washington, D.C.
Listen, or check out the transcript below.
This transcript has been lightly edited for clarity and length. 
Rob Bluey: Tell us what brings you to Washington.
Nadendla Manohar: Well, we, as a political party, thought we must reach out and let people know that we are also in the business of promoting trade and investment and strengthening the relationship between the two countries.
Over a period of time, India and the U.S. have been very close to each other. But we need political support, and people like us coming here to understand better practices in government and, also, to get some important takeaways that we can go back and implement back in our country.
It's been a very interesting two-day trip to Washington, D.C. We met with a lot of senators and congressmen and, of course, the secretary of housing. Some of the points that we discussed really impressed us because, as a young political party, we have to build a vision and something for the future. The takeaways were excellent, in our opinion, and this is something that's going to help our country and our people.
Bluey: Let me ask you, we have listeners who probably are wondering, why should America care about what's happening in India and have stronger relations? What message would you give to them?
Pawan Kalyan: You have to understand, in the world, one-sixth of the world population is in India. What happens—India's the largest democracy—what happens in India, eventually, it will fall back in other parts of the world. You cannot ignore what's happening in India. It's very much, it's quite essential for the rest of the world to know about it. Eventually, it will influence. If some issue happens out there, here we can see the great workforce of Indians out there. Eventually, it will hit the economy in very crucial sectors of business here.
Bluey: You mentioned trade as one. I know security is another relationship that's important between the United States and India. What other things would you like to see the two countries work more collaboratively together on?
Manohar: All around the world right now the biggest thing's employment. India has always supported the drive for technology and innovation in America. A lot of our young engineers have been coming here. They've contributed the time and effort into making some successful technology programs and missions out here.
I think we also need to focus on agriculture, because that's the biggest employer back in India. Some of the best practices, the good technology that this country has been building upon is something that we can draw upon and take it back to India and see if we can implement those.
The new areas of business, which is very keen for a growing nation like India, is clean energy, waste management, and, of course, on the security side. We had to deal with terrorism like the USA also had to deal with that issue. We have collaborated very well on several specific programs.
But, I think the government of India and the government of America have come forward to sign agreements which enable the transfer of such technology, which earlier would be given only to NATO countries. India is the third country after Japan and Korea in Asia to get that benefit where sensitive technology which was available for security purposes is now being transferred to India.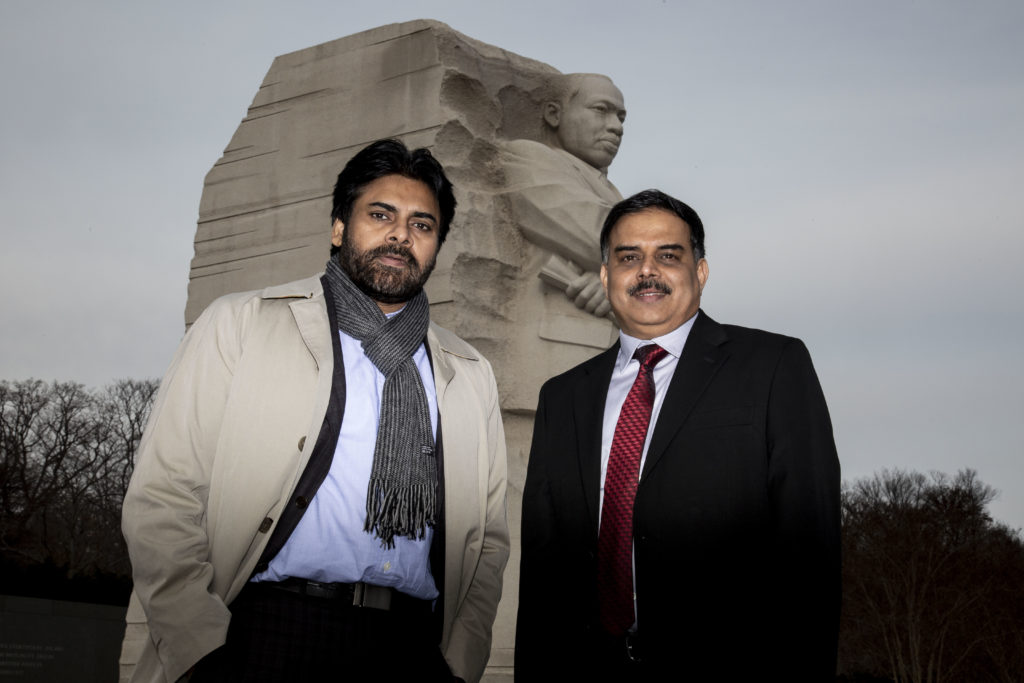 Ginny Montalbano: Mr. Kalyan, can you tell us about the journey from being an Indian filmmaker and producer and actor to now a political leader?
Kalyan: Maybe, first of all, I never thought to become an actor …  But my heart was always looking toward to work for my country.
I don't know, I never knew which way to go. I think eventually the path led to get into politics. The reason was it's about the public policies. If it is affecting common citizens, and I'm not able to, I was just being a helpless guy or being an armchair thinker, armchair activist, and I was sick and tired of it. Constantly, that inner dialogue, it was killing me. At one point, it was driving me mad.
Either you do it, or you sit at home … I could not keep quiet, so to answer my conscience, I just plunged into politics.
Bluey: How would you describe the mission of the party that you've started?
Kalyan: India's a very complex country. We don't speak one language. We are not of one ethnic group. We are hundreds of ethnic groups, and we have hundreds of dialects. We are close to having 30, 40 languages, different languages and different dialects. We have a lot of cultural clashes.
All those things put together, we have to really steer India. Somehow, the destinies, we find some commonality amidst all these contrasting issues here. That's what interests us, and that's what we want to bond to further.
Because, if you don't work toward it, a lot of issues would crop up in the case to come. As a part of our journey, as a part of our commitment, because we've brought all this, we've brought all this …
I don't know how much you have an idea about India. I don't know, the rest of the world does not have it. We have a caste system, and we have a religion. We have regional issues. We've brought everything in together, and also this is one principle we've brought into the party: our effort to bind India.
The second would be development with ecological awareness. This is the main core which we are looking forward to … This is the fundamental which the party was formed.
Manohar: Just to add to what he said, most of his followers in the movies were the young people of India, and he reflects their aspirations earlier in the movies. The same thing he had to continue in politics to make them feel confident that there is a person out there who's thinking about us.
He reflects the aspirations of that segment of the population, which is very keen to have a different India in terms of opportunities, in terms of more broad-mindedness, cutting aside regional disparities, growing to become a global citizen. 
Bluey: That's wonderful. Just so our listeners know, I've heard you described as the Tom Cruise or the Denzel Washington of India filmmaking. Of course, those are two popular American actors. You also mentioned that, if I understood you correctly, that your path into acting wasn't something that you planned out, so how have you been able to live this dream?
Kalyan: I came from a very small family. My father was a government employee in the police services. My family was looking at me to enter police services. Somehow, I could not finish my degree, and I was into a lot of yoga and a lot of spiritual … my mind was going toward the spiritual realm. I was learning, I was into a lot of yogic practices.
I think my family was quite irritated about that. They said, "You're growing, and you're not doing anything." I said, "I don't know what to do." They said, "Why don't you try acting?" Then, I said, "OK, let me try."
Because my family is in film business, I just tried, and someone liked it, and that's how it started off. But whatever I do, I'll put my focus completely into it. That's how it went on.
Montalbano: We've touched on this a bit, but what are some ways that America and India can better partner together?
Manohar: Excellent. Like I said, India is still a country which is very open to having a very strong relationship with America in terms of trade. Also, the fact that most of our young people have a desire and a vision to come and contribute in the universities here as well as the technology areas.
But the newer areas of opportunities in India are really growing quicker—mobile communications, space technology. Like I said about agriculture, and not to forget waste management and clean energy are some technical areas where America has already advanced itself. And we would be happy to collaborate and get in people who would be able to invest into new products and new factories back in India.
I think these are broad areas where we can collaborate. We've done in aerospace. We've also done in infrastructure like ports.
Opportunities are plenty. We are, like I said, it's a very democratic nation, which is not as regulatory as it used to be, and very open and broad-minded in terms of doing business with America.
Bluey: Many of those areas that you mentioned, of course, are core to the free enterprise system that both of our countries deeply believe in. Can you talk at all given the size of the population of India how that belief in free enterprise and freedom more broadly has lifted people out of poverty and helped them to better lives?
Manohar: You'll be surprised to know that India has a population of a billion today. Both our nations are indeed blessed to be so democratic in their systems. There's a lot of transparency. There's a lot of equality, freedom. This is something that we cherish. This is what the Constitution gave us. All our citizens work hard toward building up their families and the ecosystem around them.
I think the opportunities are there, but the relationship has to improve even more. We are beyond a stage where we think of local area domination or wars or situations that used to exist in the 1960s or '70s.
Strategically, a partnership is very important between India and America in the Asia-Pacific region. It's incredibly rewarding for both of our countries to come together and push this partnership further.
Bluey: How is President Trump viewed in India and in terms of relations with this White House in particular?
Kalyan: The way Donald Trump is viewed in India is like, I think he's, whatever he's doing, he's doing it for his country, though it will hurt the interests of Indians, or it will hurt the interests of other nations. But what he is doing is definitely good for the U.S. That's how we look at it.
Because the identity politics is quite high, and it can be seen everywhere, right from Catalonia, or from Brexit, or anywhere, all the countries we go. Even within India, that identity of some people who come all the way from other places, and they're able to get the benefits better than us, and they're able to progress better than us, prosper better than us.
I think definitely that anger is quite common all over the world. I think Donald Trump is representing that part here. It pains, it definitely pains. There is no doubt about it, but a part will understand. It is quite a contradictory issue there.
Bluey: Interesting. Well, one area where Trump has done things differently, perhaps, from some of his predecessors is his use of social media, particularly Twitter, to talk directly to the American people and people across the globe, frankly.
I wanted to ask, because I just saw a report this week about how India could be really the next significant area of growth for social media companies and technology. What can you tell us about the use of those platforms, and how that's changed communication back in your country?
Kalyan: He initiated his brainchild recently and from a party side. He initiated a program—it's called Jana Tarangam—it's a wave of people. That's the meaning of it. How it went or so, I think you'd better explain it.
Manohar: Before I get into that, you must know that he's the sixth-most popular guy on Twitter. He's got close to 3.5 million followers, and he's actively followed.
Bluey: What's the handle for our listeners in case they want to check it out?
Kalyan: @PawanKalyan.
Manohar: In the party we started a program called Jana Tarangam, which is waves—acoustic waves as well as waves reaching out to people. It was a knock-on-every-door political campaign. But, interestingly, we used technology, and all those knocks on the doors were on Facebook Live.
On a particular day, the president of our party, Mr. Pawan Kalyan, also visited houses at 9:30 in the morning, and this conversation that went live made people join this incredible revolution back there, and we had almost 30,000 videos on Facebook every day for five days—30,000.
Our social media reach figures were just mind-boggling. We did 12 million in five days, and we had 396,000 people who uploaded the videos. It was a tremendous experience.
Kalyan: People are really, because this technology is really making people to participate, and they're able to … [speak out] local or globally about what they feel. Both the party ideology and everything, and we're able to leverage social media in quite an effective manner.
Manohar: See, the biggest, I won't say the biggest, but our core strength is the youth who follow him and believe his ideology and his fundamental beliefs, our values in life. Those are the ones who wanted to express their support of the party in the right way. Social media gave an opportunity for each of them to be part of that process.
Because, as a political party, we may not be able to reach out to every single person. Even if he did, we could not have given them an opportunity to participate in the process. But social media allows each one of them to connect with him.
At the end of the evening, he would sit down and make phone calls … like 200, 300 calls per day, these guys would take, and he would call them and congratulate them. It was very—
Kalyan: It broke all the protocols. The regular political protocols which made them to be more, stay to be connected to us. That gave us a lot of leverage. I think social media is going to be very powerful.
Montalbano: You make a great point about social media allowing participation. I know the youth probably certainly really enjoy that. Are there any final messages that you'd like to share with our listeners before we go?
Manohar: Like I said, this partnership is very important for both the countries. We are here as a young political party to also continue the same friendship and partnership.
We are also here to represent our community, because most of the community members today are feeling a little—I won't say upset—but a little sad at the new administration, the new regulatory controls that came in about immigration, and how their families and their children could get affected, especially on the H-1B visa regulations that have come in.
We are here to support our community, give them that strength and confidence. At the same time, at the government level, we are here to make the lawmakers understand that this is a process that they also must respect and take it further.
Kalyan: From our side, I would like to say a lot of cultural understanding should get deepened between U.S. and India, because we call it, because America was discovered just to … They wanted to go to India, but instead of India they discovered America, Columbus. There is some connect right from the discovery of America.
A lot of us feel that there should be a lot of cultural exchange programs. … I think a lot of cross-cultural understanding between America and India, because each part of India has a very unique culture, so you cannot see India as one culture. …
To understand that I think each state should have a direct connect with the U.S., to understand, to explore their own culture. America will have at least, minimum, at least 30 to 40 cultural exchanges. That would really deeply enrich the prospects.
Manohar: In our own experience, when we talked with lawmakers in the last two days, the ones who had been to India were able to empathize and get on the subject real quick. But the ones who had never been to India would take time to understand the points that we were coming to. It makes a great difference once we have these exchange programs on a regular basis, and people understand our nation and the culture. I think it will be significantly better.
Bluey: Well, it sounds like a good project for The Daily Signal. Maybe Ginny and I can pay a visit to you in India. I know my colleagues from The Heritage Foundation have already.
Manohar: We would look forward to that.
Kalyan: India really shocks you because there is great wealth and great poverty. At the same time, people don't complain. Somehow, they're able to withstand the pain. The tolerance is quite high. …
Even when Martin Luther King Jr., when he came to India, that's what he expressed, if the same situation would be prevailing in any other country it would have led to a bloody war. How come it does not happen in India?
I think that's what anyone can learn from India. Amidst all these disparities, how people are still able to smile and go on with their life and without bitterness on their face and without a single complaint.
I think that part, if you understand the soul of India, it's very easy to deepen the relationships. That's what I would like to add on.
Bluey: Well, thanks to both of you for coming and spending time with The Daily Signal, sharing your story.
The Daily Signal podcast is available on Ricochet, iTunes, SoundCloud, Google Play, or Stitcher. All of our podcasts can be found at DailySignal.com/podcasts. If you like what you hear, please leave a review. You can also leave us a message at 202-608-6205 or write us at [email protected]. Enjoy the show!
Source material can be found at this site.