By Peter Paton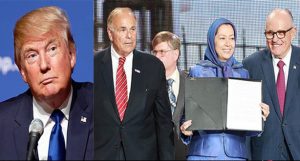 It is a national and international imperative that President Donald Trump and Secretary of State Mike Pompeo should formally announce Recognition of the National Council of Iran ( NCRI) led by Maryam Rajavi as the sole democratic alternative to the terrorist religious dictatorship in Iran.
It is crucial that the US Government take this bold and decisive step, as it will send a clear message to the Mullah Regime in Iran,  that the West has a credible, democratic alternative Iranian Government in waiting under Maryam Rajavi , to change this illegitimate clerical regime at the hands of the Iranian people and Resistance.
To this end, US and Western adoption of Maryam Rajavi's Eight Point Plan would be a strategic first step.
1. Recognition of the Iranian people's right to resistance to overthrow the mullahs' religious fascism and achieve freedom;
2. Designation of the Islamic Revolutionary Guard Corps (IRGC) and the Ministry of Intelligence and Security (MOIS) as a whole as terrorist entities by the U.S. State Department and the European Union;
3. Expulsion of the mullahs' intelligence agents and mercenaries of the terrorist Qods Force from the U.S. and Europe;
4. Referring the dossier of human rights violations in Iran to the UN Security Council after 65 United Nations censures;
5. Supporting the referral of the dossier of the 1988 massacre of political prisoners in Iran to international tribunals;
6. Ouster of the mullahs' illegitimate regime from the UN and recognition of representation by the Iranian people's just Resistance;
7. Decisive expulsion of Iran's ruling religious fascism and its forces from Syria, Iraq, Yemen, Lebanon and Afghanistan;
8. Compelling the government of Iraq to pay compensation for the properties, equipment, arms and camps the PMOI/MEK and the National Liberation Army of Iran (NLA), which had fully paid for them and whose evidentiary documents are available.
The Warsaw Conference being held on February 13-14 in Poland would be the ideal time to announce this formal US recognition of the National Council of Iran ( NCRI) led by Maryam Rajavi  and her salient Eight Point Plan.
Peter Paton is an International PR and Strategic Adviser
Contact Peter at [email protected]