Alfredo Ortiz has lived the American dream.
While his father worked as tailor in Chula Vista, California, Ortiz and his mother dug through trash to find aluminum cans and newspapers. They "cashed in" these items at the local YMCA for their grocery money.
Those hardships early in life didn't dissuade Ortiz. Today, he's a passionate believer in America and the ways economic freedom can transform lives.
As the president and CEO of Job Creators Network, Ortiz leads one of the most vocal groups for entrepreneurs and small businesses.
"My mom was a housekeeper," Ortiz explained in a recent interview with The Daily Signal. "I helped clean toilets, make the beds, and iron clothes. … That entire experience, it really taught me that hard work does actually pay off, and that was an incredible work ethic that I think really got planted in my mind."
That work ethic helped Ortiz receive a master's degree from the University of Michigan and a bachelor's degree in economics from Pomona College. Since then, he has worked for multiple Fortune 500 companies as a marketing and corporate strategy consultant.
Now at Job Creators Network, Ortiz is dedicated to making sure small business owners have the chance to live the American dream as he did. Consequently, Ortiz is vocal about the importance of capitalism.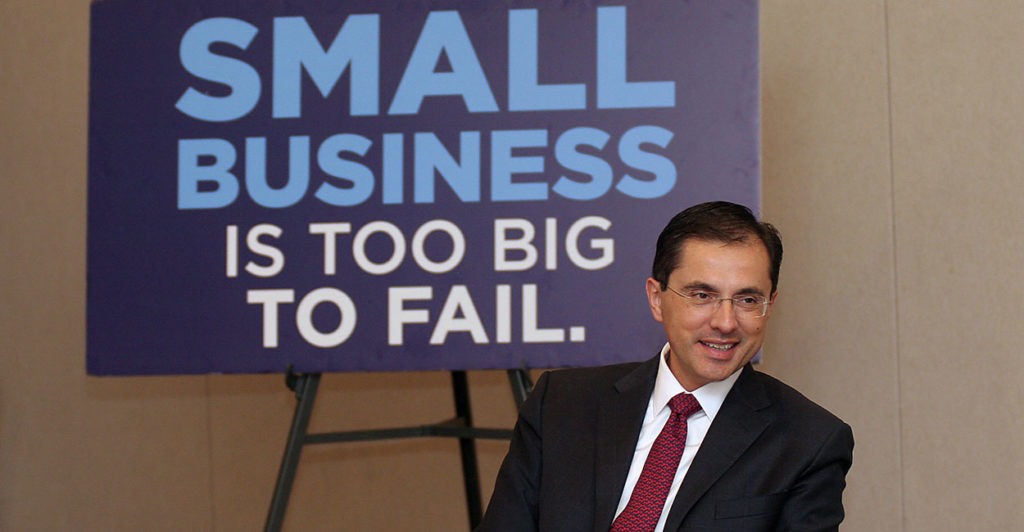 "Born to immigrant parents in Southern California, I saw firsthand the importance of freedom and economic opportunity," Ortiz said. "What makes makes those things possible is not the government, but a strong private sector. The government doesn't create jobs. At best, it can create an environment where job creators can grow, expand, and innovate."
Those beliefs have prompted Ortiz and Job Creators Network to take vocal positions in defense of the free market.
A few weeks ago, after freshman Rep. Alexandria Ocasio-Cortez, D-N.Y., released her Green New Deal, Job Creators Network purchased a billboard in Times Square that read, "Hey AOC, the Green New Deal Stinks."
A second billboard featured a cow's face, and stated, "Maybe it's those farting cows? LOL," which stands for "laugh out loud."
The original FAQ about the Green New Deal from Ocasio-Cortez's office noted, "We set a goal to get to net-zero, rather than zero emissions, in 10 years because we aren't sure that we'll be able to fully get rid of farting cows and airplanes that fast."
The billboard also notes that the Green New Deal could cost $51 trillion, according to an analysis by the American Action Forum.
"The 'Green Raw Deal' is basically socialism and nothing is more destructive to freedom and prosperity than socialism. You can see that in history, looking at places like the Soviet Union. You can see that in the contemporary world, in places like Venezuela. Venezuela was a relatively rich country twenty years ago before it went down the path of socialism. Today, many of its people are eating dogs and rats to avoid starvation," Ortiz said.
The billboards caught the attention of Ocasio-Cortez, who proceeded to attack Job Creators Network in a series of tweets.
Ortiz, however, won't let Ocasio-Cortez intimidate him. Instead, he's staying focused on the consequences of her policies.
"By replacing capitalism with socialism, the 'Green Raw Deal' would destroy America's economy," Ortiz said. "One's ability to climb the economic ladder—the essence of the American dream—would vanquish in a socialist nightmare."
Source material can be found at this site.