Riis was on a bike ride with his youngest son, enjoying the sun slanting over the fields and woodlands near their home north of Copenhagen, when it suddenly occurred to him that something about the experience was amiss. Specifically, something was missing.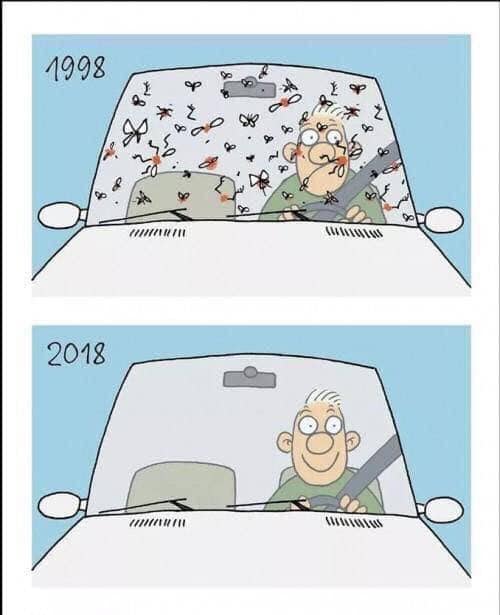 It was summer. He was out in the country, moving fast. But strangely, he wasn't eating any bugs.
For a moment, Riis was transported to his childhood on the Danish island of Lolland, in the Baltic Sea. Back then, summer bike rides meant closing his mouth to cruise through thick clouds of insects, but inevitably he swallowed some anyway. When his parents took him driving, he remembered, the car's windshield was frequently so smeared with insect carcasses that you almost couldn't see through it. But all that seemed distant now. He couldn't recall the last time he needed to wash bugs from his windshield; he even wondered, vaguely, whether car manufacturers had invented some fancy new coating to keep off insects. But this absence, he now realized with some alarm, seemed to be all around him. Where had all those insects gone? And when? And why hadn't he noticed?
Riis watched his son, flying through the beautiful day, not eating bugs, and was struck by the melancholy thought that his son's childhood would lack this particular bug-eating experience of his own. It was, he granted, an odd thing to feel nostalgic about. But he couldn't shake a feeling of loss. "I guess it's pretty human to think that everything was better when you were a kid," he said. "Maybe I didn't like it when I was on my bike and I ate all the bugs, but looking back on it, I think it's something everybody should experience."
I met Riis, a lanky high school science and math teacher, on a hot day in June. He was anxious about not having yet written his address for the school's graduation ceremony that evening, but first, he had a job to do. From his garage, he retrieved a large insect net, drove to a nearby intersection and stopped to strap the net to the car's roof. Made of white mesh, the net ran the length of his car and was held up by a tent pole at the front, tapering to a small, removable bag in back. Drivers whizzing past twisted their heads to stare. Riis eyed his parking spot nervously as he adjusted the straps of the contraption. "This is not 100 percent legal," he said, "but I guess, for the sake of science."
Riis had not been able to stop thinking about the missing bugs. The more he learned, the more his nostalgia gave way to worry. Insects are the vital pollinators and recyclers of ecosystems and the base of food webs everywhere. Riis was not alone in noticing their decline. In the United States, scientists recently found the population of monarch butterflies fell by 90 percent in the last 20 years, a loss of 900 million individuals; the rusty-patched bumblebee, which once lived in 28 states, dropped by 87 percent over the same period. With other, less-studied insect species, one butterfly researcher told me, "all we can do is wave our arms and say, 'It's not here anymore!'?" Still, the most disquieting thing wasn't the disappearance of certain species of insects; it was the deeper worry, shared by Riis and many others, that a whole insect world might be quietly going missing, a loss of abundance that could alter the planet in unknowable ways. "We notice the losses," says David Wagner, an entomologist at the University of Connecticut. "It's the diminishment that we don't see."
Because insects are legion, inconspicuous and hard to meaningfully track, the fear that there might be far fewer than before was more felt than documented. People noticed it by canals or in backyards or under streetlights at night — familiar places that had become unfamiliarly empty. The feeling was so common that entomologists developed a shorthand for it, named for the way many people first began to notice that they weren't seeing as many bugs. They called it the windshield phenomenon.
To test what had been primarily a loose suspicion of wrongness, Riis and 200 other Danes were spending the month of June roaming their country's back roads in their outfitted cars. They were part of a study conducted by the Natural History Museum of Denmark, a joint effort of the University of Copenhagen, Aarhus University and North Carolina State University. The nets would stand in for windshields as Riis and the other volunteers drove through various habitats — urban areas, forests, agricultural tracts, uncultivated open land and wetlands — hoping to quantify the disorienting sense that, as one of the study's designers put it, "something from the past is missing from the present."
When the investigators began planning the study in 2016, they weren't sure if anyone would sign up. But by the time the nets were ready, a paper by an obscure German entomological society had brought the problem of insect decline into sharp focus. The German study found that, measured simply by weight, the overall abundance of flying insects in German nature reserves had decreased by 75 percent over just 27 years. If you looked at midsummer population peaks, the drop was 82 percent.
Riis learned about the study from a group of his students in one of their class projects. They must have made some kind of mistake in their citation, he thought. But they hadn't. The study would quickly become, according to the website Altmetric, the sixth-most-discussed scientific paper of 2017. Headlines around the world warned of an "insect Armageddon."
Within days of announcing the insect-collection project, the Natural History Museum of Denmark was turning away eager volunteers by the dozens. It seemed there were people like Riis everywhere, people who had noticed a change but didn't know what to make of it. How could something as fundamental as the bugs in the sky just disappear? And what would become of the world without them?
Anyone who has returned to a childhood haunt to find that everything somehow got smaller knows that humans are not great at remembering the past accurately. This is especially true when it comes to changes to the natural world. It is impossible to maintain a fixed perspective, as Heraclitus observed 2,500 years ago: It is not the same river, but we are also not the same people.
By one measure, bugs are the wildlife we know best, the nondomesticated animals whose lives intersect most intimately with our own: spiders in the shower, ants at the picnic, ticks buried in the skin. We sometimes feel that we know them rather too well. In another sense, though, they are one of our planet's greatest mysteries, a reminder of how little we know about what's happening in the world around us.
We've named and described a million species of insects, a stupefying array of thrips and firebrats and antlions and caddis flies and froghoppers and other enormous families of bugs that most of us can't even name. (Technically, the word "bug" applies only to the order Hemiptera, also known as true bugs, species that have tubelike mouths for piercing and sucking — and there are as many as 80,000 named varieties of those.) The ones we think we do know well, we don't: There are 12,000 types of ants, nearly 20,000 varieties of bees, almost 400,000 species of beetles, so many that the geneticist J.B.S. Haldane reportedly quipped that God must have an inordinate fondness for them. A bit of healthy soil a foot square and two inches deep might easily be home to 200 unique species of mites, each, presumably, with a subtly different job to do. And yet entomologists estimate that all this amazing, absurd and understudied variety represents perhaps only 20 percent of the actual diversity of insects on our planet — that there are millions and millions of species that are entirely unknown to science.
With so much abundance, it very likely never occurred to most entomologists of the past that their multitudinous subjects might dwindle away. As they poured themselves into studies of the life cycles and taxonomies of the species that fascinated them, few thought to measure or record something as boring as their number. Besides, tracking quantity is slow, tedious and unglamorous work: setting and checking traps, waiting years or decades for your data to be meaningful, grappling with blunt baseline questions instead of more sophisticated ones. And who would pay for it? Most academic funding is short-term, but when what you're interested in is invisible, generational change, says Dave Goulson, an entomologist at the University of Sussex, "a three-year monitoring program is no good to anybody." This is especially true of insect populations, which are naturally variable, with wide, trend-obscuring fluctuations from one year to the next.
When entomologists began noticing and investigating insect declines, they lamented the absence of solid information from the past in which to ground their experiences of the present. "We see a hundred of something, and we think we're fine," Wagner says, "but what if there were 100,000 two generations ago?" Rob Dunn, an ecologist at North Carolina State University who helped design the net experiment in Denmark, recently searched for studies showing the effect of pesticide spraying on the quantity of insects living in nearby forests. He was surprised to find that no such studies existed. "We ignored really basic questions," he said. "It feels like we've dropped the ball in some giant collective way."
Bugs are vital to the decomposition that keeps nutrients cycling, soil healthy, plants growing and ecosystems running. This role is mostly invisible, until suddenly it's not.
Monsanto has caused some of these problems, creating tnsect resistance to GMO corn and cotton Bt Crops with "insect protection".
Glyphosate, the most used pesticide ever, damages the good bacteria in honeybee guts, making them more prone to deadly infections.
Previous studies have shown that pesticides such as neonicotinoids cause harm to bees, whose pollination is vital to about three-quarters of all food crops. Glyphosate, manufactured by Monsanto, targets an enzyme only found in plants and bacteria.
However, the new study shows that glyphosate damages the microbiota that honeybees need to grow and to fight off pathogens. The findings show glyphosate, the most used agricultural chemical ever, may be contributing to the global decline in bees, along with the loss of habitat.
The US Fish and Wildlife Service said it added the yellow-faced bee species to the federal list of endangered species Friday night after years of research concluded they are under threat.
There was a study Study Claiming Insect Decline was Due To Global Warming, but was Based on f
aulty temperature data.
Scientists found an increase in leg, antennae and wing shape mutations among butterflies collected following the 2011 Fukushima accident.
The link between the mutations and the radioactive material was shown by laboratory experiments, they report.
The work has been published in the journal Scientific Reports.
Two months after the Fukushima Daiichi nuclear power plant accident in March 2011, a team of Japanese researchers collected 144 adult pale grass blue (Zizeeria maha) butterflies from 10 locations in Japan, including the Fukushima area. Severe abnormalities' were found in the Fukushima butterflies.